So you've ticked every cocktail off the menu at your local joint, crawled the legendary bars in your city, and successfully drank a flaming shot without killing yourself. Now what? It's time to think (and drink) globally. From alcohol-soaked festivals to fear-inducing beverages to wild rituals, here are 20 bucket list drinking experiences from around the world.
Complete the Bourbon Trail in Kentucky, USA
While bourbon can be made anywhere in the United States, there's a reason it's synonymous with Kentucky. The state mastered the art of distilling that beautiful golden liquor way back in the 1700s, when the first settlers of Kentucky started crafting whiskey in Bourbon County. Today, some of the world's best bourbon distillers are a stone's throw away from each other on the Kentucky Bourbon Trail, nestled among fertile hills, antique barns and cool, running streams. Get your "passport" stamped at all 10 acclaimed distilleries and seal your own bottle of Maker's Mark in a vat of red wax as a souvenir.
Visit a Palenque in the Middle of Nowhere Mexico
Most mezcal brands in Mexico source their spirits from various palenques, or farms, in some of the most remote parts of Mexico. The best way to visit a palenque is by hanging out at mezcalerias in an area like Zoquitlán, where you will undoubtedly meet producers from distilleries like Mezcal Vago, Rey Campero and El Jolgorio. If you strike up conversation and buy a round (or three), you might score an invite to tour the fields and see how the spirit is made. Getting there will involve driving through mountain passes, fording rivers, and skirting past regular police road blocks. The views of the wild agave, the generous hospitality and, of course, the mezcal will be well worth the harrowing journey.
Banish Bad Vibes With Agua de Valencia in Spain
Every June, the people of Valencia celebrate the Festival of San Juan. Revellers gather on the beach at night to party around bonfires, drink Agua de Valencia (a Mimosa-like beverage made with Cava, Valencia oranges and vodka) and shake off the negative memories of the past year. Write a list of everything bad you want to forget, throw it into the fire and leap over the flames. Then jump 12 times into the ocean at the stroke of midnight with the rest of the beachgoers and keep drinking until daybreak.
Try Chicha or "Spit Beer" in Peru
The secret ingredient in this ancient Latin American corn beer is—wait for it—human saliva. In more remote villages of the Amazon in Peru, you'll find locals making authentic chicha, a process that involves chewing on milled corn, spitting it out and fermenting it. The natural enzymes in saliva help convert the starches in the corn to fermentable sugars. While modern  chicha breweries skip this unsavory step, it's worth seeking out traditional producers and spit-brew some of your own.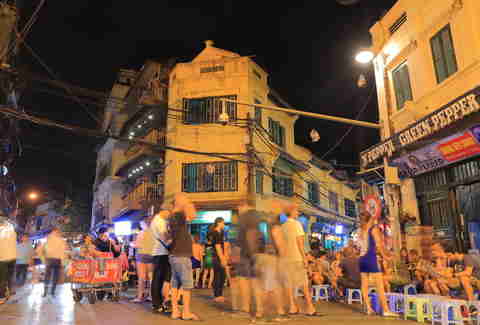 Commune Over Bia Hoi in Vietnam
In the Old Quarter of Vietnam, look for tables selling homemade bia hoi beer. This cheap-as-cheap-can-be light beer (like, 20 cents a glass cheap) goes down easy and pairs perfectly with street eats like crispy pork spring rolls and banh mi. Grab glass after glass of the ultra-fresh brew, listen to street music and revel in your miraculous sobriety come morning—the Vietnamese say it's near impossible to get hungover from bia hoi.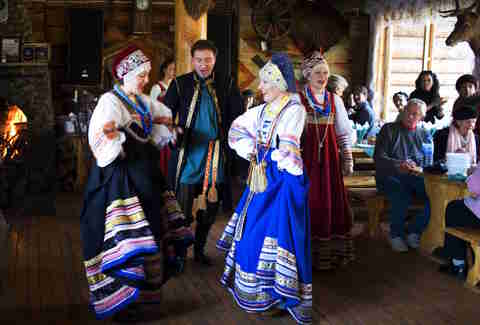 Shoot Vodka and Dance With the Locals in Russia
Vodka-soaked Russians squatting, kicking, jumping and twirling to the tune of bouncing music may seem like something that only happens in movies, but it is very much real. Attend any Russian festivity—New Year's is particularly riotous—accept every shot of vodka you are offered (it is impolite not to), and wait for the traditional folk dancing to begin. Prepare to be astounded by robust men performing jaw-dropping acrobatics that seem physically impossible, and hold on tight if you're pulled into the circle.
Revel at Mardi Gras in New Orleans, USA
Embrace one of the few places in the United States that allows open containers by drinking NOLA classics like frozen Daiquiris, Milk Punch and Sazeracs along the parade routes during New Orleans' annual, weeks-long Mardi Gras festival. Dance while second-lining the brass jazz band, indulge in beignets, admire the surreal floats and costumes, and do whatever you need to do to get some beads thrown your way.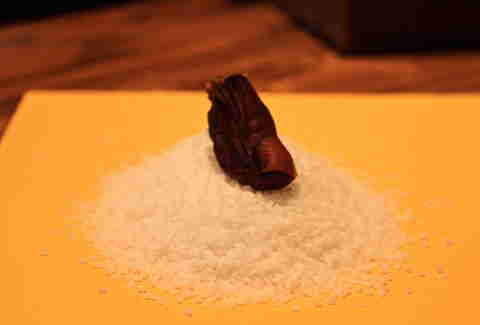 Down the Sourtoe Cocktail in Yukon, Canada
If you thought garnishing a cocktail with a bug was real life Fear Factor, you aren't prepared for this wild Dawson City tradition. The Sourtoe is a shot of whiskey that comes with a real human toe—mummified and preserved in salt. Drop the toe into the shot, trying not to look too close at the nail, and take the shot. Make sure your lips touch the toe or it won't count. Just don't actually swallow the toe, as it comes with a $500 fine.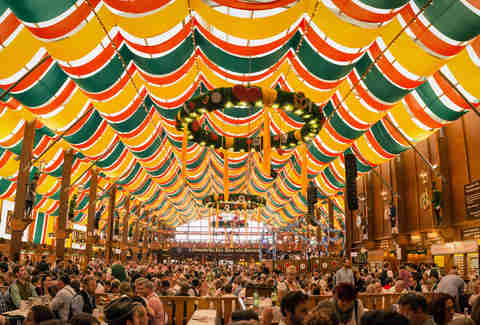 Attend Oktoberfest in Munich, Germany
The biggest beer festival in the world is a can't-miss celebration for brewski lovers everywhere. The festival begins in September, despite what the name might have you believe. In biergartens throughout Munich, you can party with traditional Bavarian music and food, fun-loving drinking companions (a few thousand of them) and endless steins of delicious German brews.
Sail a Boat to Remote Islay Islands for Whisky in Scotland
Venture across the rough seas to the craggy shores of Islay—a remote region of Scotland famous for peated scotch—and breathe in the briny aroma of the untamed coast as you sample single malts. At the Ardbeg Distillery, participate in the Uigeadail Loch and Key ritual: Grab the key from the distillery and ascend the steep hill towards the loch high above the distillery. Once you reach the loch, open a locked wooden box, and be rewarded with a bottle of single malt and a glass. The soul that has traveled the furthest pours a dram of whisky into Loch Uigeadail, out of respect for what it has given everyone, and another dram for all those present.
Imbibe Fermented Mare's Milk in Mongolia
Mongolia is famous for horse culture, so it's no surprise that their traditional drink is kumis, aka fermented mare's milk, the chosen beverage of Genghis Khan and Attila the Hun. In July, attend the Nadaam Festival, which showcases manly Mongol activities like archery, wrestling and horse racing, along with endless quantities of kumis.
Enjoy Banana Beer After Hiking Mount Kilimanjaro in Tanzania
In the Kilimanjaro region of Tanzania, the Chagga are known to brew a mean mbege, otherwise known as banana beer. The labor intensive process to make the sour brew involves mashing bananas and fermenting them for a week, then straining the liquid through shredded grass. Reward yourself with a mug of the thick liquid after summiting the mountain.
Pour a Perfect Guinness in Dublin, Ireland
Pay no mind to the people who say the Guinness Storehouse is just for tourists—the 360-degree view of Dublin at the Gravity Bar alone is worth it, and the brown stuff is as smooth and delicious as anywhere. Learn how to properly pour a Guinness (at a 45-degree angle for approximately 119.5 seconds), then take your newfound knowledge to the streets for a pint in a less crowded pub.
 
Sing Drunken Karaoke in a Private Room in Japan
Karaoke in Asia is nothing like karaoke in the States—it's taken extra seriously. Talent matters, but drinking matters even more. Tokyo does it best, with countless karaoke bars offering private rooms in which you can belt your heart out. Join in with some locals, attempt your best pop star impression, and accept whatever brightly colored mystery liquor is passed your way with enthusiasm.
Chill out in the ICEBAR in Sweden
While ice bars have permeated bar culture worldwide, the original frozen bar is the ICEBAR by ICEHOTEL in Jukkasjárvi, Sweden. Don an oversized, furry parka, gloves and hat, and step into the below-freezing room where everything is made out of ice, from the impressive sculptures to the furniture to the glasses.
Share Your Secrets Over Raki in Turkey
Otherwise known as Lion's Milk, Turkey's signature anise-flavored drink is not just a refreshment but a form of therapy. If you're invited to gather around the raki table, there's a good chance you'll help heal someone's broken heart or unlock some of your own hidden secrets. In fact, the raki table is often called cilingir sofrasi, which translates to the "locksmith's table."
Drink Tongba With Sherpas in Nepal
In the eastern mountainous regions of Nepal, the sherpas brew a millet-based alcoholic drink that resembles a yeasty, thick, bitter, hot beer. It's served with a big straw in a large bamboo cup, which will never run dry—people will continue to top it off with boiling water again and again until all flavor and alcohol is gone.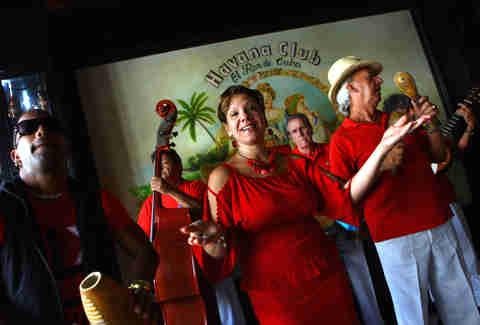 Sip Rum and Smoke a Cigar in Cuba
It's not just the allure of forbidden fruit—Cuban rum is darn delicious. Order an expertly made Mojito with Havana Club white rum at the Hotel Nacional, or try some aged Santiago de Cuba dark rum straight. Whatever you choose, do so while puffing on a famous Cuban cigar and listening to the local musicians playing Guantanamera for the hundredth time that day.
Brave Snake Wine in Taiwan
Throughout Southeast Asia but especially in Taipei, you'll see snakes, scorpions and other terrifying creatures steeped in rice wine and left to float ominously in jars. You'll probably be fine drinking the macabre booze, but we can't 100-percent guarantee it won't bite back—there was one documented case of a not-quite-dead snake springing out of the jar and getting revenge on its would-be-drinker.
Participate in a Kava Ritual in Fiji
While not strictly "alcoholic," this Fiji drink made from the kava root is a liquid anti-anxiety pill. Drinking kava is a ceremonial experience with complicated etiquette rules. At the ceremony, the eldest man enters the house followed by the rest of the men, then women, and everyone takes a seat. The eldest man presents the root to the village chief, and, if it is accepted, the villagers grind it up, mix it with water and strain it into a bowl. The drink is offered first to the chief, then to the village executives, then to you. Clap once, yell "bula!," and drink it in one gulp. Then clap three times and say "mathe!" Drinking it will make you feel calm and tingly, just like your favorite cocktail—or a Xanax. Once this is all said and done, dancing breaks out and the true celebration begins.