The 9 Unspoken Rules of Drinking with Your Boss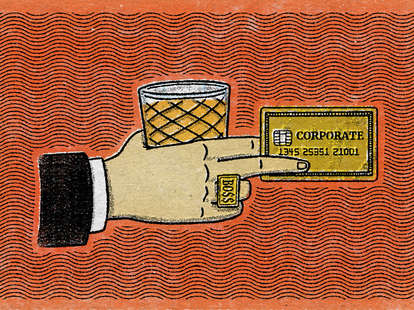 So, here you are: drinking with the top dog. Your boss invited you out for a celebratory cocktail after a particularly good quarter and now you're bellied up to the bar, ready to dive head-first into happy hour. Then, suddenly, it hits you. This is your boss. This is the person that could decide your fate at the company. Take a deep breath; like everything in life, there's a set of unspoken rules that go along with this type of outing. Here they are:
Your Boss Gets to Pick the Place (But You Should Have a Place in Mind)
If your boss invited you, then your boss should pick the place. That said, if the decision does get passed to you, be sure to have an appropriate bar in mind. This is not the time to check out the happy hour at the nearest Hooters, nor is it your chance to try all the over-the-top cocktails at a Michelin-starred hotel bar).
You Should Offer to Pay
It's the nice thing to do. Go ahead and make the gesture—reach for your wallet or purse. But know that...
Your Boss Should Always Pay
If he or she is the one who invited you out, then the onus is on them to pay. Even if you initiated this off-site meeting, they are still earning above your paygrade (and they know that), so they should be the one to whip out that credit card. Plus, it might be something they can expense anyway, in which case...
Do Not Take (Too Much) Advantage of the Company Card
Even if your boss is sticking the company with the bill, you will look bad ordering that 80-year-old scotch that costs more than all the bagels at Bagel Friday combined. Stick to something mid-range.
You Should Never Outdrink Your Boss
You don't want to look like a lush—keep the same pace as your boss and sip rather than slurp. That said, if your boss happens to be a bit of a drinker, don't feel like you need to go drink-for-drink with them. This is an after-work drink, not a frat house competition. You don't have to prove anything.
Martini Glasses and Other Structurally Unsound Glasses Are Off-Limits
Even if you're not nervous and shaking, why risk it? A weird twitch, an accidental bump, an enthusiastic hand movement and you could instantly find yourself wearing your drink.
You Need to Order a Grown-Up Drink
It doesn't matter how much you love Fireball shots and Fuzzy Navels. You are drinking with someone who is currently under the impression that you are a respectable adult—so order like one. Get a glass of wine or a decent beer, or try a cocktail like an Old Fashioned or a Whiskey Highball or a Gin Rickey. And try not to make a face when you sip it just because it doesn't taste like candy.
You Are Allowed to Leave First
Don't motor after 30 minutes, but feel free to head out after an hour. Do yourself a favor and give yourself a hard out and a predetermined excuse. At a loss? Here are a few ideas: "I have to go walk my dog/my friend's dog that I am dog-sitting." "I'm heading to a friend's place to watch The Bachelor/The Bachelorette and I can't be late—they refuse to record it." "My landlord is dropping by to fix the boiler/fridge/hole in the roof."
Talking About Other Employees Is a No-No
Talk about your work. Talk about your big ideas. Talk about your wish for a greater variety of tea in the office kitchen. But don't talk about your coworkers.