The Top 10 Booziest Cities in America, According to Science
Every city likes to claim it drinks more than any other city, but the numbers don't lie. So we've taken it upon ourselves to compile the ultimate ranking of the booziest cities in America, based on three essential sets of criteria: alcohol consumption by person, number of bars per 10,000 people and amount spent on alcohol.
We created a top 10 list for each category, and then assigned cities points based on how high they ranked on each list. Lists were then weighted by importance (giving higher weight to drinks per month and bars per capita versus amount spent on alcohol), with bonus points awarded for cities that appeared on multiple lists. Here are the results:
10. San Francisco, CA
Total score: 10
When you think of San Francisco, you often think of trolleys, fog and naked people. But you should add drinking to the list of defining characteristics of the City By the Bay, with San Francisco spending the second-most on alcohol (after Dallas). While Anchor Brewing is perhaps its most well known beer export, this hard-boozing city packs 30 breweries into just seven square miles (with 120-plus in the Bay Area), including SF-proper standouts like 21st Amendment, Almanac and Southern Pacific.
The surrounding area is obviously synonymous with wine, so it should come as no surprise that you can sip vino at several excellent urban wineries within city limits including Eristavi Winery and Dogpatch WineWorks (housed in an early 1900's textile mill). Leading beer bars include The Monk's Kettle and Mikkeller, while Haight Street's The Alembic is one of America's finest craft cocktail emporiums. Dives like The Broken Record and Clooney's Pub (where happy hour is from 6-9 a.m.) help round out the always fun local bar scene, while distilleries like Alameda's highly acclaimed St. George Spirits and Mission Bay's Distillery No. 209 help keep the city's booze game tight. And you can't talk SF without mentioning its favorite divisive spirit: Fernet Branca. The city helped kick off the bitter amaro's cult-following, and consumes more of it than anywhere else in the country.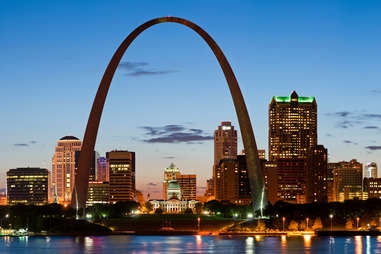 9. St. Louis, MO
Total score: 11
With the second-most bars per capita (after Pittsburg), the hometown of Anheuser-Busch is as obsessed with beer as it is with its beloved Cardinals. But there's more going on here than just the most famous division of the world's largest beer producer. Craft beer kingpins include old-school favorite Schlafly and the consummate 4 Hands Brewing Co., in addition to more recent upstarts like Civil Life and self-described "makers of weird beer" Earthbound Brewing.
But one of the most overlooked aspects of the St. Louis drinking scene is the quality of its craft cocktails that can be downed at places like the iconic Planter's House (slinging 100-plus whiskeys alongside 400-plus types of spirits) and cutting-edge bar/resto Taste, not to mention beer nerd nirvana Side Project Cellar and The Gin Room (one of the biggest gin houses in the country). Craft distilling is also a massive business in The Lou, with StilL 630 leading the charge alongside local favorites like St. Louis Distillery and Spirits of St. Louis.
8. Providence, RI
Total score: 11
As the smallest city on the list, the capital of America's tiniest state punches well above its weight when it comes to boozing as this city of 180,000 ranks third behind Boston and Austin on the drinks-per-month list. The city's outsized bar scene is also much larger than its population might suggest, offering everything from fancy craft cocktails at sleek mixology dens like The Eddy and The Avery, to a speakeasy in a lingerie shop (Justine's) to the oldest bar in the country (the 1673-founded White Horse Tavern).
Yet, while Providence does offer a handful of breweries—including the recently revived Providence Brewing Company and the highly regarded Long Live Beerworks—the state's beer capital is actually located five miles north across the Providence border in neighboring Pawtucket. And while Family Guy's Pawtucket Patriot brewery sadly does not exist, you can still get plenty cartoonish at real-life Pawtucket breweries like Crooked Current, Foolproof and Bucket Brewery.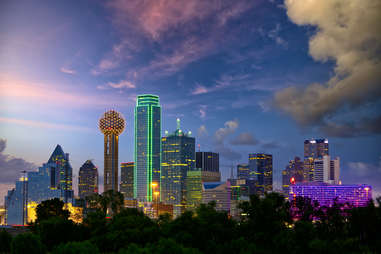 7. Dallas, TX
Total score: 11
Folks in Dallas love to grab their booze on the go, as evidenced by the city's number one ranking on the amount-spent-on-alcohol list. But Dallas residents aren't merely content to drink beer on their back porches when their city is also home to a fine assortment of local watering holes, from iconic dive Lakewood Landing and kitschy paradise Double Wide, to basement speakeasy Midnight Rambler and sophisticated cocktail lab Hide (located in the hard-boozing hood of Deep Ellum alongside additional noteworthy new offerings like Shoals Sound & Service).
The iconic Deep Ellum Brewing Co. is a leader of the local craft beer movement, which has grown more crowded in recent years thanks to a fine crop of Dallas-based brewers like the highly acclaimed Peticolas, the prolific Community Beer Co., and the steampunk-inspired Noble Rey. Small-batch distilling is also a burgeoning business in the increasingly thirsty North Texas scene, with Fort Worth's Firestone & Robertson and Dallas' Duckworth Distillery among the area's most enticing local craft offerings.
6. Pittsburgh, PA
Total score: 12
With 446 bridges, the "City of Bridges" claims more bridges than any city in the world. But now Steel City has a new (and much more impressive) claim to fame: the most bars per capita of any city in the U.S., with 12 bars per 10,000 residents. And while the city's recent tech boom is well known, its craft beer renaissance over the past decade is just as essential to the city's rebirth—with Pittsburg offering dozens of breweries from well established icons like East End and Grist House, as well as newcomers like 11th Hour, not to mention Church Brew, located in decommissioned Catholic church with fermentation equipment placed on the altar.
If beer is the new religion, pull up one of Pittsburgh's plentiful bar stools and worship the gospel at places like iconic local dive Gooski's, the James Beard-nominated Butcher & the Rye (with its 600-bottle strong whiskey wall), or playful tiki bar Hidden Harbor. Craft cocktail speakeasies like Acacia are also on the rise in recent years, while the craft distilling scene is led by beloved local heavyweights like Wigle Whiskey (the first distillery to open in the city since the 1920s) and Maggie's Farm Rum. In fact, the only thing more popular than drinking in Pittsburg could be the Steelers. And even that's debatable.
5. Austin, TX
Total score: 12
Austin trails just behind Boston on the drinks-per-month list, but locals will tell you the home of Tito's and Deep Eddy Vodka can more than hold its own against all comers. The hipster-infested city is unsurprisingly home to a ridiculous number of craft breweries, from veteran brewers like Live Oak and Independence, to newer arrivals like the iconic can-only Austin Beerworks and farmhouse brewer Jester King.
But Austin's bar scene is where the city's booze culture really shines, offering everything from infamous dive/music venue Hole in the Wall and reservations-only speakeasy Midnight Cowboy, to more ambitious offerings like downtown's classy cocktail icon The Driskill and the delightfully odd corner market/Indian restaurant/music venue/brewpub Whip In. Patio drinking at outdoor joints like Banger's Sausage House & Beer Garden is also big business here, while Margaritas and mezcal are becoming as essential to the local experience as BBQ and mustache wax.
4. Cleveland, OH
Total score: 16
If Drew Carey is to be believed, Cleveland rocks. But did you know Cleveland also drinks? Hard? Coming in a surprising third in bars per capita while also cracking the top 10 in amount spent on alcohol, the home of LeBron and the Rock & Roll Hall of Fame is quietly nurturing one of the most dynamic craft beer scenes in America, which has been exploding in recent years. Great Lakes Brewing is the king of craft around these parts, but Fat Head's is also a local force to be reckoned with, in addition to notable newer offerings like Nano Brew and Market Garden.
While Ohio City is the epicenter of craft beer culture in Cleveland, the shockingly (to outsiders) happening city offers a choose-your-own-adventure's worth of drinking delights, from fancy cocktails at The Spotted Owl, to drunken karaoke at Tina's Nite Club and craft beer paired with live music and peanut butter hot dogs at Happy Dog. Cleveland Whiskey is the big dog of the local distillery scene, with Parnell's Pub a perennial Irish bar favorite. Hit them all on your next trip to/layover in town. Or just crack a cold one in front of the TV and turn on the Cavs, that's been known to work around here too.
3. Milwaukee, WI
Total score: 17
Cracking the top 10 in drinks per month and the top five in bars per capita, it is perhaps unsurprising that a town that named its baseball team the Brewers (who play in a stadium called Miller Park) wound up near the top of the list. But even though Miller was bought by Anheuser-Busch and Pabst has since decamped to Los Angeles, there's still a booming craft scene in the new Brew City. Lakefront is the longstanding craft kingpin, but the scene is more than big enough to accommodate a range of upstarts in recent years, including the creative food-focused offerings of Like Minds Brewing and the crazy crowdsourced creations of Mobcraft.
From legendary local hang Wolski's to the more upper crust creations slung from behind the bar at uber-swanky mixology emporium Bryant's Cocktail Lounge, this hard-drinking city has a bar to suit any mood (including the iconic dive Cactus Club, where they clap every time someone walks in during Packer games). And while beer bars like Burnhearts and Sugar Maple are some of the finest in the country, the city's budding distillery scene is not to be overlooked either—with offerings from local granddaddy Great Lakes Distillery, to more recent upstarts like the white whiskey-crafting Central Standard Craft Distillery. Bottom line? When you're in Milwaukee, you're never thirsty.
2. Philadelphia, PA
Total score: 19
Contrary to what Danny DeVito and company try to tell you, it's not always sunny in Philadelphia. And when the weather turns sour (or even when it doesn't), hearty Philadelphians can (and seemingly do) always turn to the bottle, with the city clocking in at number six in both the drinks-per-month and amount-spent-on-alcohol categories. While everyone thinks of Yuengling when they think of Philly brewers, America's oldest operating brewery is actually based almost two hours away in Pottsville. Luckily, Philly brewers like Philadelphia Brewing Co., Yards and Victory do more than their share to keep their notoriously thirsty city well hydrated.
The infamous party district of Market Street is well known to most with a passing familiarity of the City of Brotherly Love, but there's also fine beer to be had at popular hangs like Monk's Café, and expertly crafted cocktails at gems like 1 Tippling Place. Philly Beer Week packs in 1,000-plus events over 10 days every year, and the new Philly Distillery Trail will give you a taste of one of the city's best-kept secrets at leading hooch houses including Rowhouse Spirits and Philadelphia Distilling. If you're still not convinced Philadelphians are passionate about their booze, attend an Eagles game.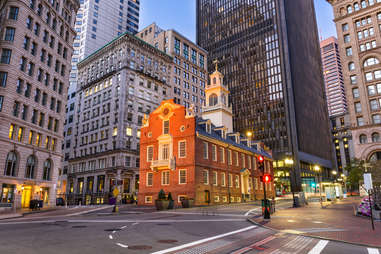 1. Boston, MA
Total score: 22
Topping the drinks-per-month list while making a respectable showing in the amount-spent-on-alcohol list, Boston is a town as proud of its drinking heritage as it is in its role shaping U.S. history. And while it may be most well known as the home of that "brewer patriot" Sam Adams when it comes to beer, there's no denying that the local craft beer scene is a force to be reckoned with. While many of the city's leading brewers have since decamped to surrounding suburbs like Cambridge and Somerville, the metro area packs a serious punch when combined with city-proper outposts like Trillium Brewing and Mighty Squirrel.
But one of Boston's biggest strengths is its bar scene, which goes far beyond stereotypical pugnacious Irish pubs and fratty Red Sox bars, with shimmering watering holes like Eastern Standard and Publick House sharing the stage with dives like the Charles Bukowski-inspired Bukowski Tavern and Somerville's hipster-approved Backbar—not to mention expert dens of mixology like the no-menu underground Drink and the no-sign Brick & Mortar. Distilleries are also "wicked" popular around these parts, with Boston-based Bully Boy Distillers and Boston Harbor Distillery (located in a mid-1800s Civil War-era building) on the front end of New England's craft distilling revival. Congratulations, Boston, you're the booziest of the bunch.