You might think that drunk text to your ex was bad, or that 3 a.m. call you made to your mom to tell her just how much you appreciate her and also that you don't feel good and would she come and rub your tummy? But these embarrassing moments pale in comparison to the kind of tabloid-fodder a celebrity can inspire with a Twitter account and a few drinks.
Drunk tweeting is a modern highwire act. Some celebs can conceal their drinks from one end of 140 characters to the other—just look at Anna Kendrick, who has openly admitted to mixing Twitter with spirits but has never gotten caught. She says her go-to tactic is to wait until the morning to double check drunk tweets before sending them out—a bit like Hemingway's eternal motto, "Write drunk, edit sober." On the other hand, there's Adele, whose early days on Twitter involved so many drunken announcements that her PR team took over her account, requiring she get approval from not one, but two editors before posting. It's celebs like Adele that keep us scrolling through out feed. Here, our favorite drunk tweets from celebrities.
Blake Shelton takes a crowd poll
Louis C.K. tweets to the sky on a flight to L.A.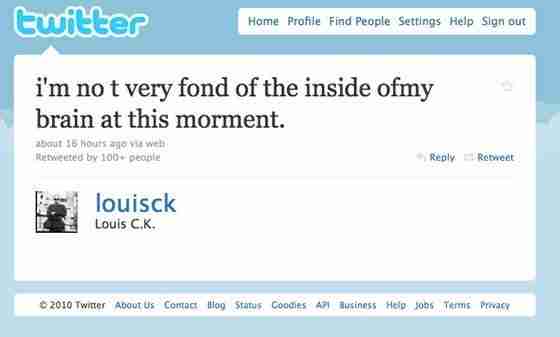 Diddy just wants to give the world a hug
Sam Smith gets to the point
Patton Oswalt feels the force
Chrissy Teigen finds her own joy at the Super Bowl
Mindy Kaling dishes out the life advice
Ricky Gervais captures the moment
Olivia Munn clarifies her performance on Sunday Brunch
Justin Timberlake drinks in the dark