The Most Influential Bartenders According To Bartenders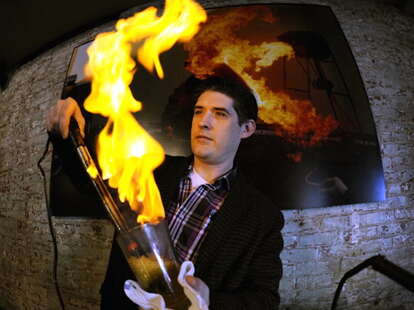 TIMOTHY A. CLARY / AFP / Getty Images
Most bartenders didn't just wake up one day and say, "Hey, I don't want to be an astronaut or a doctor, I want to be a mixologist!" That desire came from somewhere and, more importantly, it came from someone. Bartending, like many crafts, is a skill that is passed on from artisan to artisan. You can taste the influence of a bartender's mentor in his or her drinks.
After making our own list of seminal bartenders, we asked bartenders across the country about the men and women who they look up to. Here, the most influential bartenders according to other bartenders.
Eamon Rockey
"The amount of effort and innovation that goes into every cocktail he put out at Betony absolutely blew my mind—from making his own Irish cream to perfecting tepache. Building a program where the focus was on prep work behind the scenes and making it super easy to produce behind the bar during service, his work was very inspiring to what I do now. His bar team's hospitality and knowledge was second to none. And, it doesn't hurt to mention the fact that he's just great guy." — Adam Miller, bar manager of Flagship Montauk
Simone Carporale
"Simone Carporale is the epitome of everything I have ever wanted to be behind the bar: He's friendly, fun, fast, possessed with impeccable technique, has a bright personality and sharp sartorial style. He's the epitome of grace and flash. Also, while incredibly talented, he doesn't make the mistake of being so serious that he can't smile or crack a joke while hard at work.
His approach to service conveys a sense that he is genuinely committed to offering great hospitality and a standout experience for his guests. I had an inkling of this before I had the pleasure of visiting Artesian Bar a few months before his departure, and was lucky enough to experience it firsthand. I will never forget that night for a handful of reasons: It was my first weekend in London and I was on my way to visit South Africa with my girlfriend. I was in the mood for adventure and to experience something different.
When I met him, it was a busy Saturday night, the bar was filling up and he was in the middle of a very busy service. He didn't (and still doesn't) know me from anyone else in the room, yet he greeted me with one of the biggest, warmest, most genuine smiles I have ever seen on a bartender. With that one quick and simple gesture, I felt immediately at ease. It set the stage for what followed: rounds of over-the-top drinks, friendly chit chat with all the staff and more fun than I expected to have in a hotel bar. Everyone was beyond lovely, but it was Simone's greeting that definitely put that night in the 'memories to cherish for a lifetime' category.
A few months after that, I saw an interview in which Simone said something that stuck with me: 'With a drink, you can confirm or confuse someone. The best cocktails touch all the senses. When you create a drink, does that cocktail evoke an emotion in you or the person you are making it for?' If you test your recipes against this criteria, you will score a hit drink every time. What a high bar to set. To be able to make and serve drinks that, at the end of the day, is like a gift that keep on giving." — Shannon Mustipher, Denizen Rum ambassador and bar manager at Glady's
Paul Harrington
"When I was getting into mixology, Paul Harrington was the bartender that influenced me the most. His weekly column on the HotWired website back in the 1990s was hugely influential on me. His writing was prosaic, informative and entertaining. His book, Cocktail: The Drinks Bible for the 21st Century, is a book that I turn to regularly, still." — Jeffrey Morgenthaler, author and bar manager at Clyde Common
Murray Stenson
"Most famously associated with his tenure at the Zig Zag Cafe in Seattle, Murray Stenson has been slinging drinks and charming guests for decades. Murray may seem like an unlikely hero. He was never interested in coming up with new syrups or infusions, nor was he trying to come up with new cocktails. He didn't even use a jigger properly. While all of this might seem anachronistic (or even blasphemous) to some young craft cocktail bartenders, the important thing to realize is that he didn't have to. Murray had been making classic cocktails for so long that he knew his ingredients like the back of his hand—including how best to combine them. He had an innate feel for free pouring, which he honed over decades of practice. He didn't need all those fancy tools to still make a great drink.
To sit at Murray's bar once was enough for you to become a regular. He remembered your name, your drink and even what you were talking about the last time you sat at his bar—no matter how much time had passed since your last visit. His memory was uncanny, and he used it to make people feel unbelievably welcome. His genuine warmth, genial good nature and mind-blowing speed (his nickname was Murr The Blur) ensured that any guest lucky enough to grab a bar seat in front of him was thoroughly entertained and never thirsty. Put Murray in a pub where he never has to do anything beyond pull pints and pour shots and he would be equally as happy. I admire his love of the craft of bartending, not of the fame or trappings that have come along in this new era of mixology. He never wanted to be a brand ambassador or a beverage director. He wanted to smile at guests and give them something that would make them feel better than when they walked in, whether it was a drink or laugh—preferably both. And what more could you ask for from a bartender?" — Joaquín Simó, Alchemy Consulting and co-owner of Pouring Ribbons
Toby Maloney
"Toby is always striving to accelerate and elevate; he pokes, prods and investigates. He's energetic and fun to watch. He has a deep understanding of the physical aspects of bartending, which inspired and continues to inspire my work." — Will Elliott, bar director at Maison Premiere and Sauvage
Dave Arnold and Lee Anne Wong
"I met Dave when I was in class at the French Culinary Institute where he was working at the time. He asked questions relentlessly, and wanted to do whatever research was necessary to find out the answers. I remember once he had a day or two off from work, and instead of relaxing he used his day to stay up until 3 a.m. printing off an out-of-circulation book from the late 1800s about the history of apples in upstate New York. And he did it just because he wanted to know more about apples. He was never afraid to ask a question—yet he was always open to being proven wrong.
Lee Anne Wong was the culinary producer for multiple seasons on Top Chef, where I was part of the culinary production team. Lee Anne was an incredible boss. She always had your back and she always had an answer to every question you asked, but was respectful in her way of communicating it. It's funny to say it, but she loved check and balance systems. I'm a complete nerd for saying it, but systems make a bar run—and run well. Now, because of her, every person who walks into my bar receives a consistent product and service. The systems I have in place ensures that all 12 of our staff work as one." — Peder Schweigert, general manager at Marvel Bar