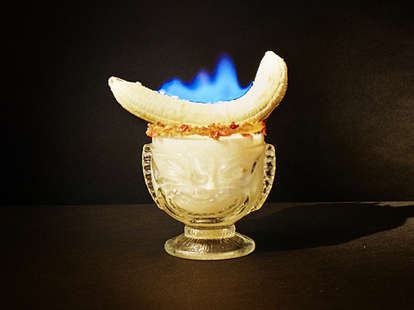 Elvis' "Hunk of Burning Love" Cocktail
Elvis Presley was a legend for many reasons—his voice, his songs, his eyes, his hair, his hips, and of course, his appetites. To commemorate Elvis leaving the building for the final time, we fused his favorite snack (a peanut butter, banana and bacon sandwich) and one of his biggest hits to create a drink as decadent as the King himself. Combining aged rum, nutty Frangelico and tropical flavors of fresh banana, coconut, pineapple and tiki bitters, the Hunk of Burning Love is an ode to Hawaii, where Elvis filmed three movies and held several famous concerts. In the spirit of the King's over-the-top style, we garnished the drink with a flaming 151 rum banana boat and a honey-peanut butter-bacon rim. You can't help falling in love with it.
Hunk of Burning Love
Ingredients:
2 oz Appleton Estate Signature Blend
1 oz Frangelico
.5 oz crème de banana
2 oz Coco Lopez
2 oz pineapple juice
Half a ripe banana
3-4 dashes of Bittermens Elemakule Tiki Bitters
1 cup crushed ice
Garnishes:
Whole banana
.25 oz 151 rum
1 tbsp Peanut butter
1 tsp Honey
Splash of water
Crumbled bacon (approximately 2 strips per cocktail)
Method:
Place rum, Frangelico, crème de banana, Coco Lopez, pineapple juice, half a banana and tiki bitters in a blender. Add one cup crushed ice and blend until smooth.
In a separate bowl, stir together melted peanut butter, honey and water to create a thick syrup and pour into a bowl. Spread crumbled bacon on a separate plate.
Dip the rim of a glass in syrup to coat a quarter inch from the top, then dip in crumbled bacon.
Dig out a trench in a peeled, whole banana, like a boat.
Pour cocktail slush into the tiki glass. Place banana boat on top of the slush.
Carefully pour 151 rum into the banana (use a dropper as needed) and ignite. Before drinking, either let 151 burn out (which will caramelize the banana) or submerge the banana to extinguish it.