5 Essential Cocktail Books Every Drinker Needs to Own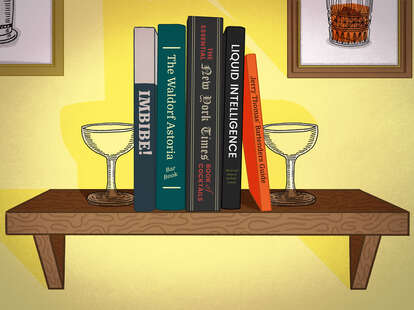 A well-stocked bar includes not only bottles and tools, but also books. From cocktail histories, to drink mixing manuals, to vintage reads penned by bygone bartenders, here are the five essential cocktail books to jumpstart your boozy library.
If you're going to own one book about drinking, it's hard to go wrong with The New York Times's massive collection of cocktails and cocktail writings. Times writer and "Quiet Drink" columnist Steve Reddicliffe organized this 450-page masterpiece by drink type, with recipes culled from top bartenders intermixed with essays on drinking from Times writers past and present, along with guest contributors like David Wondrich and Jim Meehan.
Many bars publish proprietary cocktail manuals, but few of those institutions command the respect of the Waldorf Astoria in New York. Written by Frank Caiafa, manager of the hotel's Peacock Alley bar, the book updates The Old Waldorf Astoria Bar Book with recipes for both new and classic cocktails, along with how-tos, trivia and history.
As you know from reading our series, The Jerry Thomas Experiment, we're big fans of this old school cocktail manual. In 1862, bartender and "professor" Jerry Thomas published this, the world's first bartending manual, to great acclaim. It includes recipes for now ubiquitous cocktails as well as forgotten classics—and a few drinks that maybe deserve to be left in the past (but are still fun to read about). If you want to master the art of mixing drinks, there's no better place to start than at the beginning. Plus, you can drink alongwithourexperiments.
This history book isn't dry like the kind you read in high school, but it would go great with a dry Martini. This companion to Jerry Thomas's guide, written by brilliant cocktail historian David Wondrich, reveals details about the professor's life and impact on drinking culture. This booze-soaked trip through time is filled with colorful tales as well as the definitive recipes for some of the world's greatest drinks.
Anyone who frequents dimly lit speakeasies or tropical tiki bars knows there's plenty of romance in cocktails, but there's also a lot of science. In Liquid Intelligence, Dave Arnold, the head mad cocktail scientist at New York's Booker & Dax, investigates every aspect of drink mixing and breaks it down to a molecular level. From the ideal temperature at which to serve a Martini, to the effects of acid on agave, to the nuances of carbonation, this book will help you not only make a better Manhattan but also appreciate the drink on a greater level.