5 Ways to Fall-ify Your Margarita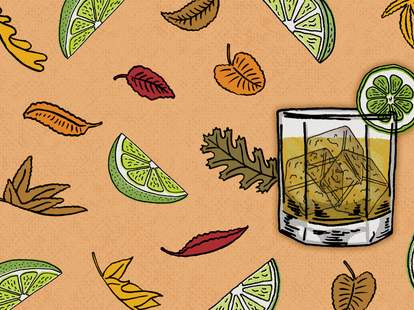 Margaritas are appropriate anytime of year—especially when salsa and guac are nearby. But there's no denying the classic, citrusy cocktail is particularly great sipped poolside in the summer. Once the weather cools, we crave deeper, spicier flavors and seek out fall drinks filled with goodness like spiced syrups and apple everything. But don't give up on the summery Margarita—turn it into a soul-warming autumn staple. Here, five ways to instantly fall-ify the drink.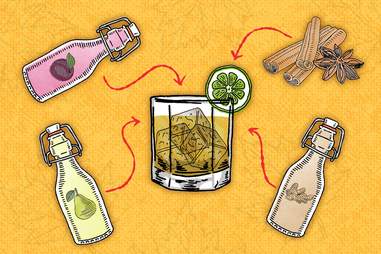 Mark Yocca / Supercall
Ditch the Agave for a Fruit Syrup
While agave's light, honeyed flavor is a perfect match for tart lime juice and vegetal tequila, fall calls for a deeper sweetener. We're talking about fall fruit syrups made with things like pears, figs and all kinds of warming spices like ginger. If you're in need of inspiration, check out some Margarita variations to see how different ingredients work well with the classic.
Mark Yocca / Supercall
Go Full-On Pumpkin Spice
If you go gaga for everything pumpkin spice, you'll be glad to know it's easy to dress up your Marg with the bright orange gourd. Fanatics should ditch the agave for a homemade pumpkin spice syrup. For extra credit, make a big batch of Pumpkin Margaritas in an actual pumpkin for your next party.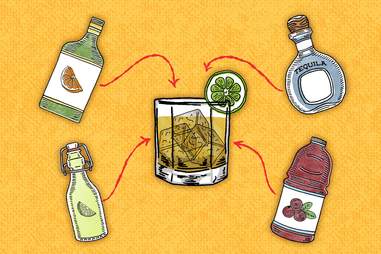 Mark Yocca / Supercall
Add Cranberry Juice
Sweet, tart cranberries always conjure memories of big dinners shared with family and friends. Whether you're mixing one drink for yourself or serving a trayful at a holiday gathering, this simple Cranberry Margarita is a crowd-pleaser. Simply add 1.5 ounces tequila, .25 ounces orange liqueur, .5 ounces fresh lime juice and .75 ounces cranberry juice to a shaker tin with ice. Shake and strain into a rocks glass and garnish with fresh cranberries and a lime wheel.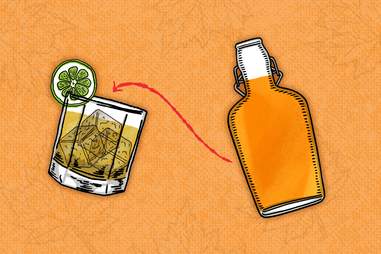 Mark Yocca / Supercall
Replace Lime Juice with an Apple Shrub
Lime juice gives the Margarita its bright, summery flavor, and any substitution needs to complement the tequila just as well. A tart, tangy apple shrub does the job, but with an added touch of fall goodness. Simply use our shrub formula to make your own version with the freshest apples you can find.
Mark Yocca / Supercall
Or Just Add Apple Cider
We love drinking apple cider cocktails to toast the first signs of fall foliage, and the versatile ingredient works great with the agave spirit too. Simply top a classic Margarita with three ounces of fresh apple cider to transform it into a lower-abv fall favorite. Make it extra sweet with a cinnamon sugar rim.