8 Over-the-Top, Ultra Festive Holiday Drinks from Across the Country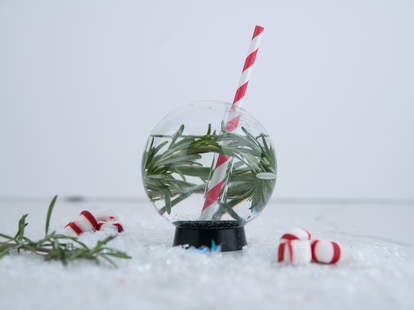 There are plenty of cold-weather cocktails to satisfy every palate this holiday season, but some drinks are more festive than others. If you're really looking to up your holiday drinking game and get some Instagram cred along the way, check out these eight cocktails from around the country. Not only are they over-the-top festive, but they taste delicious, too.
Sparkling Winter Wonderland
Created by Natasha David at Nitecap
It doesn't get more festive than a cocktail served in a snowglobe. Not only is the mix of Truly Spiked and Sparkling grapefruit seltzer, vodka and crème de menthe ultra refreshing, but two dashes of edible disco dust make things extra whimsical.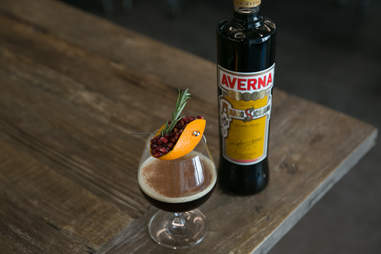 Courtesy of Sweet Polly
Earthly Delights
Created by Ryan Herzog at Sweet Polly
This drink may look pretty, but it will give you a much needed swift kick after a big meal. Made with spicy Wild Turkey Rye, Averna amaro, fresh lemon juice, strawberry liqueur and Stumptown Cold Shot, the whole drink is whimsically garnished with an orange cup holding pomegranate seeds and a rosemary sprig.  
Courtesy of Sable Kitchen & Bar
Six Geese a Laying
Created by Mike Jones at Sable Kitchen & Bar
Inspired by the carol Twelve Days of Christmas, head bartender Mike Jones created 12 different fanciful cocktails—a new one will be served each day from December 26 to January 6. Our favorite is the insanely cool Six Geese a Laying, which is a buttermilk rum punch served in a nest with a Cognac French custard "yolk" and amaro gum drop in the center.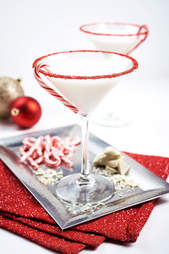 Courtesy of Morimoto Asia
Winter Wonderland
Created by Eric Bandauski at Morimoto Asia
Candy cane lovers will pine for this festive cocktail, which is garnished and rimmed with the striped treat. A mix of vodka, peppermint schnapps and white chocolate liqueur is the perfect thing to cool you down after a grueling day at Disney.
Courtesy of Four Seasons Las Vegas
Silent Night
Created by Four Seasons Las Vegas
This decadent take on spiked hot chocolate is jazzed up with Grand Marnier, chocolate liqueur, chocolate ganache and sea salt. A topping of whipped cream, candied orange peel and chocolate shavings makes things extra festive.
Courtesy of Accomplice
Flippin Egg Nog
Created by Gaby Mlynarczyk of Accomplice
Gaby Mlynarczyk takes traditional Eggnog to the next level by throwing it in a milkshake machine with bourbon, coconut, porter, egg and cream. She tops it off with a maple porter foam, a crispy tapioca star and edible glitter for some holiday sparkle.
Gabi Porter
That's The Ticket
Created by Cody Goldstein for LOCL at NYLO NYC
Inspired by Willy Wonka and the Chocolate Factory, this cocktail is almost as special as finding a golden ticket. It's made with vodka, grapefruit, hibiscus and apple bitters, and then garnished with Pop Rocks and edible gold to make you feel like a kid again.
Courtesy of Leyenda
Sleigh Pilot
Created by Leyenda
Brooklyn cocktail bar Leyenda has transformed into Sleyenda—a Latin pop-up that pays homage to all the queens out there—until December 25 with plenty of festive cocktails to live up to the name. This tiki libation is made with a slew of tropical ingredients (like rum, falernum and cinnamon syrup) and served in an ornament over crushed ice.