What to Drink, According to Your Favorite 'Friends' Character
So no one told you life was gonna be this way. Your job's a joke, you're broke, your love life's DOA. Sounds like you need a drink—something stronger than just a cup of coffee. Here, what to drink according to your favorite character on Friends. Because alcohol will always be there for you.
NBC/NBCU Photo Bank via Getty Images / Supercall
Ross loves old things: dinosaurs, fossils, antiques—he even kissed Chandler's much older mother once. So it only makes sense to pair his way of life with an Old Fashioned. The simple drink may look like a boring glass of straight booze, but it has much more depth to it than you would ever imagine. It's a lot like Ross in the later seasons when he became more than just Rachel's lovesick puppy dog.
NBC/NBCU Photo Bank via Getty Images / Supercall
She's bubbly, it's bubbly. She's elegant, it's elegant. But much like Ms. Green, the Champagne Cocktail harbors a hint of bitterness. (They were not on a break.) That undercurrent of spice and edge is smoothed out by the sugar's sweetness, just as Rachel's ear-piercing outbursts are softened by her optimistic attitude—and, of course, her well-rounded (literally) signature haircut.
Could this drink be any more delicious? Essentially a Whiskey Sour with a float of fruity red wine, the New York Sour is sarcastic Chandler in a glass: dark and tannic at first, but then opens up to a bright ray of bowling shirt-wearing sunshine.
Reisig & Taylor/NBC/NBCU Photo Bank via Getty Images / Supercall
It doesn't matter what the issue is—whether it's where the couch belongs in the apartment, which soap you get to use, or who's stealing whose thunder—Monica will always get the last word. A stickler for details who verges almost on having OCD, she would love this verdant, balanced, equal parts cocktail. Like Monica, it is a tad underrated and deserves more attention for its simple brilliance.
Do we even have to explain this one? The Days of Our Lives playboy who's always asking, "How you doin'?" is the living embodiment of spring break, the occasion for which this drink was first created. But, as we learned as the seasons went on, Joey has depth. He has feelings. He wants something real—for a few episodes, at least. The SOTB is also more complex than you might think, especially when you use good quality cranberry juice and add a few dashes of bitters, as you do in this variation.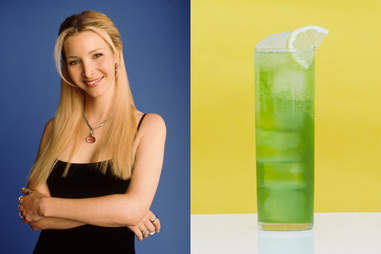 NBC/NBCU Photo Bank via Getty Images / Supercall
Not only would this bright green drink blend in perfectly with Phoebe's whimsical wardrobe, it also contains a quirky flavor: muskmelon, an Asian honeydew-like fruit. Between her atonal renditions of "Smelly Cat," her unique running style that's more flailing than jogging, and her terrifying stories of growing up on the street, Phoebe can be an acquired taste—much like muskmelon. Give them both a chance, though, and you'll no doubt have an entertaining night.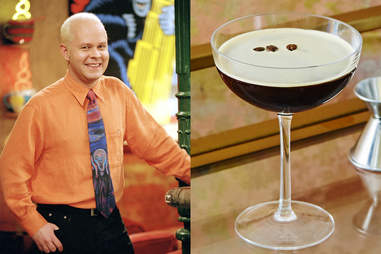 NBC/NBCU Photo Bank via Getty Images / Supercall
Fun fact: While he was playing the part of Gunther, actor James Michael Tyler was also an actual L.A. barista. That's method. Celebrate the bleach blonde barista with an Espresso Martini. It's strong enough to soothe the achingest of hearts, caffeinated enough to keep you alert (just in case your Rachel finally comes running into your arms) and, like Gunther, it's a semi-forgotten '90s favorite.