7 Years After Its Devastating Nuclear Disaster Fukushima Is Making Japan's Best Sake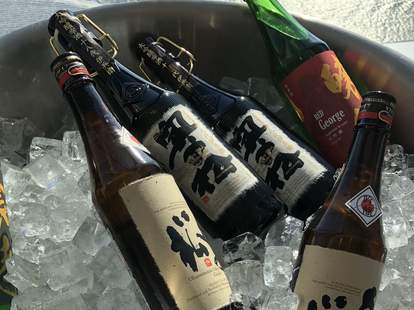 Before the spring of 2011 most Americans, at least those who didn't consider themselves Japanophiles, had never heard of Fukushima. The prefecture has about the population of Nebraska and is smaller physically than Connecticut. But on March 11, 2011, the name Fukushima occupied countless front pages and television screens when a 9.0 magnitude earthquake struck off the coast, subsequently causing a tsunami and a meltdown at the Fukushima Daiichi Nuclear Power Plant. Both the natural and nuclear disasters were responsible for billions of dollars in damage and thousands of deaths.
Less well-known than the tragedy of Fukushima though, is the recovery that's been taking place there. While the area still has much to do—tens of thousands remain evacuated and rebuilding efforts continue—you can find signs of rebirth and evidence of a return to normality in many parts of the region. And, at least for those looking at it from outside of Japan, Fukushima's sake breweries are unexpected bright spots.
Those in Japan know that Fukushima has been a sake powerhouse going back to before the Meiji Restoration—some of its most famous breweries date back as far as the early 18th century. But the events of 2011 cast a shadow on almost every product that came out of Fukushima. Years after the disaster, drinkers inside and outside of Japan were afraid to consume sake from the area, fearing that the rice and water were contaminated. In 2015, chairman of the Fukushima Sake Brewers Association Hiroyuki Karahashi said that China had banned sake from the region entirely over those concerns. During a recent event in New York, Fukushima governor Masao Uchibori acknowledged that there was also a lot of anecdotal evidence of people avoiding not just sake, but anything from the area. He noted that he still gets questions about what from Fukushima is alright to eat or drink.
The answer though, said Uchibori, is almost everything. Over the last year only .05 percent of the agricultural products didn't meet Japan's standards for acceptable levels of radioactive cesium—Japan's standards, by the way, are significantly stricter than American standards. The U.S. allows more than 10 times as much cesium in its products. And while across the board the test results were good, the results for rice that could be used to make sake were better. Not a single sample of rice—out of nearly 10 million—came back positive for contamination.
Somewhat lost amidst all the concerns over safety and contamination, though, is the fact that the sake from Fukushima is consistently the best in Japan (which puts it on the very short list for best in the world). Since 2012, Fukushima sake has taken home more prizes at the prestigious Japan Sake Awards than any other region. Throughout the recovery, breweries like Okunomatsu, Kokken and Homare have continued to produce world class sake.
After tasting through more than a dozen, our favorite sakes brought a unique combination of funky earthiness and crisp, fruity flavors. But getting to experience those complex flavor profiles is a rare opportunity for someone in the United States. A sake importer at the event said that many of Fukushima's stand out bottlings almost never make it across the ocean. Fortunately for sake fans, that will change soon. A Fukushima focused sake shop will open in New York City later this year, according to Uchibori. For Americans, it will be a chance to experience something entirely new. And though Fukushima still has far to go, this will be a chance to show how far it has come.