Vegas is America's playground where you can be anyone you want to be—at least for a long weekend. In a city where sin is welcome and no one judges your personal party habits, it's hard to go wrong with the insane pool parties, all-night casinos and legendary dives. But there are a few particularly outrageous bars that belong on your Vegas bucket list. While these six spots range from an upscale cocktail lounge to an over-the-top tiki paradise, they all have one thing in common: They are ridiculously and unapologetically Las Vegas.
If a classy Vegas experience is what you crave, The Cosmopolitan's Chandelier lounge is the luxe, dripping-in-diamonds place to be. Adorned in two million crystal beads, the bar features three levels to explore: The bottom of the Chandelier is inspired by a traditional casino bar, while the top is a plush lounge where guests can peer down at the hustle and bustle below. The middle level, located within The Chandelier's interior chandelier, offers craft cocktails like the Fire-Breathing Dragon, made with Dragon Berry rum, lemongrass, raspberry and Thai chile.
As the oldest freestanding bar in Vegas, Atomic Liquors has seen some things. Originally called Virginia's Cafe, it was a hangout for legendary stars like the members of the Rat Pack and Barbara Streisand, and is featured in films like Casino and The Hangover. In true Vegas fashion, drinking here used to come with a show: As it was a mere 50 miles from a U.S. Army nuclear testing site, patrons would often climb onto the roof and watch for mushroom clouds while they sipped their cocktails. Now, you can watch rolling video of the mushroom clouds in the men's room, sip their signature F Bomb cocktail—Fireball, fernet and Atomic's homemade energy drink—and imagine you're drinking with the ghost of Ol' Blue Eyes himself.
While hotels like The Venetian and New York-New York were constructed to transport guests to iconic urban centers (both ancient and modern), The Golden Tiki invokes a more verdant locale: a tropical Polynesian paradise. Upon entering the 4,000-square-foot bar—through a rock cave waterfall—you're welcomed into a number of themed rooms like a mermaid cove, pirate's lair and "Headhunter's Village," which is decorated with skull racks and weapons. Feast on pu-pu platters and sip tiki classics like Painkillers or Navy Grogs while you take in a tableside magic show or some punk rock karaoke.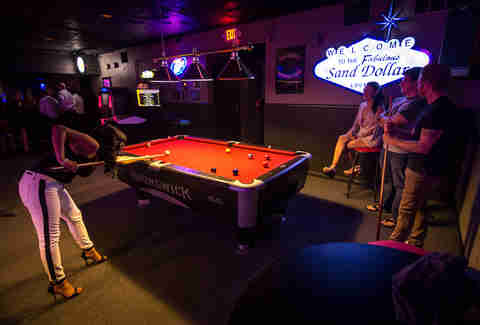 This legendary blues bar opened its doors in 1976 and has been host to some of the greatest musicians of our time. For 30 years, artists like Muddy Waters, B.B. King and Mick Jagger took the stage until the bar closed in 2007. But with support from the community, the bar was resurrected and reopened in 2009 to the delight of Vegas locals and tourists alike. Listen to live music while sipping something from the Sand Dollar's Boilermaker menu or enjoying one of their signature cocktails. We're partial to the Little Queen of Spades, a barrel-aged Negroni variation made with gin, Campari, Carpano Antica and Jägermeister.
With the slogan "as Vegas as Vegas gets," you know you're in for a Sin City classic when you walk through Peppermill's doors. The restaurant and lounge made its debut in 1972 and hasn't changed much since. The blue and purple space boasts large seating areas with fire pits in the center, full-grown trees and tropical plants, and Tiffany-style lamps adorned with bright pink flamingos. The 24-hour Fireside Lounge is tucked inside the diner and features a classic cocktail menu with favorites like the Gimlet and Rusty Nail. Go during their twice-a-day happy hour for $6 Margaritas and half price wine and beer.
Mandarin Oriental hotels are known for their opulent cocktail lounges, and it doesn't get more glamorous than the one at their Vegas outpost. Perched on the 23rd floor of the hotel, the bar features floor-to-ceiling windows that offer stunning views of the glittering Strip. Settle into one of the lounge's red leather seats and order a Five-Star Martini—Absolut Elyx, Dolin Vermouth and blue cheese-stuffed olives—for some vintage Vegas elegance. If you're in the mood for something sweeter, their signature Martini, The Golden Leaf, is mixed with Hendrick's, Aperol, mandarin oranges, pineapple, lime juice and simple syrup.