Of all the ways human beings have devised to consume adult beverages throughout the ages, not one is better at lifting spirits (literally and figuratively) than shots. This is just a pure, stone-cold fact, and no amount of disputing will change it. Yet despite standing at the apex of drinking camaraderie culture, shots can still be improved upon. Hard to believe, and yet: true.
This collection of dos and don'ts is designed to enhance the experience while eliminating anything that might detract from its communal glory. Absorb these guidelines, make them part of your shot-taking rituals, and spread them around, in the name of taking one of life's best bonding experiences and turning it up to 11.
 
Do: Convince a total stranger to join you.
They won't be able to resist, and ... instant new friend for life. The science is clear on this: If you and your friends envelop a stranger into your good times, you'll be improving everyone's night by 72%. And not only will everyone be having more fun, but everyone will also have a good story to tell. Soon to be followed by others.
Don't: Worry about that "eye contact" rule.
You've probably heard about the alleged consequences of not making eye contact with your friends (old and new) while toasting. Pffft. That rule is strictly for your European friends. It originated over there (in France, Germany, or Italy, depending on who's telling the story) and simply has no jurisdiction in the US. If a European pal is among you, even better: take the opportunity to make them gasp by tempting fate and blowing off this 'rule.' Live dangerously!
Do: Change it up!
Everyone knows the tried-and-true shot liquids. And sure, they haven't gotten to tried-and-true status by accident. But there's tried-and-true, and there's new-and-exciting. Why not take the road less traveled? Try something different. Something you've never had before. Who knows? This adventurous decision could end up changing the course of your night, if not your life. At the very least, you could end up with a new go-to shot option.
Don't: Turn down what's offered.
If someone buys a round and you turn up your nose at their liquid of choice, you lose on several levels. Maybe you're a cocktail geek, or a beer snob—and hey, nothing wrong with that. Supercall is all about geeking out on quality liquids to enjoy with quality friends. But keep some perspective. Someone just bought you a drink. That's both a compliment and an act of generosity. Put down your Fox-Badger Baltic Porter, say thanks, and enjoy.  
Do: Make toast!
Hand out some quality artisanal toast, during a toast. It's hilarious. And delicious. And timely, as artisanal toast is a thing now. No, really. (It's also historically accurate, since toasting originated in 16th century England, where they'd take spiced toast with wine to add flavor and cut through the acidity of the wine.)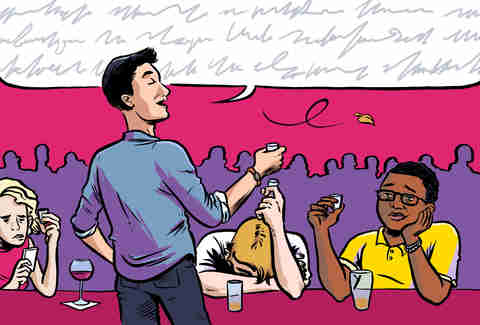 Don't: Make your toast longer than the average tweet.
Your spoken toast, that is. Bring the toasted bread all day. But when it comes to the oration, keep it short. Brevity is the soul of wit, and more importantly, no one came here for a speech. If you want to say something more than "Cheers," by all means do, but go for the short and sweet over the long and droning. "To absent friends" is a good one. So are, "May the best of our past be the worst of our future," and, "Wise, kind, gentle, generous, sexy. But enough about me, here's to you."
Do: Go for the shotski
On the off chance you have no idea what a shotski is, it's the brainchild of some alpine visionary who saw that a ski didn't have to be just a ski—it could also be a multi-person bonding instrument. All it took was one simple modification—the addition of several shot glasses to the top of the ski. They can be glued on or screwed on (or not*), and then filled with the liquid of choice. Friends line up on one side, grip the ski, and turn it toward them, delivering one shot to each person involved.
* Some sources report that the shotski was invented in the Austrian alps, and that its creators didn't attach the shot glasses to the ski but just placed them on top and, using the balance and agility honed from years on the slopes, sipped them down.
Don't: Toast with water
This one comes from no less an authority than the US Navy—you know, the branch of the armed forces that lives on (and for months at a time, under) the water. It's right there in black-and-white in a 1986 document, titled Mess Night Manual, that details naval dining and drinking customs: "Tradition is that the object of a toast with water will die by drowning." Need we say more? Take it from a sailor: Don't toast with water.
Do: Have a plan—for both your numbers and type of shot
You never want to exclude anyone from the shot ritual, but there are limits, even if they're only set by the contents of your wallet. Most people can't buy the entire house a shot. So decide on your numbers first—this could be a duet, a quartet, or a rowdy collection of friends, acquaintances, and ... new friends. It's up to you. But make the decision. Once that's done, decide on the type of shot you want. No bartender on earth enjoys an indecisive customer, especially one who's ordering numerous shots of … he's just not sure what.
Don't: Jump the gun
We get it—the shot you hold in your hand is a deliciously inviting treat. But this is a time for restraint, poise, and, most important, consideration for the group. Shots are a shared experience. Don't go throwing it back before everyone else has theirs (obviously) and also don't drink it before the toast or toasts have been made (even if those toasts are going on too long).
Do: Work in some choice international variations on "Cheers"
You probably know "Salud" and "Prost," but why not mix it up with some lesser known variants, such as "Zum wohl" (pronounced 'tsum vol' and meaning "to your health" in German), or, for summer shots, drop in some tropical salutes like "Manui!" ("To your health!" in Tahitian) and "Okole Maluna" (pronounced "oh-col mah-loona," and meaning "bottoms up" in Hawaiian).