As the long days of summer wind down, it's worth asking yourself how much you've taken advantage of them. If the answer is, "Not enough, but I really need to stop spending so much money," then there are some simple solutions. These affordable quick trips don't require dropping stacks of cash if you know what you're doing. You can bike to a wine-soaked picnic on top of a picturesque Canadian hilltop or drink limitless cervezas and mezcal on a Mexican beach that isn't a tourist trap. Here, 10 cheap summer trips to take and make the most of a summer detour with plenty of imbibing. (But if you over-serve yourself, please, get a Lyft.)
Recommended Video
'Last Week Tonight' Writer Josh Gondelman Takes Shots, Talks About Working For John Oliver
Playa del Carmen, Mexico
Skip the overpriced tackiness of Cancún and, as soon as you reach its airport, drive an hour south to Playa del Carmen, a laid-back destination for Americans, Europeans, and Mexicans alike. There are great deals to be had at the all-inclusive resort hotels, like the adults-only, beachside Royal Playa del Carmen (about $364 per night for two people). Lounge by the water while you take advantage of unlimited straight-off-the-spit al pastor tacos and guacamole to go with your unlimited Micheladas and tequila. If you somehow get bored of that, stroll down Avenida Constituyentes to El Fogón, the best taqueria for miles (with some of the most generous pours) for 15 peso tacos (that's less than $1). You can also take a day trip to the Mayan ruins of nearby Tulum or to idyllic Isla Mujeres, which has some of the most wondrous coral reef you'll ever encounter.
The Kentucky Bourbon Trail
The best way to guzzle down an ungodly amount of delicious whiskey is, naturally, in the American South's own Bourbon County. Grab a group of friends and book a tour of the Bourbon Trail's 10 historic member distilleries (it's also possible to bike, though we don't necessarily advise it), and have a dram of one of their rarest offerings. You're here for indulgence, so tack on time to explore Louisville's food and bar scene, which has never been better or more bustling.
Montreal, Canada
Our French-Canadian neighbors know how to party. Montreal is an easy drive or flight from the Northeast, and once you get there, it's one of the most convenient cities in the world to get around on bike or foot. You'll barely have to move to find a tucked-away gem of a cocktail bar or summer festival. But those in the know grab rosé, charcuterie and baguettes at Jean-Talon Market to enjoy while taking in the view on top of Mont Royal.
Finger Lakes, New York
No, you don't need to fly all the way to the West Coast for great wine. If you're in the Northeast, take a road trip to Ithaca, where there are plenty of affordable hotels and Airbnbs, and treat the scenic college town as your home base. Finger Lakes first-timers are best off driving around Cayuga and Seneca. Not sure where to go? Some winery recommendations: Americana, Lucas, Sheldrake Point and Frontenac Point in Cayuga. Try Herman Weimer, Barnstormer, Glenora, Wagner, Red Newt, and Fox Run in Seneca. The area is known for Riesling, Gewurztraminer and Cabernet Franc, but you'll be surprised by how delicious some of the sparkling wine and Pinot Noir is, too.
The Florida Keys
South Beach is fine if you want to unload your checking account. But otherwise, head down to the Keys south of Miami, where oceanfront shacks with insanely fresh (and affordable) seafood and rum concoctions abound. Key Largo, Key West and Marathon are all sure bets: Head into The Rum Bar inside The Speakeasy Inn for a cocktail, grab a hogfish sandwich and a cold one at the locals-filled Hogfish Bar & Grill, and get a taste of old-school Keys living at Skippers Dockside. Finally, wear as few clothes as possible and bring much more sunscreen than you think you need.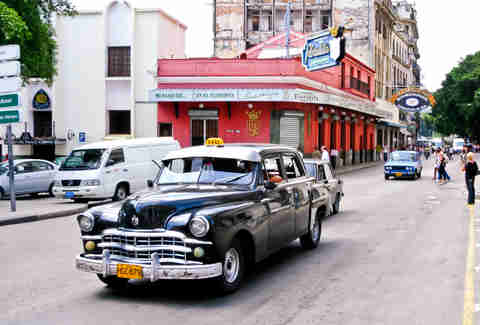 Havana, Cuba
President Trump-era travel restrictions have made it harder for Americans to get to the island, but hardly impossible; major airlines like JetBlue and Delta are still offering service to Cuba. You're best off booking through one of the tour organizations that plan trips there (InsightCuba, Intrepid Travel), so you don't run afoul of regulations that prohibit doing business with the Cuban military. Havana has one of the most historic and vibrant drinking/nightclub scenes in the world (many American bartenders took up work there during Prohibition). Visit Ernest Hemingway's old home, and drink like Papa at El Floridita, throwing back as many Daiquiris as it takes to feel like you've traveled back to the early 20th century.
Basque Country, Spain
Spain, cheap? A trip across the Atlantic may seem counterintuitive if you're trying to save money, but consider this: Round-trip airline tickets from the U.S. can be had at around $600 if you don't mind a couple connections, and once you're in the Basque Country, you won't have to open your wallet very wide. Late-summer festivals there are the furthest thing from being crammed next to a Coachella stage: You rejoice in the open air while drinking Kalimotxos (a mix of red wine and Coca-Cola, a local favorite) by the liter, watching the running of the bulls, and knocking back pintxos (just don't call them tapas).
San Diego
California's wine country is world-class, but hotels and restaurants in popular Napa and Sonoma have become mind-bogglingly expensive in recent years. Try something different while the weather is still hot (but, you know, not too hot) in Southern California's surf country. San Diego and the surrounding area have more craft beer than Homer Simpson would know what to do with. There are literally hundreds of breweries. The brews themselves are impossibly good, free-flowing and available at bargain-bin prices. Highlights include AleSmith, Stone, Ballast Point, and Pizza Port, where you'd be wise to grab a pie or several to soak up all that liquid gold.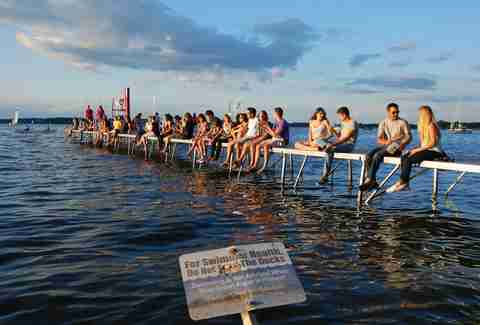 Madison, Wisconsin
San Diego is far from the only worthwhile beer city in America. If you're smack-dab in the middle of the country, get out to Madison, a pleasant three-hour drive from Chicago. The college town, situated on four beautiful lakes, offers seemingly limitless craft beer along with heaps of Midwestern Nice. You can check out the active brewery scene or head to one of the many cozy bars that change out kegs of special brews by the minute (HopCat, Dexter's Pub, Alchemy, The Coopers Tavern).
Baltimore
Charm City's beer scene has been heating up fast. The Local Oyster is in a marketplace in the heart of the city, with fresh Maryland oysters and plenty of local beers on tap. For more under-the-radar action, walk or grab a quick car ride to the Hampden neighborhood, which has Baltimore's best brewery, Union Craft Brewing. Grab a seat at the tap room or bask in the outdoor beer garden. In the same area, seek out Waverly Brewing and some of the best food in all of Baltimore (Woodberry Kitchen, Dylan's Oyster Cellar). And once you're beer-bloated, check out WC Harlan in adjacent Remington, a speakeasy with top-notch cocktails, and Clavel, a taqueria with a serious mezcal fetish.