16 Adorable Distillery Dogs That Will Make Everything Better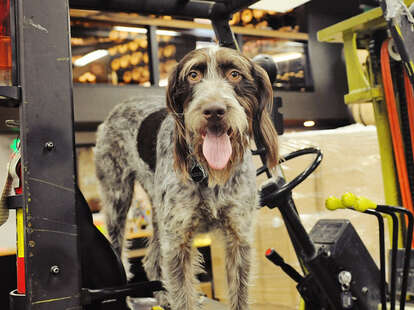 BerryLane Photography / Heritage Distilling Co.
Dogs aren't just man's best friends—they also make pretty great co-workers. There are fire fighter dogs, police dogs, farm dogs, sheep dogs and, our favorites, distillery dogs. With duties like greeting visitors, warding off would-be whiskey thieves, taste-testing lunch and generally being a company mascot, the distillery dog plays an essential role in the making of some of your favorite craft spirits. Here are 16 dogs that will make you wish that you worked at a distillery.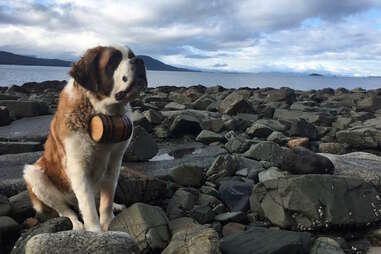 Walter
Located in the heart of Juneau's historic downtown, Amalga was the first craft distillery in the capital city. Starting with vodka and gin, the distillery has since expanded to include a line of uniquely flavored vodkas like spruce and rhubarb, and a single malt whiskey that's made with Alaskan barley. Amalga's distillery dog, Walter, who's as big as a whiskey barrel, decides when each spirit is officially ready for public consumption.
Name: Walter
Breed: St. Bernard
Pet Peeve: Being told to get off the couch, being woken up from a good snooze, generally being forced to do anything but sleep.
Favorite Toy: Chewing on sticks or barnacles at the beach.
Favorite Food: Butter. "He hears the butter door in the fridge open and comes running," says Maura Selenak, co-owner of both the distillery and the pup.
Favorite Pastime: A good game of chase with his buddy Wallaby.
Worst Habit: Drinking your beer or whiskey if you set it down and turn away. "He slurps it right from the cup," says Selenak
Dewey, Banks and Dawson
Opened in 2013 in northern Michigan, Mammoth Distilling is a small craft distillery that makes vodka, gin and a rum distilled from molasses made with Louisiana cane juice. Their Kentucky bourbon features distillery dog Dewey (one the distillery's three Newfoundlands) on the label.
Name(s): Dewey, Banks and Dawson
Breed: Newfoundlands
Pet Peeve: Being left out of a good car ride. "When the dogs travel, we roll out in a distillery van that has two queen size mattresses in the back. Three Newfoundlands equals about 500 pounds of collective dog," says Chad Munger, the founder and owner of Mammoth Distillery.
Favorite Food: Pizza.
Favorite Pastime: Rock diving in Torch Lake. As Munger explains it, "The dogs dive to the bottom of the lake to grab rocks we throw for them to retrieve. I'll admit, it's a little hard on their teeth."
Worst Habit: Eating furniture (wooden desk, upholstered ottoman, sofa).
Blu
Located on Portland's Distillery Row, Vinn Distillery makes the only craft baijiu—a clear, high octane, traditional Chinese spirit—produced in the United States, as well as a whiskey, vodka and blackberry liqueur. Family owned and run, all of Vinn's spirits are distilled from non-GMO rice.
Name: Blucifer, Blu for short.
Breed: Blue Heeler
Pet Peeve: "When he gets carded and the bartender can't do the math for dog years," says Grey O'Neil, the distillery's tasting room manager.
Favorite Toy: A good, old-fashion branch. "He's a no frills pup that likes slobber with his oak," O'Neil says.
Favorite Food: Steamed rice with lamb and a blue curaçao sauce.
Favorite Pastime: "Shedding in order to give everyone and everything the opportunity to look as cool as him," O'Neil says.
Worst Habit: "At a party, he's a creep and will socialize with anyone willing to accept his head in their crotch," O'Neil adds.
Bella Bug and Katie
The first distillery within Austin city limits since Prohibition, Still Austin makes "grain-to-glass" whiskey with locally grown grains. At any given time, there can be up to six dogs running amok at the distillery, but you can always find co-founder Lisa Braunberg's pup, Bella Bug, and distillery design consultant (and professional dog trainer) Daniel Oatis' Weimaraner, Katie, who recently learned how to roll a whiskey barrel.
Name: Bella Bug
Breed: "Bella is a little mutt from New Mexico—maybe Cattle dog mix—but we're not sure. She likes to have a job. I wish we had a herd of sheep here at distillery so she could herd them around all day," says Braunberg.
Pet Peeve: Rude humans.
Favorite Toy: Anything she can tear to shreds.
Favorite Food: Stinky cheese—the stinkier the better.
Favorite Pastime: Stalking squirrels.
Worst Habit: Eating books—primarily hardcover nonfiction.
Name: Katie
Breed: Weimaraner
Pet Peeve: "Testing fire alarms," says Oatis.
Favorite Toy: Her stuffed animals Noodle or Hootsy the owl.
Favorite Food: Tacos.
Favorite Pastime: Squirreling.
Worst Habit: Walking on the counter and foraging for "people food."
Ginny
Copper Fox sets itself apart by infusing their hand-malted barley with applewood and cherrywood smoke, which adds distinct flavors to the final products. The distillery makes a small batch single malt whiskey, rye whiskey and gin. Though the company's label features a graphic fox in profile, the real canine in charge is Ginny.
Name: Ginny or Gin Gin.
Pet Peeve: Late dinner.
Favorite Toy: Ball, balls, any ball.
Favorite Food: "Whatever you are eating," says Cheryl Targos, the distillery's marketing director. As Ginny would say, "I am very polite, and will wait patiently until you have eaten all that you want first."
Favorite Pastime: Fetching that ball.
Worst Habit: Rolling in smelly stuff.
Dyna Marie
Hansen Distillery is best known for their small batch, heritage moonshine, based on a family recipe originally created by the founder's great grandmother during the Great Depression. We'll be the first to admit that we're totally jealous of head distiller Kris Sustrik's pup Dyna Marie's epic bling.
Name: Dyna Marie
Breed: Chihuahua
Pet Peeve: Not getting all the attention.
Favorite Toy: Stuffed froggy.
Favorite Food: Anything and everything she can get her paws on.
Favorite Pastime: Greeting distillery guests.
Worst Habit: "Just being too sweet and getting everyone wrapped around her little paw," says distillery owner Shayna Hansen.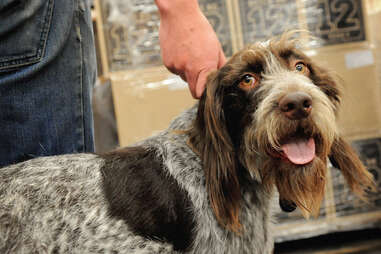 Hegel
Best known for their Brown Sugar Bourbon, a flavored bourbon with a touch of cinnamon, Heritage Distilling is one of Washington's most celebrated family run craft distilleries. Head distiller Dain Grimmer's photogenic ham of a Wirehaired Pointer drew us to the distillery—but we stayed for the whiskey.
Name: Hegel Grimmer
Breed: German Wirehaired Pointer
Pet Peeve: Curly haired dogs always try to hump Hegel. According to Hannah Hanley, the general manager at Heritage Distilling,"One time Hegel literally jumped into his owner Dain's arms because a particularly feisty Oodle was coming his way."
Favorite Toy: Chuckit ball.
Favorite Food: Anything in the garbage or any "people food" that he can find on the counter.
Favorite Pastime: Visiting his dad at work, hiking, extreme cuddling, swimming, and chasing birds, squirrels and bunnies. "Although he likes bourbon, he prefers rye," says Hanley. Hegel is also a ladykiller; he loves to play fetch and bring the ball back to single women at the dog park.
Worst Habit: Regularly eating his mom's breakfast sandwich off the counter. "He manages this feat of banditry by tricking her into letting him outside, then snatches the sandwich off the counter as soon as she isn't looking," says Hanley.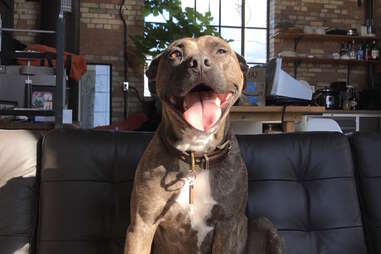 Sofi and Mabel
The first distillery in Elk Rapids, Michigan, helmed by one of Michigan's first female head distillers, Ethanology follows a farm-to-bottle philosophy. Currently, the distillery produces a vodka made from locally grown, 100-percent red winter wheat, and a gin infused with hand-picked botanicals foraged in northern Michigan.
Name: Sofi
Breed: American Staffordshire Terrier (Pittie)—rescued from a shelter.
Pet Peeve: Squirrels—in general.
Favorite Toy: Tennis balls.
Favorite Food: Vanilla ice cream.
Favorite Pastime: Swimming.
Worst Habit: Notorious intersection pooper.
Name: Mabel
Breed: Boston Terrier-Pug mix.
Pet Peeve: Getting picked up.
Favorite Toy: She's too dignified to play with toys.
Favorite Food: Vermont 5-year-old white cheddar.
Favorite Pastime: Napping in a sunny spot.
Worst Habit: Taste testing various prescription eyewear.
Taki
While they're known for their Texas-made corn vodka, Tito's deserves equal attention for their work with animal charities. Owner Bert Butler "Tito" Beveridge's dog Jo was the first in a long lineage of distillery dogs, and helped pave the way for the company's charitable work with all creatures canine. Their Vodka For Dog People program donates net proceeds from the company's online merch store to Emancipet, a nonprofit that helps make veterinary care more affordable.
Name: Taki
Breed: "A mystery mix of two very large dogs," says Beth Bellanti, Tito's Vodka for Dog People Program Manager.
Pet Peeve: Brushes and baths.
Favorite Toy: A ball or "anything that can be shredded."
Favorite Food: Whatever you're having.
Favorite Pastime: Morning rounds in a golf cart and hugging.
Worst Habit: Fence jumping.
Sookie
Made with wheat, rye and corn sourced from New York farmers, Brooklyn's Van Brunt Stillhouse makes whiskey, rum, grappa (in collaboration with neighbor Red Hook Winery) and moonshine. Visit their tasting room for a cocktail, a taste of their single malt whiskey and a hangout session with Sookie, their loveable distillery dog.
Name: Sookie, "Like Cookie with an 'S'—I have to explain that often," says the pup's owner Sarah Ludington.
Breed: "Alabama Special featuring Border Collie, we think," Ludington says. Sookie was adopted through Badass Brooklyn Rescue.
Favorite Toy: Squishy golf ball.
Favorite Food: Sookie is a full-on carnivore. "She even turns her nose up at dairy," says Ludington.
Favorite Pastime: Cat food hunting.
Worst Habit: Raiding the cat box.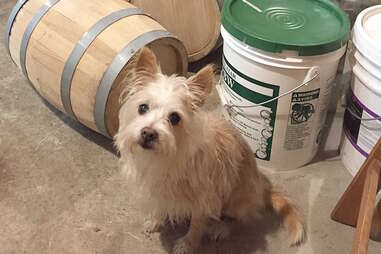 Buddha
Located in the heart of the Adirondacks, this small craft distillery makes corn-based moonshine, bourbon and apple brandy, as well as a corn whiskey aged in ex maple syrup barrels. All of the distillates are made with locally grown ingredients, and their barrels are handmade in the Adirondacks by U.S. Barrel from indigenous white oak.
Name: Buddha
Breed: Terrier
Pet Peeve: Humans. "Usually [in the] late evening—once the witching hour begins—one wrong look and he morphs into a gremlin," says Gristmill's co-founder, Steph Hadik.
Favorite Toy: Currently tied between a stuffed sea turtle and a catnip mouse.
Favorite Food: Cheese—or whatever's on your plate.
Favorite Pastime: Exploring the distillery property. According to Hadik, Buddha is particularly fond of visiting the "mooing dogs" (aka cows) at Adirondack Organic Grains.
Worst Habit: Stealing his cat-sister's wet food.
Zuni
This small, women-owned-and-run D.C. distillery offers a vodka, a Kentucky bourbon aged in ex-Sauvignon Blanc casks and a 90-proof rye whiskey dedicated to Hillary Clinton. Currently, Republic Restoratives' wares are only available in D.C. and one county in Maryland, but the distillery hopes to expand its reach in 2018.
Name: Zuni
Breed: The Lacy, "a true Texas breed."
Pet Peeve:Distillery cats.
Favorite Toy: Bouncy barrel bungs.
Favorite Food: "Any meat that pairs with Borough Bourbon and rhymes with 'steak.' And is spelled s-t-e-a-k. All those things," says Rachel Gardner, one of the distillery founders.
Favorite Pastime: Sprinting in wide open spaces. "She's very fast, even in middle age."
Worst Habit: Death farts. "But never in the distillery," Gardner says. As Zuni would explain, "I'm a lady!"