12 Foreign Expressions That You Need to Start Using
Many Americans often have trouble expressing themselves. Usually that's a consequence of being emotionally repressed, having paid only minimal attention in junior high, or being an elected official. Sometimes, though, it's due to the constraints of the English language. The foreign words and phrases below do a better job of defining American life than most of our "voice of a generation" novels, so they may be worth weaving into your lexicon... even when you're just kalsarikännit-ing.
(Finnish) To drink inside your house, in your underwear, with absolutely no intention of leaving. Which is obviously enjoyable, but you don't want to end up like your deadbeat Uncle Larry, who tragically kalsarikännitted his life away after graduate school.
(Italian) Someone addicted to UV-tanning salons. In other words, "a Real Housewives of New Jersey cast member."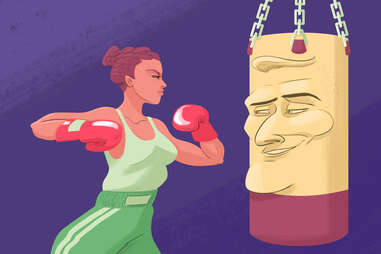 (German) A face that badly needs punching. Look, some people just have incredibly punchable faces (see: 95% of politicians and 100% of "YouTube celebrities"). We all want to do it, the Germans are the only people bold enough to add it to their dictionary.
(Japanese) A person who appears to be very attractive from the back, but... actually is not. No one should be judged on superficial qualities like appearance. Then again, that is something an ugly person would say. Am I ugly?
(Hawaiian) To scratch your head and try to remember where you placed something. Like, "Hey, where's my 2-year-old again?" And we know Hawaiian isn't foreign, but if you're on the mainland there's a pretty good chance you don't speak much beyond "Aloha."
(German) Gaining weight as the result of emotional binge-eating. Literally, it translates to "grief bacon." Which, coincidentally, is the name of my pork-themed black-metal band.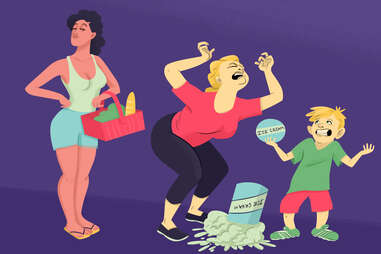 (Danish) The woman standing in front of you in line at Whole Foods (or wherever), yelling loudly and awkwardly at her children. Who probably deserve it... but still, that could really scar a kid. This is how episodes of Hoarders are born.
(German) Probably the most widely used phrase on this list (in America, at least), it means taking pleasure from other people's misfortune. Or pretty much every time you've laughed in the past 20 years.
(Buli/Ghana) When you bite into something so damn piping hot that it burns your mouth and you yell. This one is very useful, as pelinti is much easier to say than, "Holy shit! I'm so stupid. Why am I so stupid? This is why mother never loved me!"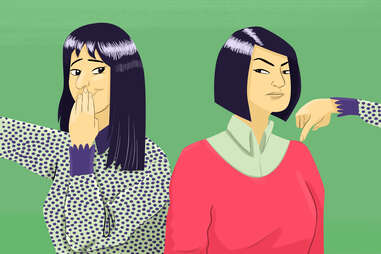 (Indonesian) When you tap someone on their shoulder, behind their back, to trick them. Also known as being a dick.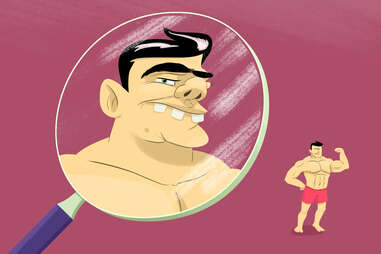 (Filipino) A person who seems attractive from a distance, but up close is... um, not. Kind of like the "Monet" phrase, popularized by the seminal 1995 classic, Clueless.
(Georgian) The feeling of being full, but unable to stop eating. This also translates to "I accidentally ate the whole thing." If anything on this list defines American culture, it's shemomedjamo. For more explanation, visit your local Golden Corral.
Sign up here for our daily Thrillist email and subscribe here for our YouTube channel to get your fix of the best in food/drink/fun.
Wil Fulton is a staff writer for Thrillist. He would like to
backpfeifengesicht
about 47 people right now. Follow him @WilFulton.