The Story Behind the Broken Shaker Bars is a Cocktail of Hope and Inspiration
Courtesy of Javier Sanchez
There's a class of birds, butterflies, and bats known as migratory pollinators. They range over vast distances, creating a "nectar corridor" of pollination that's crucial to ecosystems across entire continents.
When it comes to cocktail culture, Gabe Orta, co-founder of the award-winning Miami bar Broken Shaker, is a kind of migratory pollinator. His "nectar corridor" runs through the wide-ranging consulting services of his agency, Bar Lab. It spans his other Broken Shaker outlets, in Chicago and Los Angeles (and coming soon to New York), and it stretches through his cocktail programs on cruise ships, where international imbibers dip their beaks in his singular creations. His influence on drinking culture is multifaceted and it reaches across continents.
And he built it all from scratch, literally from the ground up. The big breakthrough was a pop-up cocktail bar. He opened it with his business partner, Elad Zvi, in 2012. They named it Broken Shaker, and it was mostly meant to be for fun. But it proved so wildly popular that it transformed from pop-up to brick-and-mortar establishment. And not just any establishment, but a series of highly successful destination bars permanently attached to Freehand Hotels in the aforementioned three cities. The New York City location is scheduled to open in 2018. Orta also owns a restaurant, Twenty Seven, which sits near his first Broken Shaker bar, in Miami.
Orta's journey to the forefront of American cocktail culture started in chaotic circumstances. Born to a single mother in Colombia, he grew up in an atmosphere rife with politically charged revolts and dangerous guerilla activity. He and his mother fled the country for Florida when Gabe was 15. "I was running away from violence," he says. "My childhood was very violent—it was the 80s. I came to the U.S. I was illegal. No papers, and didn't have a way to work."
Like many immigrants, he eventually found his way to a job in the hospitality industry, and also to citizenship. "I had a friend in a bar who got me a job sweeping floors. I was helping my mom pay the bills," Orta recalls. "All while going to high school and working in the nightclub on the weekends. Thursday to Saturday I swept, I washed dishes, and worked in the kitchen as a butcher. One night I was sweeping at a famous nightclub in Miami Beach and someone gave me $100 as a tip. It was Madonna. I was hooked on this business."
Two years after they landed in America, the political climate in Colombia improved, and Orta's mother decided to return to her home country. "But I loved this country," Orta recalls. "I wanted to stay. The future was here."
As the son and grandson of chefs, Orta eventually discovered a passion for food. He was as comfortable behind a stove as he was behind a bar, where he discovered the camaraderie that permeates the industry. He also realized he truly enjoyed taking care of guests, something chefs don't get to do—at least not directly.
The bar presented an opportunity for Orta to marry his two passions, for creativity and hospitality. Additionally, "There was good money in the bar."
But Orta's first real eye-opening experience took place at the Plaza Hotel bar. "That was the first time I saw cocktails," he remembers. "I started talking with a bartender [there] and noticing how he was presenting drinks. It was beautiful. I started researching, and looking for books after he told me about Dale DeGroff."
There are few brands that understand personal progress as well as Johnnie Walker. It's in the company's DNA. Founded in the 19th century by a 14-year-old forced into the role of breadwinner after the death of his father, Johnnie Walker grew to become the most widely distributed brand of blended scotch in the world. Young John Walker started out as a teenage grocer, learning on the job, and finished up as an international businessman before handing the reins to his sons, who would lift the brand to its current status as a global icon.
Inspired by DeGroff and the books he was reading, Orta started experimenting at his job. "I would bring fresh mint and juice and the bar manager would get mad. He'd ask, 'Why are you bringing your own ingredients?' Crazy as it sounds, nobody was making Mojitos with fresh lime juice—it was all rosés. This was 2003."
Orta felt sure he was onto something. Eventually he took a gig bartending at a brunch spot in South Beach and encountered Zvi for the first time. "He was making cocktails like nobody else," Orta says. Now Orta was certain he was onto something. The two of them hit it off and decided to start a catering company, producing both cocktails and food.
They added consulting to their services, and by 2007, started gaining momentum. Some of their success they attribute to wisdom gleaned from legendary Miami bartender John Lermayer. There was also a chance encounter with a woman visiting Miami that was a case study in right-place, right-time. She came along as Orta and Zvi were consulting on a cocktail program at the W Hotel, and she happened to be a reporter for The New York Times. The article she published on Orta and Zvi's work, extolling their unique approach to cocktails, was the first time that anyone really paid attention to how drinking in Miami was changing, and it helped put Orta, and the Miami cocktail scene, on the map.
"The goal the whole time was to open our own bar. But back then it was hard to believe someone could open a small bar with cocktails," Orta recalls. "In Miami, it takes a million dollars to open a small cocktail bar; the liquor license is $200,000, the rent is so expensive… and people only listen to big chains."
They found and lost potential spaces for the venue, along with investors, and they started to get discouraged. That was when they met representatives from the Sydell Group of hotel owners. "We were very familiar with the property, we lived next door [to the Freehand]. So we said to them, 'Hey, we want to do a pop-up.'"
Of course it wasn't that easy. "We had no idea how to do a business plan," Orta remembers. "Thank you, Google. And our friends—they helped us put it together in 48 hours. It was intended to be a four-month-long pop up." Instead, it turned into not only a chain of cocktail bars but also an expanded entree into the industry. "It happened organically," Orta says. "We didn't expect the success to be so strong, and we learned a lot along the way about wages, employees, and business in general."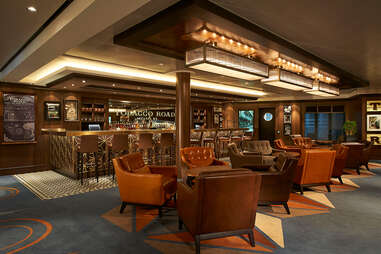 They've gone on to win prestigious awards like the Tales of the Cocktail Spirited award for Best American Hotel Bar, but the heart and soul of Broken Shaker remains the same. "The concept is all about people having fun. We take what we do seriously but we don't take ourselves seriously. Our guests can lay back, feel at home."
For each Broken Shaker location, Orta strives to tap the essence of the city. Hours upon hours of research go into each bar program. "Every property has the same vibe but is also very different—for example, when we went to Chicago we didn't know much about it. We moved there for four or five months. We met a person in the Ukrainian neighborhood who makes ceramic cups, and we found a molé, made by a Mexican grandmother we met at the market, that is now in the cocktails. We're really inspired by the cultures in each city."
Makes sense for a successful bar team created by immigrants. Melding cultures is what excites Orta. He has ample opportunity for that in his role as a consultant for the cocktail program for Norwegian Cruise Line. Developing the onboard cocktail menus and staff training programs provided a chance for Orta to explore a new aspect of the business. It was also an opportunity to work on a much larger scale.
To put it mildly, Orta has come a long way since he was a teenager trying to stay out of harm's way in Colombia. Now, he's coming full circle and giving back. First, he opened a philanthropic-minded bar in Colombia that offered industry training and profits to local organizations in need. After that fell through, he formed a foundation through Bar Lab that partners with organizations in Miami, Chicago, Los Angeles, and Colombia to work with kids.
"The hospitality industry really is a way out of poverty," he says. "Once these kids have the skill set, they have options. But nobody is going out and teaching this, so my plan is to partner with other bartenders and chefs, have them teach kids about cooking and bartending, and do events throughout the year to raise awareness across the food and beverage industry. We're calling it the All Day Foundation. I'm very excited about it!"
It's yet another example of this migratory pollinator enhancing every ecosystem he comes in contact with, whether it's imparting sweet nectars and bracing libations on land and at sea, helping improve businesses through consultation, or, down the road, opening doors for untold numbers of children who surely remind him of his former self: Ready and willing to work their way out of poverty, just in need of someone to light the way.
Gabe was not paid to participate in this article but he does work with Johnnie Walker from time to time.—Ed.