This Michelin Starred Bar Makes Epic Game of Thrones Cocktails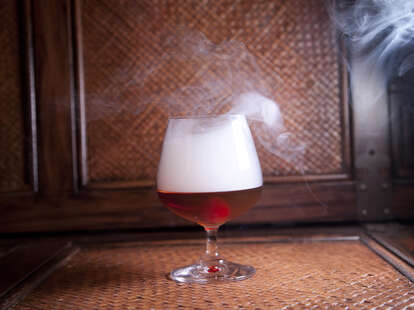 The Jon Snow / Photo: Alan Battman
Ever since the first season of Game of Thrones aired way back in 2011, there have been Game of Thrones cocktails—bright, neon green Wildfires, dry ice-filled Dracarys, blue curaçao-filled White Walkers. But good drinks based on the epic HBO series have been few and far between. An entire menu of exceptions, though, can be found at Junoon, a Michelin starred Indian restaurant in New York City.
Bartender Hemant Pathak was a late-comer to the show. "I promise I wasn't living under a rock," he says. "I was busy creating concoctions." But he quickly caught up when the idea came to him two and a half years ago. The menu began with the King's Landing (Great King Street scotch, Amaro Nonino, Punt e Mes, citrus essence) and now includes nine themed cocktails, with a new one in the works, to be debuted for the 2019 premier of the final season of GOT (which the bar will screen).
Each drink, while inspired by characters from the show, still fits in with the restaurant's spice-forward cocktail menu.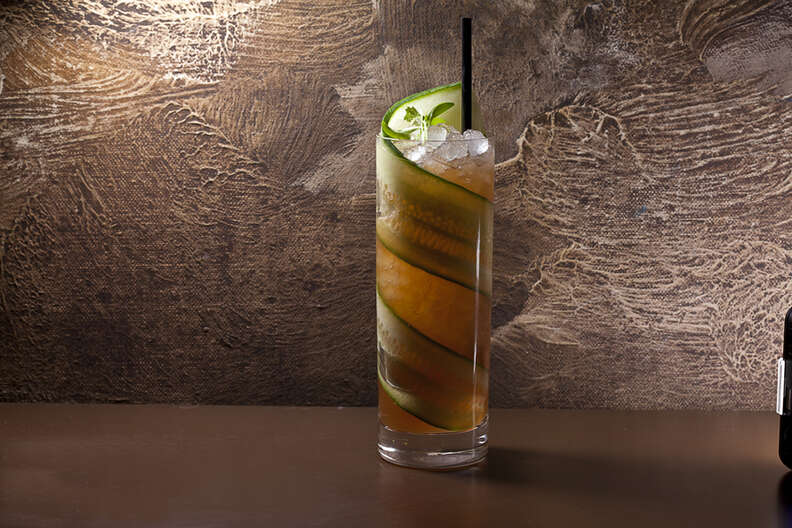 Aside from the King's Landing, there's the Jon Snow (Pathak's favorite), a dark and mysterious cocktail that arrives in a sea of spiced smoke made with Hennessy V.S., Ardbeg 10 Year, Angostura bitters, white chocolate-vanilla liqueur and sweet vermouth. The Greyjoy is an odd mix (just like the Ironborn family) of gin, St-Germain, balsamic vinegar and a cocktail onion. The Arya Stark appears sweet, pretty and innocent (like Arya) with its edible flower garnish, but, as Pathak says, "Don't let her innocence fool you." The drink bursts forward with unique and complex flavors of gin, umeshu liqueur, spiced plum compote, lemon juice and Peychaud's bitters.
The deeply red Lannister blends 8-year-old rum (a nod to the family's many years in power) with raspberry and dark chocolate puree, Grand Marnier and orange essence. The Little Finger is complicated, with unexpected flavors coming from Bombay Sapphire East gin, Ramazzotti, fresh citrus, Peychaud's bitters and micro cilantro. It's garnished with a snaking cucumber spiral (representative of Little Finger's duplicitous nature) and a tuft of micro cilantro.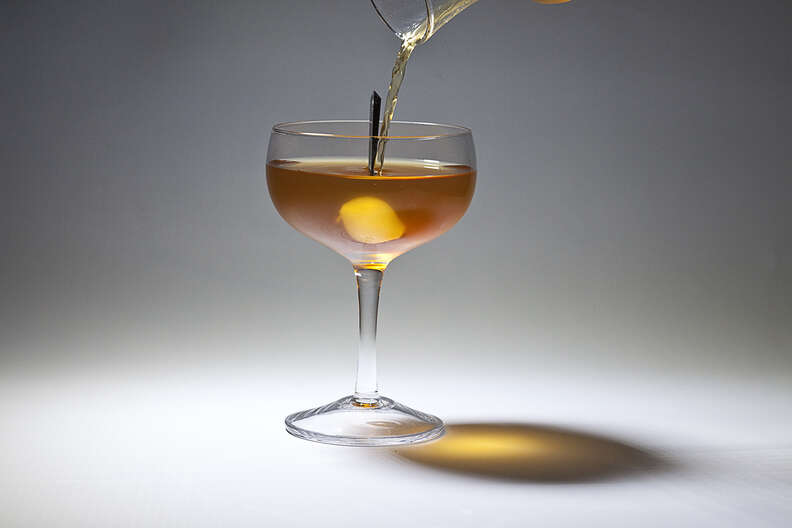 RIP Oberyn Martell; the Red Viper honors this lost prince with a mix of gin, Cherry Heering, Aperol, fresh orange juice and orange-cinnamon bitters. For Daenerys die-hards, there's the Mother of Dragons made with Hennessy V.S.O.P., homemade masala syrup, Peychaud's bitters and absinthe. It was originally garnished with a sugar molded dragon, but now it comes with an equally intricate citrus peel dragon head. And, finally, there's the newest addition to the menu: the White Walker. The spicy mix of rye-and-turmeric-infused scotch, applejack, lemon juice, chile liqueur, egg whites and absinthe arrives emblazoned with the face of a White Walker, stenciled in bitters. The icy blue eyes are drops of blue curaçao.
While Pathak doesn't have any predictions for the upcoming season of GOT, he did hint at what the next cocktail would be: something based on dragon glass. The night may be long and full of terrors, but at least there are good drinks to get you through it.