Pour Out a Blood & Sand for the Sand Snakes, Dorne's Most Badass Ladies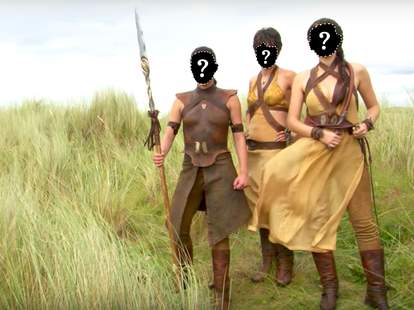 When it comes to Game of Thrones, no character is safe. In this series, writer and bartender Chris Vola crafts a cocktail and then pours one out for the major deaths in every episode of season 7 of Game of Thrones.
Prince Oberyn Martell, the Red Viper of Dorne, was known for three things: his poison-enhanced fighting prowess, his sexual conquests ("half of Westeros," according to Tyrion Lannister) and his propensity for producing bastards, three of which, Obara, Nymeria and Tyene Sand, made quite an impact.
Raised in a country of relative gender equality, the trio collectively known as the Sand Snakes grew into ruthless warriors and master seductresses, epitomizing Dornish culture, and unabashedly following in their father's footsteps, including his passion and propensity for revenge. After the Red Viper's death, the Sand Snakes aided Oberyn's ex-paramour (and Tyene's mother) Ellaria Sand on her bloodthirsty quest against the Lannisters. After pledging their support to Daenerys Targaryen and meeting with her at Dragonstone, the Sands agreed to return to their home with Yara Greyjoy's fleet to muster the Dornish forces in preparation for a siege on King's Landing.
But even the deadliest viper is at a disadvantage outside of its natural desert habitat, and the Sand Snakes were no exception. Ambushed by the gleefully psychopathic Euron Greyjoy somewhere in the Narrow Sea, the Sands were caught completely out of their element. While Tyene and Ellaria were easily taken prisoner, Obara and Nymeria were personally massacred by the King of the Iron Islands, respectively impaled and strangled by their own weapons.
The Blood & Sand, first featured in the 1930's legendary Savoy Cocktail Book, is an homage to the 1922 film of the same name, a fiery tale of a bullfighter falling tragically in love with a seductive femme fatale. The plot of the movie might share some vague parallels with Oberyn and Ellaria's equally ill-fated romance, but the complex flavor of its alcoholic namesake is unquestionably Dornish. Blended scotch, orange juice, vermouth and dark cherry liqueur combine to form a potation smoky and sultry enough to enchant even the most hardened sellsword, with a bright citrusy finish and color that invoke both Dorne's status as a major fruit exporter and House Martell's sundrenched banners. While the drink's distinctly robust tang might be a little much for those who prefer the watery dregs of Greyjoy-quality ale, it's a unique treat for those hot-blooded land- and life-lovers who understand that the Blood & Sand, like most cocktails, is better sipped amongst scantily clad acquaintances in a palace garden than in a grimy cabin at sea.
Blood & Sand
1 oz blended scotch
1 oz fresh orange juice
.5 oz Cherry Heering
.5 oz sweet vermouth
Orange peel
Combine all ingredients save for the orange peel in an ice-filled shaker.
Shake and strain into a coupe.
Express the zest of the orange peel over the glass and discard the peel.
Enjoy with a lover or before torturing your most recent capture with scorpions.