"Regarding Cocktails" is This Year's Must Own Cocktail Recipe Book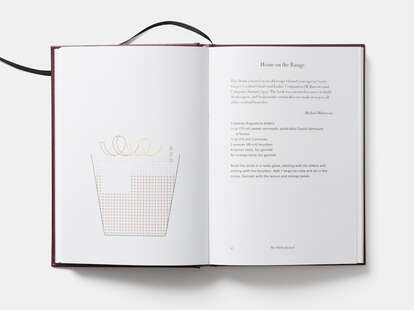 Phaidon Press
Phaidon Press
Sasha Petraske was one of this generation's most influential bartenders. Without him, the 21st century speakeasy, with its code of ethics and standards of service, may never have existed. Opened in 1999, the original Milk & Honey, helmed by Petraske, pioneered the way for the craft cocktail movement. When Petraske passed away from a heart attack in August 2015, he had just begun working with Phaidon Press on a book, an effort to translate his philosophy about mixing drinks and serving drinks, into essays and recipes. It remained unfinished—until now.
This year, Petraske's wife, spirits writer Georgette Moger-Petraske, completed her late husband's book with the help of his friends and colleagues. Regarding Cocktails can be defined as the couple's masterpiece. Featuring 75 cocktails invented by the brilliant bartender himself along with his apprentices and friends, the book, with its minimalist burgundy cover, is understated, elegant and proof of one man's lasting legacy.
We had the pleasure speaking with Georgette Petraske about Regarding Cocktails, her husband's incredible influence over modern day bar culture and feline-friendly cocktails.
Supercall: How did you come to the decision to finish your husband's book?
Georgette Petraske: If the tables were turned, Sasha would have finished the book I was working on for me. It's just what you do for someone you love.
SC: How far along was the book when you picked it up?
GP: Sasha had begun only a rough outline. There was an essay on garnishes, "Consider the Peacock," which he wrote and I edited while we were in Texas for the San Antonio Cocktail Conference. "Setting up the Home Bar" was largely finished, but sadly, his "Cocktails for Cats" essay was not. He felt the latter was just as important as the former.
SC: What was your involvement in Sasha's bars? Did you ever have an opportunity to get behind the stick?
GP: At Milk & Honey, I'd help Sasha with tastings to perfect recipes or help him create new cocktails. The only time my husband and I would "work" together was at our own cocktail parties. We had a very Nick and Nora approach to entertaining—he'd be holding court, mixing drinks in the kitchen and I'd be dashing about with a tray of canapés and a penguin pitcher.
SC: How do you think Sasha affected the bartending community?
GP: Sasha was far too humble to ever admit his influence on the bartending community, but over the past 15 years, his vision slowly seeped in from bar to bar—whether it was by way of perfect wash lines, refined ice programs, bartenders pulling juices a la minute, or the delicate drops of Peychaud's atop your swizzle. It was something that was palpable the world over—I'd be sent on assignment to places as far as Shanghai or Fiji, and all of the hotel's top bartenders I spoke to aspired to the Milk & Honey school of mixing drinks.
SC: What impact do you think the book will have on the next generation of bartenders?
GP: While I am hoping that the book inspires the young bartender to create balanced and meticulous cocktails, I also want them to take away from it the lessons of etiquette, the degree of humility and graciousness that stands behind the noble job title of bartender. For the new generation, it might begin by eliminating the word mixologist from your calling card.
SC: The books seems like a true collaboration, with contributions from some really great talents. How did that come about?
GP: The idea to get all the contributors involved came about so naturally. While I had all of the recipes in our home bar, it seemed like it would have been just another cocktail book if there were no stories behind the beverages. Who better to tell the stories, than the bartenders trained by, and who created these drinks alongside my husband? Everyone gathered their favorites from the Milk & Honey archives—from there, I asked each bartender to tell a Sasha story surrounding the drink. Then the essays followed, and finally, the wonderful forewords from Robert Simonson and Dale DeGroff. It created something akin to a family album—a liquid memoir.
SC: The illustrations are beautiful. What was the inspiration behind the book's minimalist graphic design?
GP: Phaidon and I agreed that the world did not need another cocktail book full of high pouring cuffs and backlit crystal barware. They worked with Alex Lin and his team at Studio Lin to create the illustrations that accompany each recipe. I wasn't too keen on readers having to flip back and forth to the beginning of the book to look at the legend every time they made a cocktail, so I pushed for a functional, ribbon-tied bookmark that could be pulled along for every drink. I was so happy when Phaidon agreed to this vision—I think Sasha would have loved this detail too.
SC: Did Sasha really make cocktails for your cats?
GP: He incorporated the same care and perfectionism into their feedings as he did making formal cocktails. Sasha would slip a little foil packet of lobster from the John Dory into his guayabera to bring to his cat Maggie. For our Anoushka, he was always filling her coupe to the proper wash line with the coldest filtered water possible.