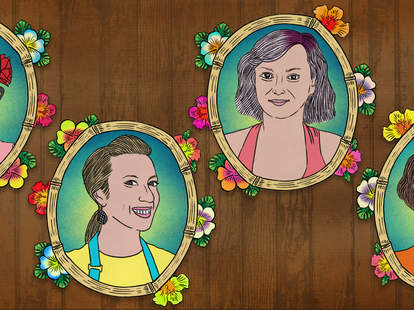 The tiki revival would be nothing without the historians and bartenders who've supported the movement through the bad times (aka The 1980s) and the good. They've unearthed historic recipes, spent countless hours sourcing quality ingredients, made exotic syrups from scratch and gone all out on elaborate garnishes. Without them, we'd still be sipping saccharine, neon-hued monstrosities instead of perfectly balanced Mai Tais and Royal Hawaiians.
While we have two gentlemen (Trader Vic and Donn Beach) to thank for creating tiki, many of tiki's modern day revivalists are women. We checked in with the ladies behind the bars of some of the best tiki haunts in America to find out why they hitched their leis to tiki in the first place and why the movement is so important.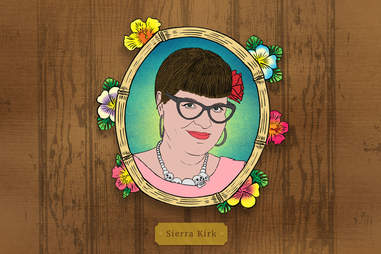 Sierra Kirk
Bar: Hale Pele
Resume:Pope House Bourbon Lounge, Mimi's in the Marigny, d.b.a.
Favorite tiki drink:Jungle Bird. The exotic flavor combinations of the blackstrap rum, citrus, and bitter aperitif create a unique, delightful cocktail.
Why she got into tiki: I came into tiki almost accidentally. I was looking for an additional bar job outside of the classic cocktail-forward bourbon bar where I was working. I was hired at Hale Pele upon the recommendation of our lead bartender Mindy Kucan and worked both jobs for more than a year, but fell in love with tiki. So when offered more shifts, I jumped at the chance! The tiki movement is a true slice of Americana. Stylistically, the fashion and home decor elements are amazing, not to mention the mugs! The cocktails are elaborate, gorgeous and challenging to make. People who love tiki and seek out tiki bars are some of the most fun and interesting folks you will meet. To me, tiki is the whole package.
Greatest lesson learned working in tiki: The devil is in the details, and always rinse the lemon extract off your hands before you sprinkle on the cinnamon!
Rebecca Cate
Bar:Smuggler's Cove
Resume: Foggy Grotto (Rebecca and Martin Cate's home tiki bar where they hosted tiki parties and bar crawls until it closed in 2004)
Favorite tiki drink: Boo Loo. The drink is a perfect example of an exotic cocktail, balancing lime, pineapple, honey and four kinds of rum. It's traditionally served in a pineapple and intended for two people to share—a wonderful tiki tradition. When tikiphiles were initially connected to each other via the online group Tiki Central, we all took on tiki names. You can probably now guess what mine was.
Why she got into tiki: The escape from the every day that tiki bars offer. My favorite thing to do at Smuggler's Cove is to stand near the front door and watch people walk in for the first time. That sense of wonder that crosses their eyes as their mouths drop open—even the guy trying to play it completely cool gives himself away. I have been to the most magical tiki bar on earth, Mai-Kai in Fort Lauderdale, dozens of times now. It doesn't matter—when I walk in the front door, I still have to catch my breath. I have been brought to tears by the beauty of the space. Add a seat by the running water and a rum drink in my hand, and there is nowhere else I want to be.
Greatest lesson learned working in tiki: There are still so many people, professionals and enthusiasts alike who fundamentally misunderstand tiki. Some may understand the drinks, but not the art, music and ambiance that makes a tiki bar. Or they build a perfect space and serve drinks packed with artificial syrups and garbage rum. Or they stick plastic party decorations on a wall, serve a rum and Coke and say they've created a tiki bar. Martin and I are passionate about educating people about rum, exotic cocktails and tiki history, and this was a big driving force behind our book.
Jane Danger
Bar:Mother of Pearl and Cienfuegos
Resume: CBGB's, PDT, Little Branch, Dutch Kills, Dream Baby, Niagara, The Nomad
Favorite tiki drink: For a long time, the Demerara Dry Float has been on the top of my list. Lime is the superior citrus in my opinion, and I like maraschino because it's funky, nutty and strange. Tangy, funky passionfruit is my favorite fruit, and I don't think I encountered a whole one until I was 28. Then there's the blend of aged rum—I do a split of El Dorado 3 Year and Banks Five Island. For the float I use Hamilton 151.
Why she got into tiki: Tiki to me means fun and freedom. You can make it what you want. But at the same time, there is a great history and a fierce following—a balancing act of old and new. I love that bold flavors come together to create something bright, refined and completely new from all its parts.
Greatest lesson learned working in tiki: When the recipe says only one dash, it means only ONE dash!
Sarah Anne Clarke
Bar:Hidden Harbor
Resume:Tender Bar + Kitchen, Over The Bar Bicycle Cafe
Favorite tiki drink: My favorite tiki drink is the Mai Tai. I love that it utilizes both Jamaican rum and rhum agricole, as well as rich orgeat. I enjoy its historical relevance and continued popularity.
Why she got into tiki: I love tiki because, to me, it means fun and feeling carefree. All the tiki bars I've had the pleasure of visiting offer an oasis from the outside world. It's easy to feel cozy and relaxed like you're on vacation the minute you step inside. Tiki has always been exciting to me.
Greatest lesson learned working in tiki: Batch the ingredients you can, garnish with abandon, and be a warm, welcoming host to all guests. Even though tiki drinks are among the most complex and time-consuming drinks to assemble, it's still possible to have a great time while working.