Captain Morgan LocoNut
Sponsored by

Getting Loco with Rum and Coco
Sponsored by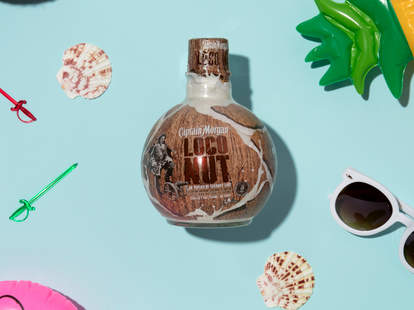 Rum and coconut are a classic duo right up there with gin and juice, bourbon and mint, and mac and cheese. Like all great combos, they bring out the best in one another. Captain Morgan understands this better than most, and they've come up with a killer new way to combine rum and coconut. It's called LocoNut, and you won't miss it behind the bar, or on the liquor store shelf—not with the outrageous cracked-coconut look of the bottle.
A smooth blend of Caribbean rum, coconut liqueur, spice and natural flavors, Captain Morgan LocoNut is creamy yet still fresh and light-tasting. It's packed with authentic coconut flavor alongside a nice hint of rum and spice—all of which combine to make it a perfect chilled summer shot, of surprising deliciousness.
But it's not only for shots: Captain Morgan LocoNut makes terrific tropical cocktails, too. That make sense, considering how coconut has played such a huge role in cocktail culture—from the dawn of the tiki era in the 1940s to beachfront bars around the world to a revival in modern-day mixology. Whether they're after something creamy or sweet, boldly flavored or chilled-out and mellow, bartenders have long turned to the humble coconut, as versatile a cocktail ingredient as they come.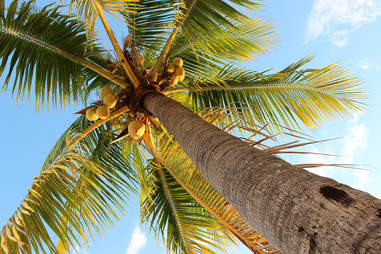 Haley Allison/ Shutterstock
Lavish tiki drinks, inspired by the tropics, were all the rage among ad execs and beach bums alike in the 1950s, '60s, and even trickling into the '70s. These drinks were all about the coconut. With names like Head Hunter and Moonkist Coconut, they'd come with two kinds of rum and creamy coconut milk shaken up with secret spiced syrups, the complete recipes kept under lock and key. Coconut is a match for so many flavors in the tiki canon: it plays well with every type of rum, with tropical citrus, and Caribbean spice. It's no surprise that the versatile, hard-shelled ingredient has made a comeback in recent years as pretty much everyone has upped their cocktail game.
And the coconut (which—fun fact—is not a nut at all but a stone fruit) is by no means limited to tiki. Part sweetener, part binding agent, part texture-provider, and all delicious, it's got range for days. Coconut cream can make a drink rich and luscious, with zero dairy involved. Coconut milk imparts a lightly creamy texture without weighing a cocktail down. Its smooth character can round out the edges of powerful ingredients, from tart juices to strong spirits, while still letting every flavor shine.
Leander Nardin / Stocksy
Among the classics that lean heavily on the coconut are the Painkiller, the Bushwacker, and of course, the Piña Colada. The Bushwacker was invented in the US Virgin Islands, but has signature variations spread all over the place, including at one of the most iconic party bars in America, on the Florida-Alabama line.
The Piña Colada was invented in Puerto Rico, and is in fact the official drink of that commonwealth. The pineapple-rum-and-coconut concoction is luxurious and festive and will convince you you're on vacation, even if you're not. It was invented in 1954, but more than a century before that, a legendary Puerto Rican pirate was said to have served his marauding crew a drink with the same three components. Pirate history is notoriously hazy, but hey, just putting it out there. It's hardly a stretch to imagine a pirate laying the groundwork for a decadent rum cocktail, is it? There's a pirate behind Captain Morgan LocoNut, of course, and it takes the rum-and-coconut blend to a whole new level.
While coconut cream and coconut milk have been holding it down for years, coconut water has just recently stepped forward as a popular cocktail ingredient, with its mild but sweet and nutty flavor. It adds a tropical touch to any drink, stands up to strong spirits, and balances all the components in a cocktail.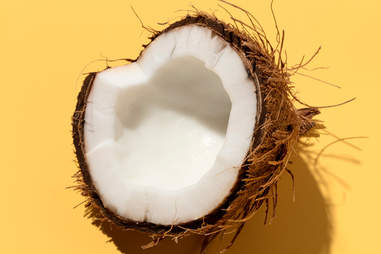 Courtesy of W&P Design
The coconut, in all its forms, brings something special to the bar. It matches with tropical staples like mango or banana while also playing well with cocktail-geek liqueurs like almond-clove falernum or allspice dram. Coconut flesh sparkles as a tasty, eye-catching garnish, as does shredded coconut, which can also make a spectacular rim for your cocktail glass.
Of course, a coconut can be your cocktail glass, too. Crack one open, and you can mix spirits into its contents for a custom-made concoction. Hollow one out, and you've got a beachfront-ready vessel.
But maybe you're not in a tropical paradise at the moment, or your coconut-cracking skills are not on point. That's where Captain Morgan LocoNut comes in. It's part of the colorful coconut cocktail tradition, it's delicious, and, honestly, it's much easier to open. (Plus it comes with an oh-yes-they-did scented-bottle feature that makes it smell like a coconut, in addition to looking like one.)
No need to buy a ticket to the tropics. Sip Captain Morgan LocoNut's smooth blend of Caribbean rum, coconut liqueur, spice and natural flavors—and let the tropics come to you.
 
Please drink responsibly.
CAPTAIN MORGAN LOCONUT. Caribbean Rum with Natural Flavors. 20% Alc/Vol. Captain Morgan Rum Co., Norwalk, CT.