7 Gifts She'll Actually Want This Year
Getting your wife, girlfriend, mother, sister, etc. another wrist wallet isn't cute; it's lazy. Instead of looking like you grabbed the first present at the mall, show you put in real effort by gifting her one of these amazing, thoughtful presents. Here are seven boozy gift ideas for her that she won't have to feign enthusiasm for.
Somewhere between a coupe and wine glass, the elegant Nick & Nora glass features an elegant bowl shape and smaller capacity than the typical oversized cocktail glass, and exudes class and grace. These vintage style glasses from Williams-Sonoma will transport the drinker to the 1920s and make her feel like the eponymous Nora Charles, especially when she's downing miniature Martinis from them.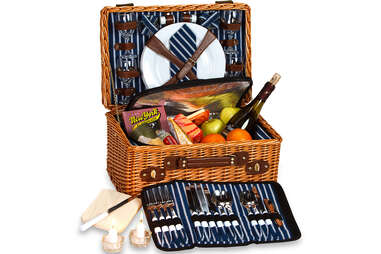 Give your mother or sister the gift of being able to impress all of their friends on a sunny spring day or your significant other the promise of a romantic afternoon together, with this wicker picnic basket from Wine Enthusiast. The traditional handwoven willow basket comes complete with four wine glasses, cutlery, ceramic plates, a wooden cheese board, a wine key and a thermal foil-insulated compartment for keeping food and wine chilled.
If you have a whiskey-loving lady in your life, let her subtly show off her passion for the brown stuff every day with this rustic ring, made from ex-American oak whiskey barrels. Sold by Etsy shop OriginHG, this badass ring was fashioned from a Jack Daniel's barrel, infused with resin for durability and inlaid in a carbon fiber lining.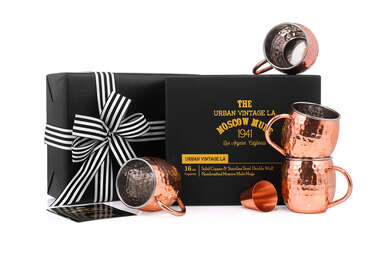 If you drink a Moscow Mule out of anything other than a copper mug, did you even drink a Moscow Mule? Ensure that all future Mules are authentic by gifting this copper mug set from Urban Vintage LA. These mugs are hammered for that classic puckered texture, and double walled with stainless steel on the inside, so you don't have to worry about potentially poisoning your loved ones.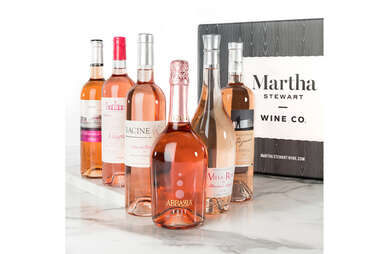 Everyone has a very particular taste in wine, so trying to suss out whether she would prefer an earthy red or citrusy white is a fruitless effort. Instead, opt for wine that just about everyone in the world can get behind: rosé. Allow your lady to truly rosé all day with this wine pack from Martha Stewart Wine Co., which features six bottles (including one sparkling) handpicked by the entertaining maven herself.
There's nothing better than a boozy gift that keeps on giving, like this subscription to Shaker & Spoon Cocktail Club. The club sends monthly boxes filled with three craft cocktail recipes and enough ingredients to make 12 drinks. For $50, you can gift one box, but you'll be everyone's favorite Santa this year if you spring for the full one-year package ($480).
Treat her to something truly special by splurging on this gorgeous, rolling Terrace Bar Cart from West Elm, made with antique brass finish and mirrored shelves. The minimalist art deco style will look beautiful in any home, especially when filled with bottles of booze and stylish barware.