The Ultimate Guide to Drinking Your Way Through Havana
The U.S. embargo against Cuba is still in place, but with the relaxation of license requirements and the resumption of scheduled air service between the countries, it's currently easier than ever to visit the once-forbidden Caribbean island. Pick one of the 12 general licenses applicable to American travelers—you're going as an educational opportunity, right? To have contact with the Cuban people? That qualifies—and you're set to immerse yourself in Cuban culture.
I recently had the chance to visit Havana. I'd been wanting to go for years, and was excited to drink my way around the city. Havana is variously sleek or crumbling, as well as fascinating and vibrant. Pre-revolutionary buildings and cars sit comfortably alongside newer ones. I felt welcomed by the Habaneros, who tend to be good-humored, opinionated, resourceful, and proud people. If you're heading to Havana for your own "educational" trip, here's everything you need to know about getting the best booziest experience out of it.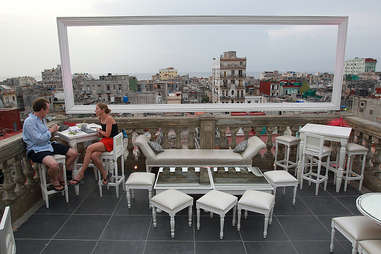 Bars vs. Restaurants
This is a blurrier distinction than it probably needs to be, as almost every bar serves food, and almost every "cafe" serves drinks as well as light bites. But, it's a good idea to decide what you're in the mood for and plan your approach accordingly. One welcome part of the Cuban government's easing restrictions on private businesses has been the advent of paladares, privately-owned and operated restaurants. When they became possible in the late 1990s, paladares consisted of nothing more than a few tables in the corner of someone's living room, but after further changes to the rules in 2010, the paladar scene exploded and now offers some wildly inventive takes on Cuban and international cuisine. (Similarly, casa particulares—privately run B&Bs—are often cheaper and definitely more personal and fun than hotels. And you can even book them with U.S. credit cards through Airbnb now.)
With the explosion of private businesses and the wave of American visitors, reservations are recommended for many places, particularly paladares. Some have websites and Facebook pages (all have phones), and it's worth locking down a reservation well in advance. Your hotel or casa particular host can be a real help here, especially if you don't speak much Spanish.
What's On A Cuban Drinks Menu
Almost every drinking establishment offers a list of cocktails, and often that list is broken up into "national" and "international" sections. The "international" side has everything from Piña Coladas to White Russians, while the "national cocktails" show a surprising amount of overlap. These are heavy-on-the-rum drinks, as you'd expect, and tend to feature the holy trinity of rum, lime, and sugar in various combinations. I found the rum to almost always be Havana Club, though sometimes Cubay, Mulata or Santiago brands wound up in the shaker tins.
Pretty much any place you find will make you a Mojito, or a Daiquiri or a Ron Collins or a Cuba Libre (most often made with Cuban brand tuKola in place of "The Real Thing," of course. However, tuKola uses actual sugar instead of the corn syrup-sweetened Coca-Cola, so there's a case to be made that it's better than Coke.)
One of the wonderful things about drinking in Cuba is that almost every one of these basic drinks is made to a very high standard. Even when I stumbled up to a beachside shack that only displayed a cooler full of beers, I spotted a styrofoam cup of mint placed under an electric fan. I asked "¿Tienes un mojito, por favor?" and the guy working the bar shrugged as if to say "of course, turista," then set about making me a top-notch example. (One thing that I wasn't expecting is that almost every Daiquiri I got was either blended or frappéd by hand, with only the occasional version served on the rocks.) A word of warning, though: Sweeter drinks such as the Mary Pickford and Havana Special (an aged-rum sour with pineapple juice and Maraschino liqueur) can be served very sweet indeed, in accordance with the Cuban palate.
Some other "national cocktails" that you'll find on menus include:
Cubata (a Cuba Libre made with aged rum)
Cubanito (a rum Bloody Mary)
Saoco (white rum, coconut water, lime and sparkling water)
Canchánchara (aguardiente, lime, and honey, sometimes with mint added)
El Presidente (rum, dry vermouth, dashes of grenadine and curaçao)
Hotel Nacional Special (rum, lime, pineapple, sugar, apricot brandy)
Rum Old Fashioned
Other spirits besides rum are available, too: Spanish-style Gin & Tonics cropped up on various menus, as did Micheladas (and Buls, their Cuban cousins consisting of pilsner, ginger ale, and lime), Caipirinhas (and Caipirissimas) and Negronis. I wandered into a local market in Havana and saw not just a wide array of Cuban rums, but also Lillet Blanc, Plymouth Gin, Kahlúa, and many other offerings from all over the world.
Where To Drink In Havana, by Neighborhood
Habana Vieja

El Floridita and La Bodeguita del Medio
Have you heard the Hemingway quote "My Mojito in La Bodeguita. My Daiquiri in El Floridita?" Of course you have. (And you'll hear it again and again in Havana, about as many times as you encounter the tune "Chan Chan" from the Buena Vista Social Club.) I mention these spots together because they're the twin gravitational centers for Hemingway fans and enormous crowds of tourists from all over the world. (Papa also stayed at the Hotel Ambos Mundos, two blocks from La Bodeguita, if you want to complete the pilgrimage. Though, to complicate matters, one Hemingway biographer says the Mojito story is a fake.)
El Floridita, located in a small square on the western edge of Habana Vieja, is surrounded by tour buses, which stop to disgorge selfie-stick-waving hordes at regular intervals. The famous statue of Hemingway holds court at one end of the bar in a blizzard of camera flashes. If you can fight your way to a table, it's much easier than joining the scrum up at the stick. They have a long menu of various Daiquiris, but everyone only gets the house special, blended with a dash of Maraschino liqueur. It's delicious and goes down very easily, and once I attained a table, I was happy to stay for a few rounds and peruse the souvenir kiosk.
La Bodeguita del Medio is a state-run restaurant, but you can identify the downstairs bar by the throng of tourists outside on the narrow street. When I visited, two bros were loudly discussing the finer points of Colorado's legal weed and blocking the way into the tiny space, which the bar somehow shared with iceboxes, a three-piece son combo, and one solitary, insanely busy bartender, who was cranking out nothing but excellent Mojitos. I was impressed that quality didn't suffer either here or at El Floridita, given the sheer volume they were serving.
El Dandy
This agreeably jumbled casual bar/cafe is an easy spot to while away an afternoon. Beers are kept cold in an ancient Hotpoint refrigerator, the kitchen produces all sorts of nibbles (the excellent toasted ham and cheese sandwiches with pickles were a hit), and cheerful young women turned out some very refreshing drinks.
O'Reilly 304
A very popular trendy tapas restaurant with a solid, creative bar program. I couldn't get in the door the first time I tried, and the amiable doorman said that no reservations were available the rest of the week. I happened to pass by a few days later and managed to squeeze in for a late lunch, and was blown away by the croquettes, the taco specials, and the seafood, not to mention the large selection of cocktails—especially gin drinks. Head bartender Wilson Hernandez turns out wacky concoctions such as the Havana Londres, the Jimmy Hendrick's, and the Gin Mo (a brilliant cross between a G&T and a Mojito) in big jars or goblets, with artfully carved lime peels and other flashy garnishes.
Museo del Ron Havana Club
This isn't a distillery tour, as all of that happens outside Havana, but rather a small museum as the name indicates. Access is only by tour, which is given in five languages (you may want to check the schedule in advance to see when yours is offered). The tour includes a brief spiel about the Havana Club line of rums, a film about the history of the company and Cuban rum, an exhibition of some of the tools, a room-sized model of a distillery and sugar mill operation circa 1893, and reproductions of barrels and warehouses. It's not super-informative, especially if you've been on a distillery tour before, but it does deposit you in a stunningly restored 1930s style bar where you're served a tiny sample of Havana Club 7. I'd read reports that you can order more drinks there, but the bartender disappeared as soon as the samples were handed out. There is, of course, a shop with the Havana Club line and a few logo items.
Centro Habana

Siá Kará
A laid back, good-humored, casual hipsterish joint full of Cuban twenty-somethings and some older foreigners. The cozy lounge area is lined with comfortable benches and decorated with arty bric-a-brac (with a lineup of hundreds of neckties adorning a balcony). The classic cocktails are well-executed and balanced, and the check comes in a tiny ceramic toilet.
La Guarida
This is perhaps the country's best-known, highest-end paladar. Reservations are utterly essential, as far in advance as you can make them, but the astonishingly great restaurant hidden on the top floors of a crumbling, unassuming mansion is worth it. Consider arriving early so you can wait for your table at the rooftop bar, which feels like it was transported from a trendy Miami hotel—except with better drinks. Perhaps the most expensive cocktails we had in Cuba (at around 8-9 CUC) but the list was long and inventive and exceptionally well executed. A rum Negroni was a perfect pre-dinner drink.
Vedado

Hotel Nacional de Cuba
The Hotel Nacional is the grandest hotel in the country, and it's worth it to wander through the ornate lobby, the manicured gardens and terrace looking out over the Malecón, and the museum with pictures of celebrities who've stayed there, from Yuri Gagarin to Nat "King" Cole. The Gallery Bar, just out the back door and next to the garden, has a fantastic band, a long cocktail list and a very comfortable ambience in which to pretend you're one of the swells, or a pre-revolutionary gangster.
El Emperador
This restaurant looks unchanged from the 1950s, undoubtedly because it's unchanged since the 1950s—with the exception of the light-up Red Bull sign on the bar. The room is large, cool, quiet and dark, with an understated atmosphere, and the drinks are definitely up to standard. High above this ground floor restaurant, the state-run restaurant La Torre on the 33rd floor of the massive Edificio FOCSA building offers an extensive drinks menu with snacks, and the best view of Havana from above.
FAC (Fábrica de Arte Cubano)
A very popular combination of art galleries, artists' studios and performance venues, FAC is open evenings and late nights, Thursday through Sunday. The multi-level space has several bars, and it's fun to wander with a drink; if one room doesn't appeal, there'll be something completely different on display in the next. Going here feels like you're present at the creation of a new scene, but it's friendly, welcoming and they'll pour you a Cuba Libre that'll knock you out.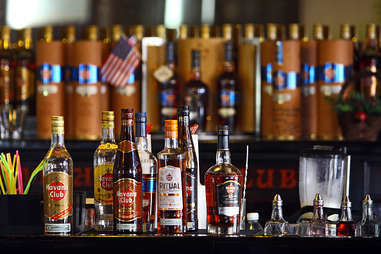 Acquiring Cuban Rum, and Getting Your Booty Home

Don't forget that you can bring Cuban rum back with you. Prices are fixed countrywide, so you won't save any money if you wait until you get to the airport duty-free shop. Up until October, there was a $100 limit on the amount of alcohol and tobacco that U.S. travelers were allowed to bring back; that limit has now been lifted, and you can bring back as much as you want for personal use. (The normal rules on bringing back alcohol still apply, though, and Customs could theoretically charge you a small tax if you bring back more than a liter.) So load up that hard-sided suitcase!
If you do visit the airport duty-free shop and you'll be taking a connecting flight after you return, make sure they sell you a tamper-evident bag and that the shop employees seal your receipt inside. When you get back to the U.S., TSA will open the bag, screen the bottles, and reseal it, which allows you to take it as carry-on luggage without running afoul of the restrictions on liquids. Now you're set to continue your Cuban imbibing even after you return.