What Holiday Drink to Order, According to Your Zodiac Sign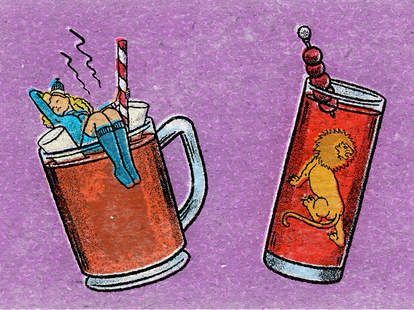 We may not believe in basing our career decisions or love lives on the newspaper's weekly horoscope column, but we will take drinking advice based on our sun sign. If you're stuck on what to order at the bar this holiday season, this handy guide will lead you in the right direction. Take note and whip up your signature seasonal cocktail for that festive bash you've been planning.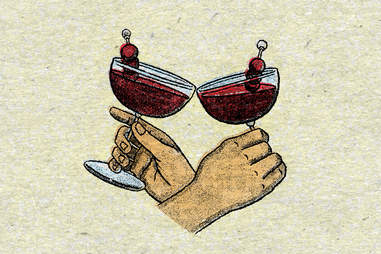 Mark Yocca / Supercall
Air Signs
The adventurous Aquarius can't be bothered with anything bland. But if there's BUTTER in the cocktail—now we're talking. This air sign doesn't care how rich or outrageous a cocktail may be. As long as it's interesting and full of flavor, the Aquarius drinker is content.
Geminis have a knack for fixing things that aren't broken. If they're missing an ingredient for a classic cocktail, you better believe they'll find a replacement for a new and improved drink. This Christmas-y take on the Cosmopolitan is sweet, tangy and just boozy enough to keep the Gemini's attention for more than a few minutes.
Libras are social butterflies who get along with everyone. When Libras host a party, you'll meet people from all different walks of life who share a common friendship with the air sign. Because these easy-going drinkers always need cocktails to feed a crowd, this Crock Pot Mulled Wine is their perfect big-batch holiday drink.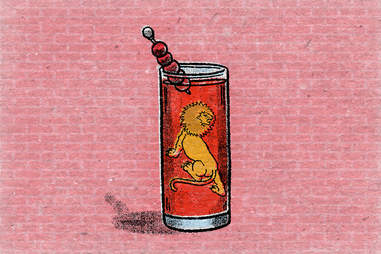 Mark Yocca / Supercall
Fire Signs
Leos are warm, vibrant people who typically bring the party with them wherever they go, so they need a holiday drink that's as bubbly as their personality. This sweet-tart spritzer is just the thing, made with grassy tequila, beautiful blood orange juice and a festive Champagne topper. A touch of sour cranberry sauce perfectly mimics the Leo's occasionally overbearing but well-meaning demeanor.
An Aries doesn't mess around when choosing a cocktail—they always reach for the strongest thing on the menu to get the party started. This holiday Martini may be filled with the sweet baking spice flavors of Christmas pudding, but it packs just as much punch as the original drink. The trendsetting Aries will be the first to order it before everyone else follows suit.
The risk-taking Sagittarius isn't afraid of new flavors or strange combinations—they are attracted to trying the latest thing. This spicy Martini gives the Sagittarius everything they could ask for in a holiday cocktail: a spicy black pepper simple syrup, party-ready tequila, and a Campari-sugar rim that might scare off some but is extra enticing to this fire sign.
Mark Yocca / Supercall
Water Signs
Eggnog is a luxurious drink that deserves to be savored and sipped slowly, not chugged and spiked like a red cup at the end of a beer pong tournament. Cancers are kind of the same way: They take time to open up to new people, and that's OK. Slow and steady wins the race, especially when it comes to holiday drinking.
Scorpios are a passionate bunch, and people are drawn to their electric personalities and natural zeal for life. But this water sign is also the mysterious type who doesn't reveal all of their secrets right away. Made with a mix of beer, Cognac and white wine, this festive punch is an amalgam of flavors that's tough to figure out upon first sip—just how the Scorpio likes it.
Pisces are emotional types who are always the first to check on a friend in need. They know how to have a good time, but would rather play host then go out on the town. You can find them curled up on a Friday night with this boozy Gingerbread Latte in front of a Christmas movie.
Mark Yocca / Supercall
Earth Signs
Capricorns are pretty easy to please. They don't need new-fangled drinks with fancy syrups and elaborate garnishes—a classic cocktail will do just fine. The Hot Toddy is the Capricorn's perfect cold-weather drink because it's straightforward and warming, a perfect antidote to their sometimes icy, ultra-focused personality.
Tauruses are reliable drinkers who rarely stray from the classics. That means they occasionally get stuck in a cocktail rut because they often won't reach for something new. But if you mix them this Snowball Old Fashioned, we have a feeling it'll become their new holiday staple.
The hardworking Virgo loves to bartend and knows how to make a stiff classic cocktail without checking their notes. So you can count on these earth signs to spike drinks that aren't regularly made with booze, like comforting hot chocolate. But instead of pouring in some bourbon and calling it a day, they'll use ingredients like green Chartreuse to make things more interesting.