7 Best Bottles To Bring To A Holiday Party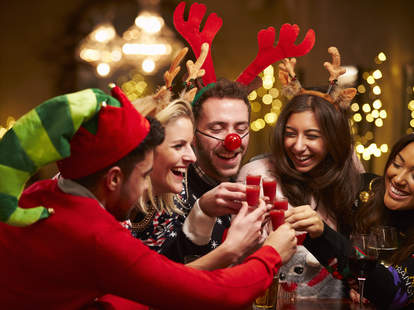 Monkey Business Images / Shutterstock
Deciding what bottle to bring to a holiday party can be difficult. You have to think about pleasing a variety of palates, as well as cost and availability. To help alleviate the pressure of picking the right bottle for your bevy of holiday parties this year, we created this guide. Here, seven of our favorite bottles to bring to any holiday party—easy to find, affordable and versatile.
Best Whiskey
This 100-proof bourbon has just the right amount of oomph to it—and a delectable honeyed sweetness to match. This
bonded bourbon
can be sipped on its own (preferably over a fat cube of ice) or used as the base in a variety of cocktails. Use it for a batch of
Manhattans
, or in bitter, cold-weather appropriate sippers like the
Boulevardier
.
Best Tequila
Corralejo Reposado Tequila $29
If you're a tequila fan, this reposado from Corralejo is an absolute must-buy for the holidays. With a cinnamon-heavy creaminess akin to horchata, and a spicy, vibrant finish with an abundance of pepper heat, this tequila can satisfy a variety of demands. Drink it as a slow sipper neat, as the base to a
Oaxacan Old Fashioned
, or substitute the tequila for whiskey in a south of the border twist on a Manhattan.
Best Gin
Your guests, and your
Martinis
, will be thanking you for this gin purchase. Vibrantly herbaceous, Sipsmith's London-made gin is essential for any gin-based libation this holiday season. While it's technically good enough to sip straight, the bracingly piney and citrus-forward gin elevates any cocktail that it is used for. Grab yourself a couple of bottles before your next holiday party with a couple bottles of dry vermouth in tow (we recommend using Vermouth Routin's Dry), and
bottle yourself
a big batch of
Reverse Martinis
—ready-to-serve for your festive soirée.
Best Aperitif
If you're looking to keep your holidays from getting too debaucherous or tipsy, stick to
low-ABV
spirits like this vermouth. With an abundance of vanilla, and an herbal, almost flat cherry Coke vibe, Antica Formula is one of the highest quality vermouths on the market. Drink the fortified wine over a cube of ice, in spritzy Highballs (soda, beer, and Champagne work wonderfully as a source for bubbles) or, if you happen to have a guest wanting something more "stiff," the spirit can easily be mixed into a regal Manhattan-variation or a
Negroni
if you have a well-stocked bar at your disposal.
Best Conversation Starter
You may think that a
brandy
is a strange choice to bring to a holiday party, but this one from Lustau is an absolute stunner. Aged for three years in Lustau's ex-Amontillado sherry casks, this brandy has all the defining characteristics of sherry—its brininess, nuttiness and tingling acidity—while retaining the fruitiness of a young brandy. Extremely versatile behind the bar, this brandy can be used to stir up a
holiday-eque Old Fashioned
, or as the base of a boozy, rich, large-format punch.
Best Shooter
Skip the
Fireball
and Jägermeister shots this year; instead, opt for this deliciously potent flavored whiskey. Made in Gig Harbor, Washington, this small batch bourbon is aged for two years in new American oak, then cut to a whopping 103 proof and flavored with brown sugar and cinnamon. It's similar in flavor to Fireball, but with a distinct maple syrup drenched, buttery French toast kind of vibe. Dangerously easy to shoot, the BSB 103 is sure to be a hit this holiday.
For those intimidated by the high proof, Heritage Distilling Co. also offers their BSB at 60 proof for only $30.
Best Dessert Liqueur
Instead of sticking to Baileys this holiday season, try this fruit-forward, cream based liqueur. Produced in South Africa, Amarula is made with sugar, cream and the fruit of the African marula tree: a small, vitamin C packed fleshy fruit with a strong nutty flavor. It's perfect as a post-dinner sipper (preferably with a decadent dessert) or as a boozy, creamy lift to
hot cocktails
. One of our favorite holiday tipples with the liqueur is made with just bourbon, Amarula and a garnish of orange zest and grated chocolate; it's is as easy to make as it is to drink.