7 Home Bartenders Killing It on Instagram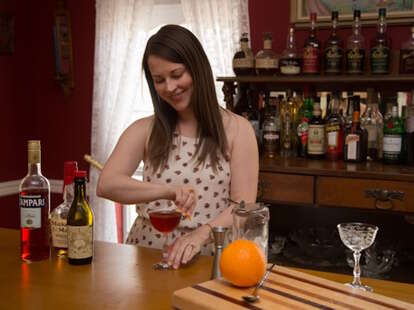 Courtesy of Katie Stryjewski
Our Instagram feeds are full of gorgeous drinks and blinged out bars. Because some of these stunning cocktails are only available at one place in the world, they tend to inspire FOMO and travel plans. But another breed of cocktail Instagram exists: the home bartender. Day in and day out, these savvy DIY drink mixers post their interpretations of classics and their own craft cocktail inventions. Instead of causing FOMO and credit card debt, their 'grams inspire us to go home and make a drink ourselves. Here, seven of our favorite home bartenders who fill our feeds with their home cocktail creations.
It's impossible not to be impressed by Katie Stryjewski. With a PhD in evolutionary biology, she's currently pursuing a postdoctoral fellowship at Harvard, all while putting out killer craft cocktails from her Jamaica Plain neighborhood pad. She constantly posts new, inventive recipes to the 'gram and to her blog, Garnish. If you need further evidence of her commitment to bartending, consider the fact that she kept crafting drinks all the way through her recent pregnancy (drinking mocktails herself, of course). She's a prime example of how to incorporate bartending into every aspect of your home life.
It's hard to talk about home bartenders without mentioning Elliott Clark. At nearly 45,000 followers, Clark dominates the home bartending field on the platform. Along with cocktails, he also posts pics of his travels as a professional photographer and he is currently working on projects like Earn Your Booze and a forthcoming drinkstagramming guide. He's certainly worth a follow if you're an aspiring home bartender looking for some inspiration.
A software developer turned cocktail nerd, Pietrek's Cocktail Wonk blog and Instagram are the stuff of cocktail fairy tales. Pietrek was inspired to start making drinks by a Mai Tai he once had on a flight to Hawaii, and many of his posts still have a tiki bent to them (although he delves into plenty of whiskey drinks and gin cocktails as well). When he's not posting pics from tiki bars around the nation, the Cocktail Wonk is at home mixing his own versions of tropical classics.
Rob Ripley's rum-centric oasis is the tropical home bar of our dreams. His home bar, the eponymous Cannibal Lounge itself, is decked out in teak and bamboo, packed to the brim with tiki totems and nautical decor, and stocked with all sorts of tiki glassware. Ripley mostly sticks to the tiki classics, but he's worth a follow just to faun over his impressive setup, which recently won him second place in Tales of the Cocktail's Home Bar Awards.
Grissom accomplishes the impossible every day on her Instagram account gardencocktails: She makes drinks with fresh produce from her New York balcony garden. She's an inspiration for any home bartender looking to incorporate more seasonal ingredients into their cocktails, but she's especially a beacon of hope for East Coasters far removed from the bounty that floods West Coast bars. Meanwhile, we can't even keep mint alive long enough to make a proper Mojito.
Another dual blogger (on Good Drink) and 'grammer, Colleen Jeffers posts brilliant, light-filled photos of drinks from her Portland, Oregon, home. The sun seems to shine eternally on Jeffers' creations, which almost always incorporate some sort of fresh ingredient, from produce to flowers to spices. She even gets creative with her serving vessels, mixing up drinks in everything from pineapples to egg shells to old school milk bottles.
How different our lives would have been if Jason Plummer had been our dad. The so-called Barrel Aged Dad and father of two uses his experience as a creative director to bring an artistic touch to his cocktailing hobby, creating what we can only imagine is a home life that's equal parts responsible parenting and hedonistic indulgence. Brand partnerships stock his liquor cabinet, so Plummer is always showing off drinks featuring new bottlings and mixers.