Some vacations call for great adventures. But others are designed to induce total relaxation. On these types of trips, you should invoke your right to not lift a finger. These seven luxe hotels offer all the amenities to help you totally relax, including mobile cocktail carts that will bring drinks to your dining table, poolside chaise lounge and even your room. Check out these deluxe cocktail carts the next time you're looking for the ultimate in vacation relaxation.
The pool perched atop the Four Season's Resort in St. Louis offers sweeping views of the Gateway Arch and Mississippi River. That's all fine and dandy, but we're here for the refreshments. And refreshed you will be after the Sky Terrace Sangria cart rolls by. It's stocked with their homemade Sangrias, fresh fruits and bubbly for those who want an effervescent topper.
Recommended Video
Thrillist's Best (and the Rest): What's the Perfect Fast Food Meal?
The locals know this historic Waldorf Astoria resort as the "big pink hotel." Pink it is, and the inside is filled with nostalgic luxury. The property boasts seven gorgeous pools in total, but our favorite is the Tower Pool because it serves lazy, sunbathing guests from a deluxe Mojito cart on weekend afternoons. Choose from a number of fresh fruit and herb garnishes, depending on what your palate desires.
Cocktail Butler at The Darcy, Washington, D.C.
Drinks enthusiasts have many reasons to stay at The Darcy when visiting our nation's capital. On-site restaurant Siren has a well-curated classic cocktail list that can be enjoyed to the sounds of live jazz on Thursday, Friday and Saturday evenings. There's a nightly complimentary cocktail tasting so guests can enjoy a pre-dinner tipple. But the best part about The Darcy is the Cocktail Butler, a service that brings a mixologist and fully-stocked bar cart to your room for a private cocktail hour.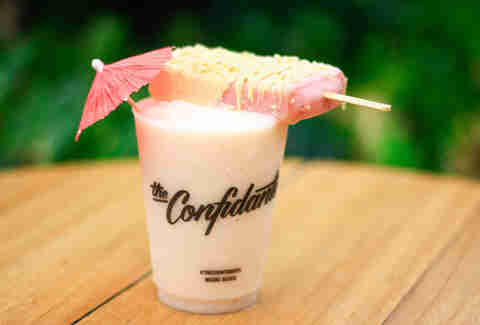 Frozen Cocktail Cart at The Confidante, Miami, FL
This colorful South Beach getaway channels the mid-century modern glamour of 1940s Miami while offering modern amenities for the savvy traveler. This fall, just in time for the city's busy season, the property is launching poolside food and beverage carts to make all your frozen drink dreams come true. There will be booze-soaked fruit, frozen cocktails, tasty popsicles and small bites to savor as you soak up the sun at their glittering pool.
Tableside Whiskey Cocktails at Conrad Chicago, Chicago, IL
Bourbon lovers don't have to go far for a great dram after checking into the Conrad Chicago. The property's restaurant, Baptiste & Bottle, has a comprehensive bourbon and whiskey list that even the most discerning connoisseur would appreciate. But it's the tableside cocktail service that really gets us excited. Try The Huntsman—mixed with Glenfiddich 14 Year, Punt e Mes, Giffard Banana and clove smoke—or splurge on the #Macallanrare Journey, a $95 tipple that involves Macallan Rare Cask, Bodegas Tradicion 30 Year Oloroso Sherry and virtual reality.
The Curtain Hotel has everything you need for a stellar London stay: a rooftop pool and lounge, steam showers, and chef Marcus Samuelsson's Red Rooster on premises. The rooms also boast some of the best mini bars we've ever seen, complete with everything you need to make a classic Gin Martini. Everything is packaged neatly on a brass bar cart with beautiful crystal coupes so you can sip in style. You may never want to leave once you arrive.
Gin & Tonic Trolley at Four Seasons Resort, Dubai, United Arab Emirates
Situated on the stunning Jumeirah Beach, this oceanfront resort will make a trip to Dubai that much more magical. Rooms offer views of the impressive skyline or glistening Persian Gulf, depending on what type of vibes you're feeling during your stay. While the Four Seasons has plenty of dining and drinking options, you'd find us at the plush Hendricks Bar, which is decked out in rich purple linens and dark wood. Grab a drink from the Gin & Tonic trolly, which will roll to your table and prepare you a drink using homemade gin infusions.