6 Hotels Serving Up Fabulous Bottomless Brunches
We're all about getting the most from our travels with boozy hotel packages and complimentary happy hours. And as dedicated brunch-goers, we always want the option to indulge in the weekend tradition, even when we're on the road. If you, like us, are an unlimited Mimosa devotee, check out these six hotel restaurants that serve a fabulous bottomless brunch. So you can eat your weight in pancakes, drink all of the Bloodies and return to your room to sleep it off.
The Line Hotel's Commissary is one of the most stunning restaurant spaces in L.A. Housed next to their second-floor pool in a lush urban greenhouse, Commissary has a backyard barbecue vibe with a heavy focus on fresh fruits and veggies. The restaurant's weekend brunch buffet is a six-hour affair that features a prime rib carving station, build your own omelets, pastries, salad, charcuterie, house-cured salmon, fruit and sweets—not to mention unlimited made-to-order entrees—for a mere $37. Shell out $18 more, and you can indulge in bottomless Mimosas for the duration of your meal.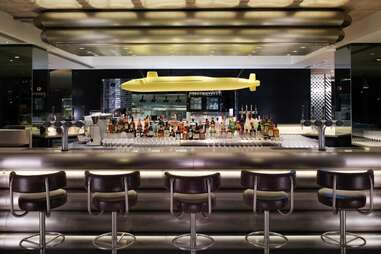 Inspired by the golden age of transatlantic travel, Tom Dixon-designed Sea Containers plays on a nautical theme with a copper-clad hull entrance, sweeping views of the River Thames and a yellow submarine suspended above the stainless steel bar. The restaurant serves brunch from 12 to 4 p.m. on weekends and features roasts for two (think legs of lamb and double-cut pork chops with traditional sides) along with elevated English brunch fare like a crab omelette and beans with smoked sausage. For $18 a person, enjoy bottomless Prosecco or Grey Goose Bloody Marys, and make sure to save room for Sea Containers' boozy milkshakes.
Vegas in known for its sumptuous buffets, but the ARIA is taking the trend to a whole other level of luxury. The restaurant's daily brunch runs until 3 p.m. every day and includes stations like a raw bar, dim sum, carvery, Italian food, salad bar and American diner-style comfort food. They also have one of the best bottomless drink deals in the city (and maybe the country). For $20, two guests can enjoy unlimited Mimosas, Bloodys, cranberry spritzers, Champagne, Rum Punch, Margaritas, and draft wine and beer for two hours. Go in hard for 120 minutes, then take an afternoon siesta at one of ARIA's three glorious pools.
This chic NOLA hotel is close enough to the French Quarter that you feel in on the action, but far enough away that you have a cozy respite to come back to after a long day of partying. Better yet, The Old No. 77's restaurant, Compère Lapin, serves up some of the city's best food. James Beard Award-nominated chef Nina Compton's menu is inspired by her Caribbean roots and the rich culinary heritage of NOLA. Expect knockout dishes like a smoked hamachi everything doughnut and goat bolognese cavatelli with ricotta. If you're craving a sweet libation, you can indulge in Bottomless Brunch Rum Punch for $20.
Just a quick skip across the Hudson River from NYC, Halifax Restaurant at the W Hoboken serves northeastern farm and coastal cuisine with a focus on local and sustainable ingredients. Chef Seadon Shouse smokes meat and seafood in-house, makes his own vermouth and even cultivates sea salt from Montauk water. His brunch menu features a selection of small plates like beef sliders, soft scrambled eggs with crispy potatoes, and a smoked fish board with mussels, salmon and pollock rillettes. If you're in the mood for bubbly, $32 not only gets you a bottle of the stuff, but also unlimited tapas for two hours.
Located in Washington's historic Hamilton Hotel, 14K is known for its sunny sidewalk seating and contemporary American cuisine. Their Sunday Tapas Brunch also happens to be one of the best weekend deals in town. For a mere $45 per person, the two-hour brunch features sumptuous dishes like chimichurri steak and eggs, duck fat omelets, crab legs, buffalo tomato parmesan Benedict, and plenty of desserts. Patrons can wash down the rich meal with 14K's Endless Champagne Bar, which features 14 different bubbly cocktails like Champagne Juleps, St-Germain Spritzers, and the standard Mimosas and Bellinis.