This Is How Much a Bottle of Alcohol Costs in Each State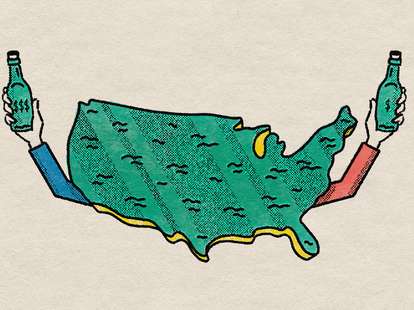 The price of a bottle of liquor varies widely state by state. If you live in Colorado, for example, you might be used to paying around $20 for a bottle of nice vodka. In New York, that same bottle goes for twice as much. The same sort of price differentiation goes for for cheaper bottles. In an effort to find which states are the cheapest and which are the most expensive, we tracked down the cost of a bottle of Smirnoff and a bottle of Grey Goose in each state. Those brands were chosen because we wanted to show both a high and a low price spirit in the same category, and both brands are widely available in every state.
A note on how prices were determined: We looked for the largest liquor stores in the state, and used chains in states that have them. In control states where the government sets the price of liquor, we used the government prices. The cost may be slightly higher or lower depending on which store you go to, but it will hover around the prices listed below.
Alabama
Smirnoff: $12.99 (State Price)
Grey Goose: $31.99 (State Price)
Alaska
Smirnoff: $16.99
Grey Goose: $29.99
Arizona
Smirnoff: $14.99
Grey Goose: $39.99
Arkansas
Smirnoff: $12.99
Grey Goose: $27.98
California
Smirnoff: $16.99
Grey Goose: $30.00
Colorado
Smirnoff: $10.49
Grey Goose: $19.49
Connecticut
Smirnoff: $12.99
Grey Goose: $26.99
Delaware
Smirnoff: $11.99
Grey Goose: $27.99
Florida
Smirnoff: $10.99
Grey Goose: $23.99
Georgia
Smirnoff: $8.99
Grey Goose: $22.99
Hawaii
Smirnoff: $15
Grey Goose: $30
Idaho
Smirnoff: $12.95 (State Price)
Grey Goose: $33.95 (State Price)
Illinois
Smirnoff: $12.99
Grey Goose: $27.99
Indiana
Smirnoff: $12.99
Grey Goose: $29.99
Iowa
Smirnoff: $12.37 (State Price)
Grey Goose: $27.74 (State Price)
Kansas
Smirnoff: $12.99
Grey Goose: $25.97
Kentucky
Smirnoff: $10.49
Grey Goose: $20.29
Louisiana
Smirnoff: $14.99
Grey Goose: $26.99
Maine
Smirnoff: $13.99 (State Price)
Grey Goose: $29.99 (State Price)
Maryland
Smirnoff: $9.99
Grey Goose: $25.99
Massachusetts
Smirnoff: $10.99
Grey Goose: $24.99
Michigan
Smirnoff: $12.99 (State Price)
Grey Goose: $29.99 (State Price)
Minnesota
Smirnoff: $11.99
Grey Goose: $28.99
Mississippi
Smirnoff: $11.99
Grey Goose: $29.99
Missouri
Smirnoff: $9.69
Grey Goose: $23.29
Montana
Smirnoff: $16.90
Grey Goose: $36.10
Nebraska
Smirnoff: $15.99
Grey Goose: $37.99
Nevada
Smirnoff: $9.49
Grey Goose: $25.99
New Hampshire
Smirnoff: $12.99 (State Price)
Grey Goose: $29.99 (State Price)
New Jersey
Smirnoff: $11.09
Grey Goose: $26.09
New Mexico
Smirnoff: $11.49
Grey Goose: $27.99
New York
Smirnoff: $16.99
Grey Goose: $40.99
North Carolina
Smirnoff: $12.95 (State Price)
Grey Goose: $29.95 (State Price)
North Dakota
Smirnoff: $13.99
Grey Goose: $30.99
Ohio
Smirnoff: $11.99
Grey Goose: $25.99
Oklahoma
Smirnoff: $14.59
Grey Goose: $29.95
Oregon
Smirnoff: $13.95 (State Price)
Grey Goose: $35.95 (State Price)
Pennsylvania
Smirnoff: $12.99 (State Price)
Grey Goose: $32.99 (State Price)
Rhode Island
Smirnoff: $14.99
Grey Goose: $34.99
South Carolina
Smirnoff: $11.99
Grey Goose: $24.99
South Dakota
Smirnoff: $13.69
Grey Goose: $34.99
Tennessee
Smirnoff: $11.09
Grey Goose: $25.39
Texas
Smirnoff: $11.99
Grey Goose: $24.99
Utah
Smirnoff: $12.99 (State Price)
Grey Goose: $33.99 (State Price)
Vermont
Smirnoff: $13.99 (State Price)
Grey Goose: $29.99 (State Price)
Virginia
Smirnoff: $14.99 (State Price)
Grey Goose: $32.99 (State Price)
Washington
Smirnoff: $14.99
Grey Goose: $35.99
West Virginia
Smirnoff: $12.59
Grey Goose: $38.09
Wisconsin
Smirnoff: $12.29
Grey Goose: $25.99
Wyoming
Smirnoff: $11.99
Grey Goose: $29.99