What It's Like to Be a Bartending Mom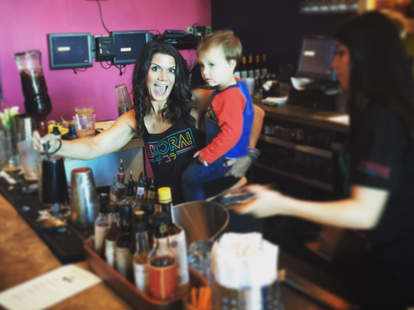 Two and a half years ago, Anna Mains gave birth to Nixon, her first and only son. Less than a year and a half later, she opened her first cocktail bar—and third business—Rockford Cocktail Den.
"In those first few months when I was stuck on the couch breastfeeding, I read a lot of cocktail books and started to get that bug," says Mains. "To me, hospitality is what has always attracted me to this business—I have always loved and believed in over the top hospitality. I get a thrill out of feeling like I'm hosting a party, an escape for people."
Now, with a toddler and a two more cocktail bars—Silver Lining and Rum Rebellion—underway, Mains (pictured above) is wrestling with a dilemma that's all too familiar to modern working mothers: Figuring out how to balance a fulfilling career with motherhood.
"I've tried hard in a lot of ways to figure out the balance between work and family, which is difficult in any business, but especially in this business," says Mains. "And I think that I have failed in some areas at keeping the balance."
But instead of giving in to criticisms and stepping down from her ownership and management roles in Oklahoma City's burgeoning food and drink scene to care for her son full-time, Mains is forging ahead.
"I want to have both and I'm not going to choose—that's not an option for me," says Mains. "What may seem to many people in the Midwest to be a very untraditional and unacceptable role for a woman, to me, I couldn't survive having it any other way."
The challenges faced by all new and expectant mothers are amplified when those mothers are working behind the stick, and Mains certainly isn't alone in her effort to make what many consider an untraditional career path work in tandem with starting a family; as we've reported in the past, women make up 60 percent of the bartending industry.
Not only is the bartending industry not considered particularly family friendly—from the late nights of slinging drinks to the often complete lack of benefits or job security—it's also just beginning to find its footing as a full-time career path for many people.
"If we want to be considered a real profession—a profession that will allow women to move up in the ranks and become more than college sports bar bartenders," says Mains, "we're going to have to find a comprehensive family plan."
An Industry Left Behind
One of the most problematic issues that professional bartenders with kids face is the extreme lack of workplace benefits. Of course, paid time off and parental leave are hotbeds for social and political debate—the protections and health coverage offered by the Affordable Care Act (ACA) may be short-lived. But bartenders are in particularly dicey territory as most service industry establishments don't offer benefits or workplace protections in line with the typical 9 to 5 workplace.
"I 100 percent think women in the bartending industry have been left behind in regards to workplace protections," says Ranjini Bose, who bartends four nights a week at New York cocktail bars Seamstress and Dear Irving, and had a baby last summer. "Touching on the fact that I had to take two and a half months without pay—that was hard. A paycheck on its own would've been a huge help, let alone insurance."
According to reporting by Bloomberg from 2015, only 6 percent of service industry workers get any kind of workplace benefits.
While pregnant with her son Robert in summer of 2016, Bose (pictured above) planned to take some time off from her two bartending jobs before she gave birth. It was all worked out: A schedule that made sense for her and her bosses, a plan to save up enough money before taking fully unpaid leave—but Robert had other plans.
"My due date was July 15 and I planned to take time off at the end of June," says Bose. "But the contractions started on June 4. I thought I would still be working for two more weeks."
Robert was born just over a month early, and Bose's steady paycheck came to a screeching halt. "It's been amazing having Robert, but things are not really setup for moms—especially new moms—in the industry," Bose says. "The first thing off the bat was having to take a bunch of unpaid leave."
Though she had help from her coworkers and her boyfriend's paycheck and health insurance, she says it was still a struggle making ends meet.
"At the time I was getting insurance through the ACA and that was a huge boon. If it wasn't for that, I just don't know what we would do right now—I don't think we could've afforded to have him, honestly," says Bose, noting that many women in the industry can't even afford regular OBGYN visits. "If the ACA can continue to be improved and expanded and the more women get coverage for things like OBGYN visits and childbirth—and if paid family leave is a thing that is guaranteed to everyone—things could get better. But policies have to be in place or it's always going to be a bit harder."
Despite the monetary setbacks and a lack of benefits, Bose considers herself lucky. Her bosses were nothing but supportive—one even threw her a baby shower and helped raise money for Robert's delivery. But her story is not the norm; most full-time bartending mothers, particularly those who work outside of the ultra-visible craft bartending community, can't be certain they'll be able to return to their regular hours after giving birth.
"Bosses can say they're going to hold that position, but what I see happen to most women is people say, 'Well, we're not going to take away this new person's hours, so you can have back a couple of shifts, but we're not going to give you the shifts that you used to have because you had to leave for a month,'" says Mains.
Even if a bartender were to get fired for taking the much-needed time off to recover after giving birth, proving that it was because of discrimination is complicated. The biggest focus with a new child may simply be figuring out where the next paycheck is coming from.
"For people pulling shifts behind the bar, that is a cash-in-hand kind of job," says Christy Pope, who is a co-creator of Midnight Rambler in Dallas, Texas, with her husband and is a mother to a two year old girl, Coco. "They're not going to take home the same amount every month if they miss a shift."
But the reality is, healthcare is just the tip of the iceberg. Whether or not a woman working in this industry is pulling shifts behind the bar every night or working in a management role, what Pope calls "the other 9 to 5" (9 p.m. to 5 a.m.) presents a host of other challenges.
"Late nights for your work and early mornings for your child are probably the hardest part, especially because children are at their absolute best when they first wake up—happy and full of energy and ready to take on the day," says Pope, who moved from bartending every night into ownership and consulting roles. But, she adds, her schedule still requires a lot of late nights. "Mornings are probably not inherently our best time," she says about herself and other bartenders. "There is definitely that shift that you have to make to be present and I would say that's probably one of the bigger challenges."
When behind the bar, mothers and mothers-to-be have to consider more immediate concerns as well. Sometimes it's finding the time for bathroom breaks while working shifts—an undeniable necessity when pregnant—and others it's finding the time and place to pump breast milk, which Mains calls "virtually impossible."
That's not to mention the costs associated with finding regular and reliable late-night child care. On average, daycare costs American families $11,600 per year—that's nearly $1,000 each month (though, that number varies widely by state). And because evening and night hours aren't the standard, they end up costing workers with late hours even more.
"We ask more and more of people in this industry," says Bose. "We really are asking people to educate themselves and be professionals and if you work in cocktail bars as I do, you really do go the extra mile and you are a skilled professional, yet you don't get any benefits that skilled professionals get and know to demand."
Battling Misconceptions
Aside from the lack of medical benefits and paid time off, Mains takes issue with the idea that working behind the bar is inherently un-family friendly. For one thing, she says, working nights allows her to spend more daytime hours with her son.
"I have friends who have to take their kids to daycare at 6 a.m. and pick them up at 6 p.m. and then their child's in bed by 8 o'clock," she says. "I do have to do things during the day, but most of the time I am able to spend afternoons with my son—we're able to play. A lot of times I'm able to have dinner at home, even put him to bed and then go to the bar at 9 or 10 o'clock and be there for the busy time. I've really enjoyed that."
Christy Pope and her daughter, Coco.
And though each woman experiences pregnancy differently, Pope (pictured above) adds that the busy schedule she kept leading up to the birth of her daughter—Midnight Rambler opened its doors two months before her delivery—was a good distraction.
"In some ways, I don't think I focused on any of the challenges of pregnancy because I was so focused on that task at hand for the bar," she says. "In some ways I think that made my pregnancy very easy."
But there were still certain drawbacks.
"I worked up until literally the day before I went into labor," Mains says. "I would get frustrated because you get people who would treat you like you have a disability—I would go to pick up a chair and people would be like, 'Oh my god, don't do that you're going to injure yourself.' But I felt great."
Mains has found that people still aren't open to her career choice. "Being in Oklahoma, one of the struggles that has become evident is the very traditional conservative roles that are predominant here," says Mains. "As a woman, I think that's one of our biggest challenges—especially once you become a mother—because people around you are always telling you how you should do your job as a mom. It's interesting because that's a pressure that men don't feel."
As Mains has discovered, it's still shocking to some that women would choose a career in the service industry—and that's only exacerbated once kids enter the picture. While the unconventional schedule and long hours contribute to some of the negative perceptions, a lot of it also has to do with the fact that bartending centers around alcohol.
"I'll bring Nixon with me sometimes to staff meetings, and there's this idea that I'm going to corrupt my toddler because he's growing up around bartenders and bars," Mains says. "I'm somewhat offended because I think he's probably watching his mom run three businesses on her own, and it's hopefully instilling in him that women are strong, capable human beings that can do whatever they want to."
She also adds that working in such a diverse industry has been a positive for her and her son: "I meet people from all different walks of life every day," she says. "Part of what makes you a better person is the exposure to many different backgrounds, many different people, many different beliefs and values. If I was not in this industry I would probably have one small bubble. Nixon is around all different types of people all the time. I think that's a benefit to this industry, and you pass that down to your children."
While Mains received a bulk of the comments and criticisms from complete strangers, she did hear some from fellow industry members.
"Some bartenders came in one night while I was very visibly pregnant," she says. "I don't know these guys that well, but one of them said something to the effect of, 'I can't believe you're having a kid. Bartenders don't have kids.' That was probably the weirdest thing that anyone said to me. I'm not the only bartender that has a kid!"
The Way Forward
Pope, Mains and Bose are adamant that creating positive change for mothers in the industry comes down to fostering a work environment in which women feel comfortable caring not only for their customers, but also for themselves.
"Employers need to provide a work environment that's safe and understanding of the needs of a pregnant employee, and also understand a young mother's needs in terms of if a child is sick and she has to take a night off," says Pope, noting that even if it's difficult, employers need to have contingency plans for employees no matter what the issue may be. "Things come up with anyone," she says.
But it will also take support from the bartending community as a whole to find a way forward.
Pam Wiznitzer, the creative director at Seamstress where she works closely with Bose, thinks that voicing concerns and being proactive by creating open forums and seminars at cocktail weeks would be a good first step. Wiznitzer is also president of the United States Bartending Guild, a nonprofit whose goal is, according to its website, to "empower bartenders to take charge of their careers."
"The strongest aspect of the USBG and bartending is our community and the power of our community," says Wiznitzer, adding that creating ties within local communities that bartenders can lean on for support is particularly important. "Craft bartending, career bartending has really been coming around more in the last 15 years than ever before, so there's a lot of things we're still feeling out and we're still trying to understand."
It's important to note that the USBG is a guild—not a union—so its role is fairly limited when it comes to representing bartenders in regards to workplace discrepancies. Though bartending unions do exist throughout the United States, Mains is adamant that it will take a concerted effort from the entire bartending community to see meaningful change.
"In the last couple of years I haven't even seen this topic being broached, so this is a start," Mains says. "We're starting to see a huge sense of community grow nationwide and I think that's the only way we're going to be able to achieve change."