5 Bottles To Get You Through A Breakup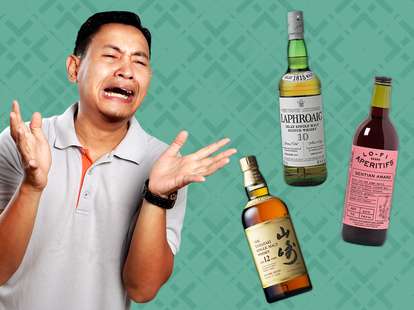 Shutterstock / Mark Yocca
Unless you're some sort of emotionless droid, breaking up isn't easy—no matter what side of the breakup you're on. If you're suffering through a split, all you need is Celine Dion's All By Myself on repeat and the right bottle of booze. From the warm comfort of classic bourbon to the liquor equivalent of a tub of ice cream, here are five of the best bottles to get you through a breakup. But, whatever you do, don't drink yourself to the point of texting your ex.
A bottle of Jack Daniels can be more reliable than most friends during a break-up. Not only will this whiskey refrain from choosing sides or guilt-tripping you, it's also always dependable, easy to procure and drinks like a warm hug. And, at only $25 a bottle, you can afford as many bottles as you need to cure your heartbreak without hurting your wallet.
If you're worried about maintaining control of your emotions and don't want to get caught drunk-texting your ex, stick to a low-ABV sipper like this delectable amaro. Made with a white wine from Napa, California, this modern American amaro is robust and bitter on the palate, with notes of orange oil, ginger and hibiscus. Not only can you enjoy this spirit on its own, but it's also refreshingly delicious in a Highball with soda water or ginger beer.
This creamy dessert liqueur is the boozy equivalent of a tub of ice cream. Whether you sip it straight out of the bottle or pour it over ice, this sweet liqueur is not one to judge. And, for those who don't do dairy, Baileys now makes an almond milk liqueur. So even the lactose-intolerant can indulge. For a post break-up treat that is as dangerously delicious as it is boozy, pour Baileys directly over your favorite ice cream. You'll definitely want your softest blanket nearby.
There's a good reason why all lonely old men drink scotch—because there's nothing better than rich and peaty whisky. This delectable Islay whisky takes care of two post break-up needs with one bottle: Not only is it seriously boozy at cask strength, but this smoky spirit is also as cozy and warming as a cashmere sweater on a cold winter day. By the time you finish the bottle, you won't even remember your ex's name.
Sometimes, after a messy break-up, the best thing that you can do is treat yo' self. This rare, luxurious Japanese whisky is the best gift you can buy yourself to assuage the pangs of a broken heart. It's smooth, rich, malty and honeyed on the palate, with notes of baking spices, orange blossom and marzipan. With whisky this good, you won't even need another relationship.