Essential Tips for Anyone Looking to Work at a Distillery, From the Experts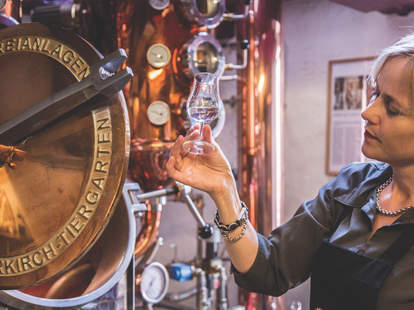 Distilling isn't easy, even for an expert. It takes time, money and an extremely thorough understanding of the raw materials and final product to create something worthwhile. But that doesn't mean it's not a dream job.
If you're looking to get into distilling, whether you want to work for an established company or start your own, you should probably know exactly what you're getting yourself into. So we asked master distillers, blenders and managers of liquor brands large and small for their best pieces of advice for someone who wants to start a career in the booze making biz. Heed their advice, and find out whether or not the distiller's life is the life for you.
Choose Quality Every Time
"I would suggest that the key to success is investment in quality in every aspect of production, including passion, expertise and ingredients. Marketers might sell one bottle, but attention to quality and craft will generate sustainable, loyal followers and repeat business for years to come." – Caitlin Quinn, Eau Claire Distillery
Know Your Botanicals
"To become a botanical distiller in a handcraft, boutique distillery like ours, the most important thing is knowledge of botanicals and experience in tasting. So I would say start smelling and tasting all fruits, herbs and spices. Work with the botanicals: Peel citrus fruit and smell the difference between the peel and the juice. Heat fruits and spices up, and see how it changes the taste. Mix different ingredients and see what happens to the taste of the mix. Get to know what gives bitterness, sweetness, freshness. It takes many years to develop a good sense of taste and knowledge of the ingredients." – Myriam Hendrickx, Rutte
Hone Your Sense of Smell
"The most important thing for one looking to be a distiller is his or her nose! You must have great sense of smell." – Thordur Sigurdsson, Reyka Vodka
Get a Science Degree...
"Although whisky making is a mixture of art and science, I do think that a scientific background really helps you understand why certain things happen in a distillery and what the key stages are to keeping the spirit quality perfect. So one bit of advice would be to study a science-based degree if you are going to college soon and already know you want to end up in a distilling career." – Brendan McCarron, The Glenmorangie
Specifically, in Chemistry
"I would say firstly get a science-based degree, then look for any experience within a distillery environment. For me the best experience was working in the lab as a chemist as it gave me insight into all of the distilling processes." – Brian Kinsman, William Grant & Sons
Make Bar Buddies
"Because we were in the bar and restaurant industry already, we knew a lot of the liquor distributors when we started out. But even when we went around and told them we had a gin, they said 'oh god, not another one.' But we already had a relationship with them, so they took it. When we launched, we had roots to market—without that, we wouldn't have been a success." – Tom Coates, Portobello Road Gin
Love Your Job
"When I first got into the industry, I realized that a lot of the veteran distillers were somewhat intolerant of newcomers; perhaps they believed their longstanding commitment to quality and craftsmanship, which goes hand-in-hand with the art of bourbon-making, would be disregarded. Understandably so, as it can be tough to find new people who share the same passions and dedication to bourbon distilling. This is a line of work that takes great patience because the product takes years to make. You have to be devoted to the craft and really love what you're doing. It's not something you do for the money, and if that's what you're in it for, you likely won't make it. As the old saying goes, 'It's not a sprint. It's a marathon.' I'd also note that being extremely well-versed in all of the rules and regulations of making bourbon goes a long way when you're starting out." – Greg Davis, Maker's Mark
Raise That $$$
"First would be to have lots of money! Stay true to what you believe in and take your time to do it the right way." – Eddie Russell, Wild Turkey
Get Your Hands Dirty...
"Study the process from the floor up and always be hands on. Also, learn to be innovative and creative." – Joy Spence, Appleton Estate
Like, Actually Dirty
"I would recommend for whoever wants to get into distilling that they should have a willingness to learn, work long hours and get their hands dirty. Study as much as possible during your free time, and when you get an opportunity to get your foot in the door, take it because nothing beats hard work." – Caley Shoemaker, Hangar 1 Vodka
Always Be Adapting
"First and foremost, always remember what inspired you to want to distill in the first place. The best and most enduring products always come from that inspiration. Also, don't fall in love with a building (because of its history, appearance, location, etc.) that is totally unsuited for housing a distillery. Be practical: Hire professionals for guidance, as they will help you understand how much precious capital can be eaten up just to make a space work for production and to pass muster with your local fire inspector." – Bruce Joseph, Anchor Distilling
Be Patient
"If you're so driven by your passion for distilled spirits that you want to become a distiller yourself, keep the following in mind: It is a big mountain to climb, and the mountain only gets bigger with time. Consider the economies of scale, the time and cost that goes into producing distilled spirits, and the forecasting for both consumer tastes and trends. Also, take into account the legacy you want to create in terms of agriculture and the environment. At Westland, our motto is 'Thoughtfully Made'—that reflects not just the quality of the liquid but the consideration given to the raw ingredients (from the barley to the American oak) and the people who produce them." – Matt Hofmann, Westland Distillery
Go Deep
"Discover what makes your distillery special and unique. Location, history, personal story, origin of materials—the backstory is important. But be sure it is true, and avoid exaggeration and hype." – Ralph Erenzo, Hudson Whiskey
Get Geeky
"Learn as much technically as you can. Enroll for a distilling qualification (General Certificate, Diploma or Master's) and do work in a distillery to learn the ropes." – Rachel Barrie, BenRiach, The GlenDronach and Glenglassaugh
Understand What the Heck Distilling Really Is
"Distillation by its ancient history bears a mythical aspect, even mystical—how to turn a flower into a fragrance or a fermented fruit into a complex and aromatic spirit. Beyond the mastery of the process of distillation it is, above all, a perfect knowledge of grapes and wine that will supply the still." – Jérôme Tessendier, Cognac Park