The Art of the Inedible Tiki Garnish
One of the best things about a tiki cocktail is the garnish. And while we're typically on the side of edible or natural garnishes only—tiki is our one exception. When it comes to drinking out of a pineapple or sipping from a ceramic scorpion bowl, we want to find a fistful of colorful swizzle sticks or a plastic mermaid swimming in our cocktail along with our orange flags and carved coconut elephants.
Decking a tiki cocktail out with the right garnish is a true art: The garnish should be festive but not garish, authentically tropical but also kitsch, and worth stealing but not actually worth money. Here, our guide to the best inedible garnishes to top your tiki drinks.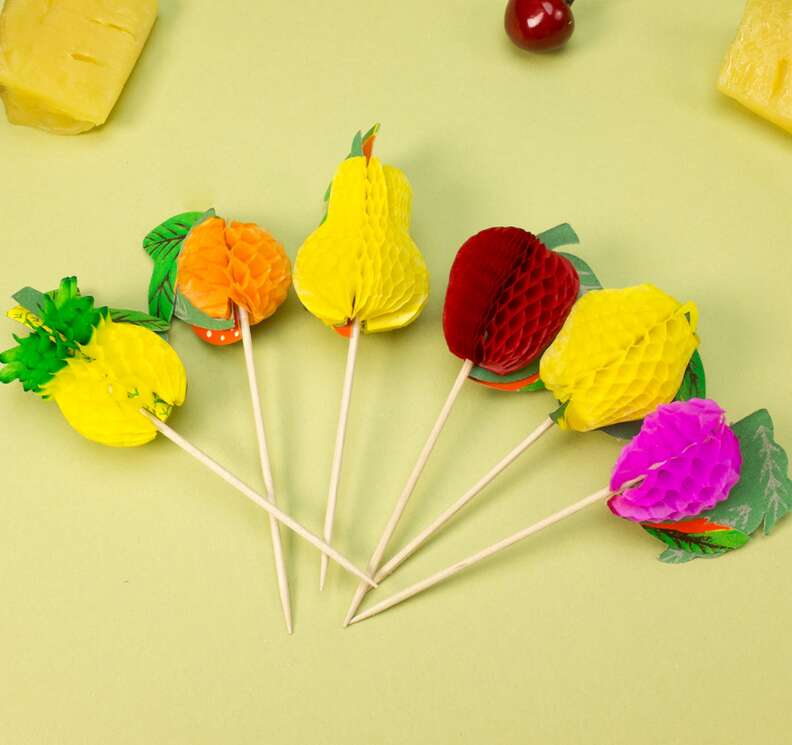 Skewers
Something has to hold the watermelon parrots or lime florets together, and that something is a skewer. These can be as simple as wooden or bamboo toothpicks or as fancy as vintage metal designs. We like a little mix of both: a classic toothpick embellished with ornate paper tropical fruit.
Umbrellas
It doesn't get more tiki than the classic paper parasol. The delicate little umbrella lets you know something delicious is waiting for you. We here in the Supercall office tape them to our computer monitors, stick them in our desk plants and balance them behind our ears when our drink has disappeared. You can find packs of 100 for $5, but we love how this one Etsy seller curated a selection of assorted prints.
Creatures
From monkeys to mermaids to elephants to camels, little plastic animals of any species make your drink—and your day—brighter. These clear, colorful models perch perfectly on the rim. Plus, you can wash and reuse them time after time (provided your friends don't steal them all).
People
Drink-swimming isn't limited to non-humans. There are all kinds of plastic people qualified to dive into your cocktail, from flower-adorned hula girls to sword-wielding pirates. Not only do they look great submerged in your Mai Tai, but they'll also keep you company if you're sipping solo.
Swizzle Sticks
Swizzle sticks come in so many shapes and sizes—from the cheap and disposable to the high-end and vintage—it can be difficult to choose just one variety. Go ahead and try a few different types on for size and find your own swizzle style. We're loving these handmade, retro designs that transport us to a swanky 1960s Palm Springs pool party.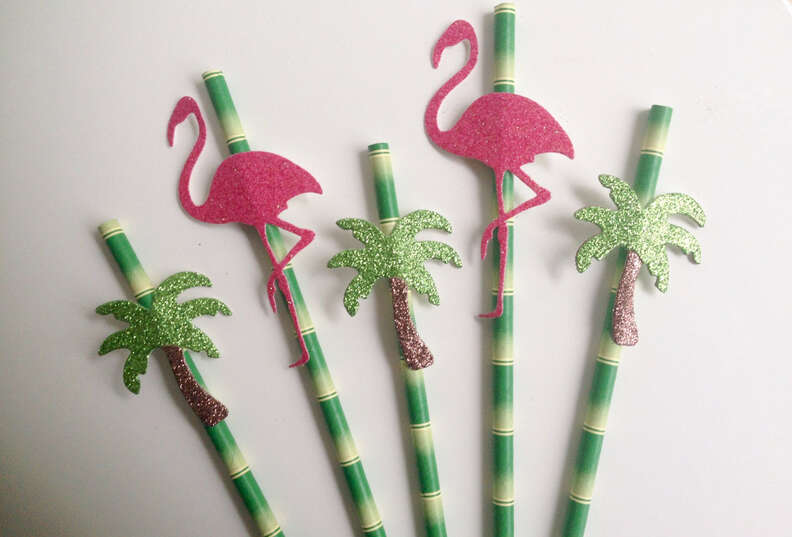 Straws
Straws play an important role in tiki. After all, how could you drink from a scorpion bowl without an awesome, extra-long straw? And how much of a frothy mess would you make if you tried to gulp down a Piña Colada without a super-fun curly straw? The options for tiki straws are nearly endless; present your drinks with restrained topicality with bamboo-print paper straws, or try something more complex like ones adorned with animals and fruit. Or get the best of both worlds with this classic bamboo design accessorized with glittery flamingos and palm trees.
Flags
Mini toothpick flags are a great way to highlight a specific spirit you've used in a drink. Maybe you're sipping Haitian or Jamaican rum, or perhaps tequila is the liquor in your tiki mug. You could warn of the dangerous levels of booze with a skull and crossbones pirate flag. Or keep it totally tiki with this flag.