The Best Ice Cube Molds That Actually Make Super-Clear Ice
When crafting cocktails, every ingredient is important, from the spirit to the garnish. But too often one component is woefully ignored: the ice. Luckily, a slew of kitchen and barware companies have seized on the opportunity to help home bartenders get the most out of their frozen water.
Channeling the at-home directional freezing method championed by writer and ice aficionado Camper English, a number of new, eye-catching ice cube trays have hit the market in home freezer-friendly sizes. These tools all claim to produce crystal clear, impurity-free ice that makes drinks look impressive while also melting slower to curb dilution. But can they actually keep their promises of transparency?
We tested trays that claim to produce exceptionally clear ice cubes, spheres and blocks, and found five worthy of your expertly made cocktails—and your hard-earned cash.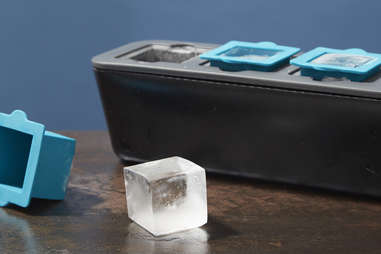 This four-cube tray from Rabbit was one of the first clear ice trays we tested when it launched at the end of 2016. Though a tad on the bulky side, it makes four impressively clear 1.5-by-1.5-inch ice cubes that melt noticeably slower than those made in your average silicone ice cube tray. The design is intuitive and easy to use, though it does require a bit of patience when removing the cubes. For a cool $20, this tray is a great option for those who like to take their time with their scotch on the rocks.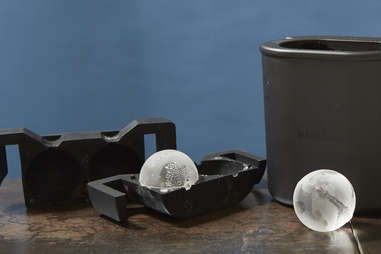 In partnership with The Macallan, Wintersmiths—which created one of the first clear ice sphere molds meant for home use in 2013—took its classic mold to the next level, doubling up on the beautiful spheres it can produce. Though it's design is sleek, compact and won't take up excess space in your freezer, it's moderately difficult to get the mold in and out of its base. Once you do, though, you're left with two almost 2.5-inch spheres completely free of cloudy impurities. While $80 might seem like a steep price to pay for two ice spheres, imagine how good they'll look chilling your Old Fashioned or Negroni—and how long you'll be able to enjoy one before the sphere melts into oblivion.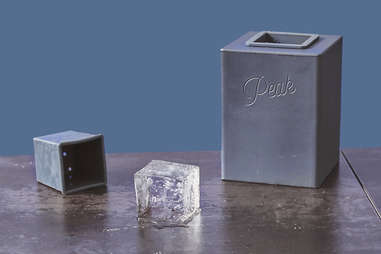 For anyone with singular ice needs, this simple mold is a great option. The tray produces just one cube with each freeze (so forget sharing), but it does deliver on its claim to make a giant "crystal clear ice cube." It's so clear, in fact, that you'll be able to see your tabletop from the top of your glass.
While none of these ice cube molds can claim to be ideal for entertaining, this mold from Tovolo comes close with a whopping four large ice spheres. During our tests, the ice didn't all come out in perfect spheres, but the results were free of almost all impurities. The mold's biggest downfall is its size: The styrofoam covering is bulky and doesn't fully close around the four sphere molds—and unless you have a deep freeze, odds are you'll have to clear out your freezer to make it fit. But damn if it won't make four gorgeous Vieux Carrés.
Though this mold from Neat also uses the directional freezing method, the process of getting a single clear ice cube is a bit different. For $80 you get a long, rectangular ice cube mold, an ice pick, and a muddler and Lewis bag for crushing the ice. Each mold creates a tall ice block with a translucent upper half and a cloudy lower half. You can then split it in half with the ice pick and use the clear top portion in the finished cocktail and the cloudy lower half to make the drink. This kit does require a bit of skill, and it's far more hands-on than other clear ice kits on the market, but by keeping the clear end of the cube combined with its cloudy base, it does a nice job at providing a glimpse into the science behind clear ice.