Hangover Helper: The Prairie Oyster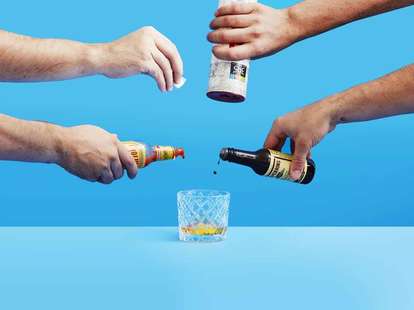 Not to be confused with a Rocky Mountain Oyster (a fried bull, pig or sheep testicle), the Prairie Oyster is a classic hangover cure consisting of a seasoned raw egg and nothing else. Though it gained popularity as a hangover (and hiccup) cure in the 19th century, its appearance in 20th century literature and film made it the infamous morning meal it is today. James Bond admits to turning to Prairie Oysters in Sir Ian Fleming's Thunderball, proving that even 007 gets hangovers; John McCabe (Warren Beatty) knocks one back in McCabe & Mrs. Miller; Sally Bowles (Liza Minnelli) gulps one down in Cabaret; and in P.G. Wodehouse's novels, Jeeves, the ever attendant butler, frequently makes them for his boss, Bertie Wooster.
The Prairie Oyster is traditionally with a raw egg, Worcestershire sauce, hot sauce, salt and pepper, but there's no real science to back up the drink's curative properties. The best explanation comes from Jeeves himself, who explains in Wodehouse's Carry On, Jeeves, "It is the Worcestershire sauce that gives it its color. The raw egg makes it nutritious. The red pepper gives it its bite. Gentlemen have told me they have found it extremely invigorating after a late evening."
If you've had a late evening, invigorate yourself with a Prairie Oyster of your own. And if you're feeling particularly bad, go ahead and add an ounce or three of whiskey to make an Amber Moon. Here, how to make a Prairie Oyster.
Prairie Oyster

INGREDIENTS
1 raw egg
Dash of hot sauce
1 tsp Worcestershire sauce
Pinch of salt
Pinch of freshly cracked pepper
METHOD
Carefully crack the egg into a lowball or old-fashioned glass, leaving the yolk intact.
Add hot sauce, Worcestershire, salt and pepper.
Gulp the whole thing down in one swallow. Feel better, or at the very least, distracted.