A wise man once said that the majority of "men lead lives of quiet desperation." To the extent that this is true, it probably applies to the majority of women as well, and it definitely applies to anyone stuck in a job they don't love, while their dreams hover in an indefinite holding pattern.
But every so often, one of these quiet desperados busts out—they have a YOLO moment, a jailbreak from the mundane. They give notice in accounts payable and they take a flyer on their passion, whether that's launching a pottery business in Vermont, a music label in L.A., or, most fulfilling of all, a bar in Brooklyn (or a bar anywhere, really).
We recently talked to three people who traded the silent desperation of the desk for the boisterous joy of the barroom. Two of them were in well-paying, secure, and lethally boring jobs when they decided to drop everything and go for it. The other was a lower-level assistant who "got coffee really well." Today, they all own their own thriving watering holes, and their tales should inspire any cubicle jockey yearning for a better way.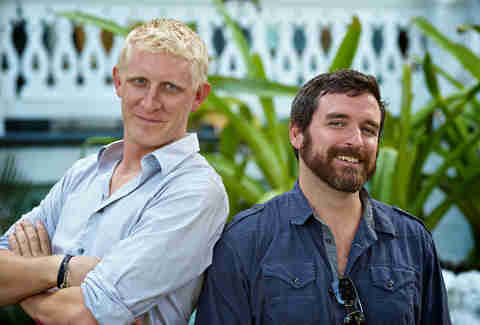 Our first dream-chaser was Chris Shultz, a Minnesota native who wrote the book on quitting your job and finding your paradise. Literally. It's called Quit Your Job and Move to Key West: The Complete Guide. Shultz did just that many years ago, when he traveled to the quirky Florida getaway for a video shoot that was supposed to last two weeks. "Eighteen years later," he says, "I've got a wife, a house, and a few bars."
He started with The Porch, a craft beer and wine bar tucked inside the historic Porter Mansion in Old Town. He went on to establish a mini empire, eventually opening up The Other Side, the Waterfront Brewery, and 2 ¢ Restaurant. It's all worked out amazingly well for Shultz, but he states right up front in his book that you shouldn't expect Key West (and by extension, any coveted geographical landing place) to literally be paradise. There's still loads of work to be done, appointments to be kept, and responsibilities to be met. Even if it's 85 and sunny every day of the week.
He definitely hit rough patches during the transition. "All the time," Shultz says. "Ups and downs were constant. I tried not to make the same mistake twice, but I still do that a lot. I've been broke a few times. But the best advice I ever got was, The thought of making the bed is worse than just doing it, so you might as well just do it."
Sometimes, though, it helps to get a nudge from someone close to you. That's what ultimately got Steven Baird to quit his accounts payable job at a New Jersey tech company and start pursuing something more… liquid. "I'm just not wired to sit at a desk all day," he says. But with his wife pursuing an advanced degree and bills to be paid, Baird had little choice. Eventually, after his wife left grad school and the couple relocated to Brooklyn, she sat him down. "She told me that we would figure it out, and that should I quit the office job."
Before he took that 9-to-5 in Jersey, Baird had run a high-end coffee shop in Arkansas, and loved it. He knew he wanted to get back into the service industry, and he'd been researching craft beer, thinking adult beverages might be more promising, financially, than beans. Problem was, he had never worked in a bar in New York City before, and his previous service-industry experience was years in the past. "It was really hard to find a job," Baird recalls. "After a year of unemployment, I was ready to throw in the towel." That was when a mentor suggested he try to get a volunteer position, a kind of internship. Baird signed on as a volunteer barback at an NYC bar, washing dishes, stocking the glassware, and changing kegs—all the grunt work (an excellent learning experience), all done for free (well…). But it worked: "Luckily I had bosses who saw my hard work and appreciated it. I'm now their partner."
In a matter of years, Baird went from barback to bar owner. He's currently a partner in two Brooklyn joints: The Owl Farm, a craft beer and cider bar with 28 draft lines, and tightly curated wine and spirits menus; and Cardiff Giant, which is devoted exclusively to New York-state-produced beer, cider, wine, and spirits.
It was a slight risk—one that involved "a pretty severe budget, lots of beans and rice, and a rent stabilized apartment," Baird recalls—but it had a huge reward. "I'm no longer behind a desk. I don't have an hour-and-a-half commute, and I'm now able to provide other people with jobs. But most of all, I really enjoy creating the environment at both bars I run."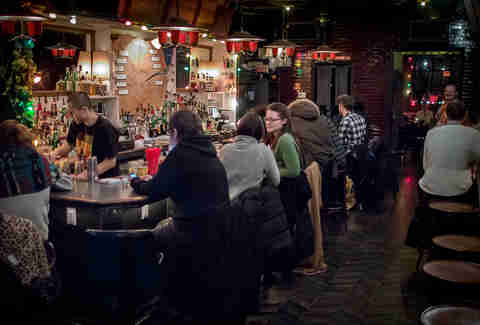 At Left Hand Path in Bushwick, Brooklyn, the environment is based on the faded glamour of 1960s-era cocktail bars in the Pacific Northwest. Though they have added the decidedly modern touch of USB ports and outlets built right into the bar for any smart phones requiring a little pick me up. That nod to tech jibes with co-owner Travis Boettcher's past. He worked as an engineer at both Facebook and Tumblr before dropping the corporate life to pursue what he'd long really wanted to do. We pictured his parents freaking out when he told them, but Boettcher says it was quite the reverse: "They were pretty excited for me," he insists. (For the record, Shultz's folks went one better in the parental support category: "They moved here a couple years after me," he says.)
Boettcher's mom ran her own business for 30 years. That helped make his new venture less intimidating, he says. "Growing up around something, you kind of see the day-to-day, and what you have other people do for you, what you do yourself—those sorts of things." Boettcher also found that some of his programmer skills were transferrable to the service industry, especially in  terms of establishing processes. Of course there were still bumps in the road when it came to workflow and "figuring out things like, 'Oh, we make our lives a lot easier if we get all our deliveries on the same day,' " says Boettcher. When all else failed, they occasionally relied on the community, where there just happened to be a lot of services that a fledgling bar might need. One day during the ramp-up to opening, they received a crucial support piece of metal that wasn't cut to the correct length. "It was going to stop a day's worth of work," Boettcher recalls. "So I picked the thing up, and was just barely able to carry it down the street, where I offered the guy at the closest metal shop a six-pack of beer to cut it for us."
That's the kind of whatever-it-takes mentality you'll need to navigate the shift from the structured corporate world to the uncharted waters of bar ownership. Shultz, the Key West veteran, has it in spades. Asked for his advice to anyone thinking about quitting their mainstream job to pursue their passion, he says, "Do what you love, work hard, and say 'f*** it' a lot."
For his part, Baird suggests the test-drive approach he took: "Explore as much as you possibly can, and find out what you want to do via experience."
All three men agree that when it comes to this decision, it's better to regret something you have done than something you haven't. You can always go back to the mainstream job market. But if you never take your best shot, says Boettcher, it'll always be in the back of your mind, "something that's going to nag you forever. It's not gonna leave your system." Sure, opening a bar is a long shot, but it's better to aim for patrons who always come back than settle for what-ifs that just won't go away.