Food & Drink
Sponsored by
5 Bartenders on What a Bar Needs to Stand the Test of Time
Sponsored by
If a bar makes it past its first year, that's a pretty decent accomplishment. If a bar makes it five years, the owners are clearly doing something right, and the place is practically a neighborhood fixture. And if a bar makes it 10 years or more, well, it's an amazingly successful venture, on its way to legendary, institution status. So what's the difference between those various levels, and what does it take to get past the five-year mark and beyond? We canvassed five industry vets to find out.
Here's what they told us.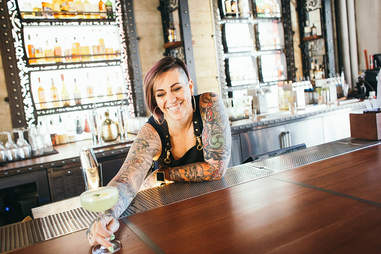 CBphoto
Kate Gerwin
Front & Cooper
Santa Cruz, California
After "single-handedly creating and shaping" the cocktail scene in the state of North Dakota, as one industry expert put it, award-winning mixologist Gerwin moved to California to open the Front & Cooper bar and manage the surrounding multi-venue Abbott Square Market.

The single most important element a bar needs to make it past the fledgling stage
Great staff, hands down. An incredible staff can make or break your establishment, especially in the beginning. Developing a solid customer base, establishing standards and policies that will carry the business the rest of its journey can be largely influenced by the staff serving as its ambassadors.
The importance of concept
It's not nearly as important as a sincere staff, quality product, and sound business knowledge, in my opinion. Concepts change, trends change. Places re-invent themselves all the time, but if you don't have "good bones," there isn't a theme or gimmick in the world that will keep people coming back.
A bar that got off to a bad start, but recovered—and the key to that recovery.
The Herb n Rye in Las Vegas, Nevada, which won the Spirited Award for Best High Volume Cocktail Bar at Tales of the Cocktail in 2016. The owner, Nectaly Mendoza, had a rough start out the gate, but through his passion and incomparable love and gratitude for his staff, they built one of the most inspiring bar teams and businesses in the industry. He would do anything for his staff, and the feeling is mutual. You can't stop that. It's infectious. People want to be there—both staff and guests. How can that be bad for business?
The biggest pitfalls for new bar owners
Number one would be inexperienced owners wanting the dream of owning a bar, but not knowing anything about the numbers side of the business (not enough capital, overspending, not knowing proper costing etc). Number two would be poor staffing, or poor management that doesn't know how to properly motivate and inspire a staff. Lastly, poor-quality products.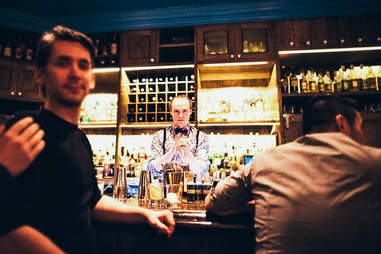 Julian Cassidy Photography
Jon Nutter
Pouring Ribbons; Attaboy
New York, NY
Established in the fall of 2012, Pouring Ribbons is cresting the five-year mark now, as a highly respected, totally approachable craft-cocktail joint. The neo-speakeasy Attaboy launched in March 2013, taking over the space formerly occupied by Milk & Honey, one of the founding bars of the cocktail renaissance of the early 2000s.
The No. 1 quality a bar needs to survive
My favorite places are the ones where passionate people work. A genuine sense of hospitality is born out of a desire to serve others. Guests can easily tell when you don't love what you're doing. If a place is going to endure, it has to be fueled by dedicated people that relish the opportunity to create delightful experiences for other people.
The importance of atmosphere
A new bar should constantly be aware of its atmosphere. Aesthetic decisions can make or break a bar. I love to spend time in bars that pay attention to the whole sensory experience. Lighting, glassware, and music are all essential choices.
How a place keeps going strong after the initial buzz dies down
The key is consistency. In order to have staying power and continue to retain guests, the place has to be reliable. With an endless supply of potential establishments to patronize, you have to offer guests a dependable experience.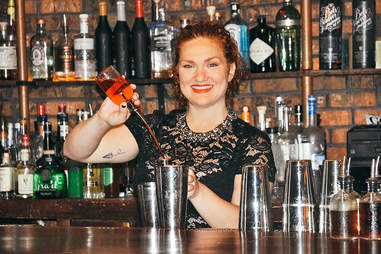 Luis Hernandez
Crystal Chasse
Seamstress
New York, NY
Seamstress opened in February 2015, quickly earning acclaim as an innovative cocktail lounge with a quality range of signature cocktails and an impressive roster of  "50 American Classics."
The single most important element a bar needs to make it past the fledgling stage
Creating a positive environment for the employees is most important. You can spend all the money on the shiniest and most innovative or beautiful equipment, but a bar is about the people. You need the right people and you need to support them appropriately for the concept you are developing. The guests may remember the drinks, but they will definitely remember the hospitality.
How to maintain consistency, even through turnover
You need a cohesive and deep team, so that when employees come and go over time—as they will—that close-knit team will ensure that the values and techniques of your bar follow through. If a bar is relying on one head bartender for everything, then they will be lost if they lose that person. If the bar team has the same goals, the bar will be less likely to go through a slump when losing a staff member.
How to keep momentum after the "honeymoon" phase ends
Give them reasons to come back. Whatever made you the "it" place is still there. Are you a craft cocktail bar? Come through with rad seasonal menu changes so your guests want to check out the new drinks. Are you a local spot with great drink specials? Have some nights where you pair with a brand and do more specials. Most importantly, though, hospitality. Make people want to come back because they had such a wonderful time.
Steven Lewis
Temple Bar
New York, NY
Founded in 1989, Temple Bar is a bona fide institution in Manhattan's NoHo neighborhood at this point. It's come through evolutions in clientele, focus, and popularity with style, and proudly holds it down today as a reliably high-quality option for dates, quality drinks and a pleasingly varied mix of patrons.
The importance of location
Location is a challenge. A well established neighborhood brings visibility, but do you stand out enough to create a draw? Or do you go off the beaten path to grab a cheap lease in hopes of being a cornerstone establishment? Either way, you need to read the neighborhood and decide if your concept will fill a void; be it experience, value, or quality.
On sensing that a new place that was not going to make it, and why
It's not uncommon in a city like New York, where competition is stiff and real estate works in baffling numbers. Some were too much like a successful bar around the corner. In others, the service culture of the staff wasn't strong, or the program felt poorly executed. Lighting design choices can especially make or break the experience. Any number of details influence whether people want to be at your bar.
The role of marketing, both inside the venue and beyond it
It depends on the type of venue. Does the advertisement fit your concept? It is possible to have the outlook 'if you do something well, people will come,' but it takes five times as long, and your staff needs to be operating at their highest standards, which can be difficult to maintain if business isn't established. The best advertisement I've experienced was other bartenders. If I go to a bar and enjoy myself, and the staff tells me I have to check out another place, I am much more likely to go than if I saw an ad. Guests I give suggestions to end up being the ones I see more often, because gaining knowledge of other bars heightened their experience of my bar. Everyone wins.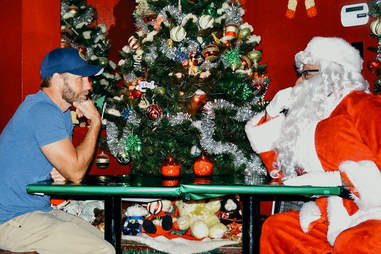 Monica Payne
Max Moreland
Lala's Little Nugget; Mean-Eyed Cat; et. al.
Austin, TX
A seasoned industry veteran, Moreland co-owns a number of successful venues in the Austin area, including the Christmas-themed Lala's Little Nugget, a North Austin institution that has been open since 1972.
The single most important element a bar needs to make it past the fledgling stage
People. I'd almost say it's the only thing, for me. Things like atmosphere, or design, decor, or location—they may get people in the door in the first place. But the only way to keep them coming back is the people serving the drinks. Without that, you're dead in the water.
On the most important elements after hospitality
Location and ambience are certainly the next two. If your ambience and your atmosphere is unique enough that it can drive to a poor location, that's great. And if you're in a great spot, people will come once. So I put those at 2-3—but a distant 2-3.
On location as a curse
I think location can often be a shortsighted view of how to do things. Yes, realtors always say, "location, location, location." But you see these places in every city where it just seems that it's not a bad location, but that location is doomed, like everything that goes in there fails? And you go, Why? That place was good. They had great food, or they had cool this and that. It's like people have a negative opinion of a location based on previous tenants. Unless there's an outside source that comes along to help, like, a massive place opens up next door to you with 1,200 tenants, and now you're right next door to this location. Unless you get something like that, it's really hard to overcome.
The challenges of standing out from the competition
It's not the same as what a restaurant can do. At a restaurant, they can make something so unique, nobody else is making it, and you have to go there to get it. As in, You've got to go get their fried chicken, or have you have to get the burger there. We can put up a great craft beer list, carry some really cool spirits, and develop some unique cocktail menus, but at the end of the day, that's not going to be the driving force in any bar. A really awesome drinks list is not going to make up for crappy service—it just doesn't work that way.
The guiding principle for his bars
Our goal is to always create an atmosphere where someone feels comfortable going by themselves. We want any single person who walks through our door, by the time they walk out, whichever bartender served them should know three things about that person. They should know that's Nate who went to LSU, and drinks vodka-tonic. So the next time he walks in, there's his drink sitting there: 'Hey man, you catch that LSU game this weekend? They looked good.' We want it to feel like home.