The Delhi Dilemma: Pairing Cocktails With Indian Food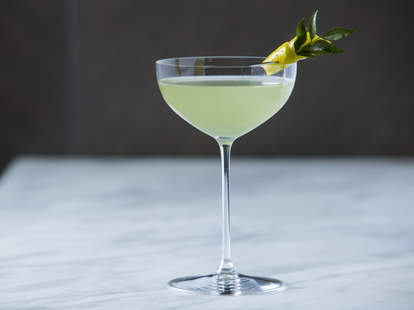 Nearly two decades ago, pioneering restaurateurs introduced American diners to elevated Indian food. Chef Floyd Cardoz's Tabla, part of Danny Meyer's Union Square Hospitality Group, was the tip of the spear—slicing through New York in 1998 with Hudson Valley duck samosas, bacon naan BLTs and Goan-Maine crab cakes. Tabla was followed closely by Devi, the first Indian restaurant to earn a Michelin star. Both of these trailblazers have since shuttered, but a new wave of Indian fine dining has risen like a phoenix—and this time there are cocktails. But creating a beverage menu for an Indian restaurant is no easy task, thanks to the food's complex spice blends and (occasional) extreme heat.
The Problem: Pairing Cocktails With Indian Food
Daniel Beedle, beverage director and assistant general manager at Indian Accent in New York, says picking one do-it-all drink to pair with Indian dishes is like trying to find a single wine to pair with every course of Thanksgiving dinner. It simply can't be done. Even concentrating on an individual dish, the problem remains. European dishes typically consist simply of a meat and sauce, making it easy to pick out individual flavors with which to pair a drink. But in the case of Indian food, there are a multitude of flavors. A bartender can easily get caught up in a tornado of curry and cilantro and wind up lost, unable to find a flavor upon which to focus.
"Indian spice mixtures are like a shotgun to your palate," Beedle says. "People in India drink a lot of whisky because it can obliterate your palate. It can compete with the spice in terms of intensity, but it fails as far as a flavor profile because the flavors don't match. And this is where people are just starting to explore."
Solution A: Complement the Cuisine
Even if there isn't a surefire cocktail pairing for Indian dishes, there are a few foolproof flavors. Acidity and sugar are great at cutting through heat, making cocktails an effective weapon when battling with spicy Indian dishes. This sweet-tart combo fuels cocktails across the menu at Indika in Houston, from the citrusy gin-based O'Hari, to the Madras Mojito made with sweet dark rum, guava and lime juice. At Indian Accent, Beedle turns to an unexpected ingredient for acidity: sherry. "Sherry has a savory, oxidative characteristic that brings up a lot of cardamom and fennel and coriander, those toasted spice notes in the food," he says. "But it also has an acidity and lift to it."
Another fortified wine, port, also makes an unlikely appearance at Indian Accent in the form of a Port Flip, with egg whites contributing to the cocktail's viscosity and creaminess—and therein lies another go-to compliment for Indian food: fat. Think about yogurty mango lassis and their ability to combat heat. Creamy cocktails can serve that same role.
Solution B: Look to History
Given the age of the Indian civilization, you might assume there exists an equally long history of drinking. You would (mostly) assume wrong.
"For 4,000 years, the cuisine developed independent of alcohol," Beedle explains. "And alcohol in a sense is still very taboo in India." Instead of looking to Indian spirits or drinking traditions for inspiration, he turns his sights to the country's non-alcoholic offerings. "There is a great history of non-alcoholic drinks like the nimbu pani (Indian lemonade, essentially), kanji (a fermented carrot drink) and a lot of Ayurvedic summertime coolers," he says. "Our goal is to incorporate those flavors in a modern presentation using modern and classic cocktail ratios." For example, Beedle mixes the kanji with Swedish punsch, and he even recasts the classic mango lassi as a creamy cocktail made with absinthe, fennel oil and ISI gun-aerated egg whites.
Even though India comes with a strong roster of non-alcoholic offerings, the country does have one cocktail up its sleeve: punch. When Michael Mina's restaurant group set to work on The Company, an Indian iteration of the ever-changing Mina Test Kitchen in San Francisco, they highlighted punch on the cocktail menu, adding in touches of modern Indian flair. "What we have come to call punch in the modern era originated as an Indian drink called panc, which is the Sanskrit word for five—referring to alcohol, water, sugar, citrus, spice or aromatics," says Mina Group assistant wine director Benito Martinez. "This drink was brought over to England by British sailors and then made its way to the New World. We sought to create a modern punch with Indian flavors and ingredients."
Solution C: Raid the Spice Cabinet
When seeking inspiration for Indian cocktails, the natural place to start is the spice cabinet—but the cornucopia of spice options can seem overwhelming.
Bartender Ryan Johnson at Indika believes that simplicity is key. One of Johnson's favorites, the O'Hari, features just basil and cilantro muddled with gin and lime. It's a refreshing herbal cocktail that helps cool hot diners off as they sweat over spicy Indian food.
Indika also features a rotating seasonal infusion, using one or two ingredients at a time like ginger or saffron to really highlight specific flavors. The bar currently offers a cinnamon and tamarind whiskey, which Johnson says works particularly well in an Old Fashioned. Past offerings have included a turmeric vodka and a mango-serrano tequila perfect for Margaritas.
Back at Indian Accent, Beedle likes to work regionally, finding ingredient pairings within signature spice blends from specific areas of India. For example, he says, "If you go down south to Kerala, there's a lot of coconut milk influences, with the very light, delicate qualities of the curry leaf." Inspired by those dainty flavors, Beedle created the Goa Ahead, which features bright, bubbly Brut Vouvray along with ceylon chai tea from the southern region. The Bandit Queen (above), on the other hand, features fiery Jwala finger chilis from northwestern Gujarat.
Solution D: DIY
When creating a cocktail to pair with Indian food at home, start with just one or two Indian ingredients. "Giving yourself a strict set of parameters forces you to really get creative and be very thoughtful about your approach," Martinez says. You could create homemade tinctures in flavors like saffron or coriander, or you could buy something pre-made, like Cecil & Merl's turmeric bitters. When selecting spirits, opt for something from India like Old Monk Rum or Amrut Whisky.
No matter what you try at home and no matter how miserably your take on a cardamom Manhattan may fail the first time around, know that you are helping pave the way for a new style of cocktail cuisine. Beedle puts it best: "It's a revolution right now. We're all finding what works."