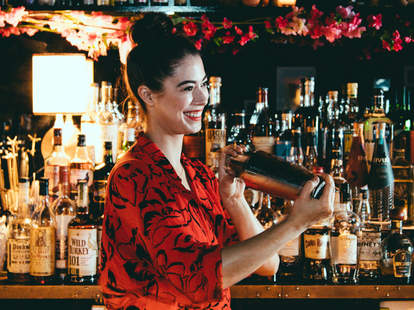 9 Bartenders You Don't Know But Should
Influential bartenders' names aren't as easy to drop into a conversation as popular musicians or actors or even celebrity chefs. Names like Sasha Petraske, Jim Meehan, Audrey Sanders and Phil Ward may not carry the same level of reverence as Nirvana or George Clooney or Eric Ripert—but they should. Because if it wasn't for them, we wouldn't be drinking as well as we are today. And now, there's a new class of influential bartenders on the rise. This time, make sure you remember their names.
Lauren Corriveau
Head Bartender at Nitecap, New York
Though Lauren Corriveau's background was in interior design and luxury jewelry, she became intrigued by the allure of life behind the stick at Donna, Jeremy Ortel's luminary cocktail den in Williamsburg. There, Corriveau went deep, teaching herself about cocktails and spirits. "Rather than relying on a mentor, I think it's really important to establish your own findings and opinions," she says. "I've always viewed bartending as a very entrepreneurial career."

After being tapped to help open Williamsburg's Battery Harris and design the bar's cocktail program, Corriveau decided to completely commit herself to bartending as a career, and soon went on to help open, run and eventually helm Nitecap with Natasha David.
At Nitecap, Corriveau has been able to show off her immense creativity. Each menu she has contributed to has had a different theme, and is more awe inspiring and tasty than the last. The cocktails are woven into the thread of each theme as tightly as any prog rock concept album (their newest menu even offers Spotify playlists to go with the drinks). Her flavor combinations are almost always out of left field: Think raspberry brandy and rum mixed with bell peppers, or root beer mixed with peach and curaçao. "I'm often called out for using really bold, in-your-face flavors or odd combinations. But I think about flavors the way that an artist might think about color tones," she says.
On top of everything else, Corriveau has also been one of the biggest influences in the low-ABV cocktail movement. On every menu both her and David dedicate a section to all-original, lower proof drinks that they created. "For me, low-ABV cocktails are an approach to drinking that allows it to be much more of a social experience," says Corriveau. "Historically, the idea stems from European aperitif culture, which is a time for friends to gather and lose any sense of time over nourishing food and conversation. The ingredients commonly used in low-ABV cocktails, the style and the concept of the cocktails are designed to promote stimulation—both of the palate and the mind."
Courtesy of Morgan Schick / Trick Dog
Morgan Schick
Creative Director at Trick Dog, San Francisco
Morgan Schick is a busy man. He's the creative director for cocktail, hospitality, marketing and design firm The Bon Vivants; and he's the creative director of San Francisco's whimsical cocktail mecca, Trick Dog. After beginning his professional life cooking in Portland, Oregon, Schick moved to San Francisco where he worked his way from bartender to creative director. "It's been a long, hard climb to the second rung of this ladder," says Schick. "But I have done the same thing that everyone who wants to do this does: work with people who are better than me, read a lot, watch other people bartend, ask annoying questions—and actually listen to the answers."
At Trick Dog, the menu changes its theme every six months—and some versions are borderline surrealist. Themes have encompassed everything from Pantone colors to dog calendars to children's books. The current menu is based on in-flight safety instructions, and contains cocktails like the SEA (rum with Ancho Reyes chile liqueur, Kahlúa Midnight, chocolate, grapefruit, lime and an Oreo cookie crumble garnish).
But, however oddball the ingredients or the concept, Schick's cocktails manage to walk the fine line between esoteric and crushable. "I am always amazed that seemingly whatever idea I have ends up being a recognizable drink at the end," says Schick. "The most important distinction is that the cocktails are not my self-expression—they are for someone else to enjoy. The guests at Trick Dog could give a crap about my self expression. With that said, usually the Martini-style drinks on the Trick Dog menus are the ones that I am most proud of. The 1000 Points Of Light off of our election menu is a good example: gin, vin de tangerine and peat-smoked strawberry tincture. It's a super classic Martini structure but with unexpected layers of flavor."
Courtesy of Cole Saladino
Stacey Swenson
Head Bartender at Dante, New York
Stacy Swenson is one of the most humble bartenders in New York—especially considering her level of talent. She puts ego aside and focuses only on the quality of her drinks and the satisfaction of her customers. Swenson started bartending while she was in college in Iowa and then in Chicago. But it wasn't until she came to New York that she really found her place in the industry. Like many, she learned by watching other bartenders and asking the right questions. "To this day I watch other bartenders that I admire," she says. "I am constantly picking up on something new. Little things like, that's an interesting way that she held the cap in her hand while she was pouring the bottle. Or I should try to give the guest a coaster right after they've ordered so the rest of the staff knows someone's taken their order. Or I really need to work on filling guests' waters while I'm in the middle of a round like that. I am constantly learning and growing, and I have an awesome bar community to thank for that."

After working at some of New York's best bars, including Dave Arnold's cocktail wonderland Booker and Dax, she made her way to Dante just as the West Village institution was about to reopen under new ownership. Along with Narren Young, Swenson has instilled Dante with an unpretentious air and a menu filled with low-proof cocktails you can sip on for hours on end. After working at the West Village location for a year and a half, Swenson recently took over the helm at Dante at Genuine, an Italian-style cafe created as a collaboration between the folks at AvroKo Hospitality and Dante, where she continues to craft thoughtful drinks that can be enjoyed all day long.
"We look at a few things when creating a new cocktail menu: what spirits, flavors and fresh ingredients make the most sense for the season, and what we feel the menu needs," Swenson says. "If we were going to take off a citrus-forward, rum-based cocktail from the menu—because one of the ingredients was no longer seasonally appropriate—we would want to replace it with something that would satiate the same type of drinker, and be appropriate for a similar mood and vibe. It's not just about coming up with the most decadent and intricate cocktail, it's about seeing the larger picture: How does it fit in with the other cocktails and the environment of our bar?"
The drink that best describes her philosophy as a bartender is the bar's Bamboo Highball, a riff on the classic cocktail made with dry vermouth, sherry and bitters. "We use a combination of the Bitter Truth Olive and Lemon bitters," she says. "The drink is topped with Fever Tree Mediterranean Tonic with a crystal clear ice spear, an olive and a sprig of rosemary. It's light, refreshing, savory and full of flavor. It fits my personality because, while on the exterior I don't take myself too seriously—I have a pretty casual sensibility and hospitality style—I do take my work and making people happy very seriously. I like that juxtaposition of simple and serious."
Courtesy of Harvard & Stone
Aaron Polsky
With a vibe that's more Robert Plant than Jerry Thomas, Aaron Polsky is deceptively down to earth. As the head bartender at Harvard and Stone in Los Angeles, his two biggest goals are to make craft cocktails more accessible to the masses and to give other bartenders a platform. His appreciation for hospitality started at Thomas Keller's Bouchon Bakery, where he worked as a food runner while he attended NYU. From there, he went on to work as a host at the famed Milk & Honey where he met the late Petraske.
Under the tutelage of Petraske, Polsky mastered the underlying principles of service and memorized a roster of classic cocktails through trial, error and off-the-cuff customer requests. "Honing your skills is about constant exploration and curiosity. Every time I tasted something new, I read about it, and every time I read about something new, I tried to go out and taste it. It's about creating as often as possible and tasting other people's cocktails as much as possible," says Polsky. After working with Petraske, Polsky worked with amaro and bitters impresario Sother Teague—the man behind New York's mighty but tiny cocktail lounge, Amor y Amargo. "Meeting so many amazing dynamic people over my career and seeing them tend bar and hearing them talk about their approach to drinks and hospitality inspired me to be better," says Polsky.
At Harvard & Stone, Polsky's bold sensibility has taken center stage. The bar manages to be as cutting edge as any of its East Coast counterparts, while maintaining an everyman vibe. "I try to focus on layering flavors to achieve complexity, while maintaining accessibility and keeping it delicious. I try and feature one exotic ingredient to make it exciting for our guests—things like salted cherry blossoms, persimmon vinegar, or jasmine," says Polsky. He also fills his menu with drinks from his bartending staff, along with his own creations. He even extends an invitation to other bartenders from outside of H&S to create and serve. In the back of the bar, the R&D Bar features guest bartenders every Monday night. Designed by Polsky to foster creativity and experimentation, the bar-within-a-bar has been the site of the creation of almost 10,000 original cocktail recipes.
Courtesy of Jamie Boudreau / Canon
Jamie Boudreau
Co-owner of Canon, Seattle
Jamie Boudreau has been bartending for over 30 years. Over the course of his career he has opened an exquisite cocktail bar, written a book (Canon Cocktail Book), and helped pioneer the Seattle cocktail scene as one of the principal bartenders to reintroduce Prohibition classics to the Pacific Northwest.
Like others on this list, Boudreau is self taught. "When I was starting out, I read everything I could get my hands on, tasted everything I could find, visited as many bars as I was able, and played around with as many recipes and sub-recipes as I could—pushing boundaries whenever possible," he says.
At Canon, Boudreau has distilled his years of experience and study into a singular expression. Honored with a slew of awards, including World's Best Spirits Selection and World's Best Drinks Selection at Tales Of The Cocktail, the bar centers around Boudreau's awe-worthy collection. Currently, the bar has the largest whiskey selection in the world and one of the largest selections of rare, antique spirits in America (if not the world). Canon was also one of the first bars to offer flights of vintage spirits, starting with a portfolio of green Chartreuse vintages.
While his cocktails seem simple on paper—and are often his takes on the classics—they require an expert level skill set that even most bartenders can't execute. "I use a lot of self-made ingredients or unique techniques. This not only makes it harder for others to replicate, it also gives our guests another reason to come visit us as opposed to staying at home and making cocktails themselves (or even going to the bar next door)," says Boudreau.
Boudreau's take on the classic Gin Rickey is a prime example of how he can elevate a simple, three-ingredient cocktail to a work of art. To make it, Boudreau caramelizes sugar over Luxardo maraschino cherries using a torch and a mist of high-proof Angostura bitters. After the sugar has been completely liquified, he muddles it with the brandied cherries. Then, he adds gin, fresh lime and a bar spoon of rose water. The drink is served as a Highball, with a touch of seltzer to give it a little liveliness and effervescent bite. It's perfect. "To strive to be one of the best is about constantly trying to improve, in my mind, and there is no let up," says Boudreau.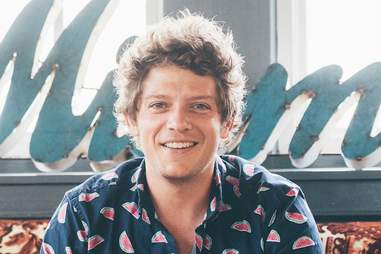 Courtesy of Javier Sanchez / Broken Shaker
Gui Jaroschy
Beverage Director at the Broken Shaker, Miami, Chicago, Los Angeles, New York
"I have always had a passion for food and drinks," Gui Jaroschy says. His first job was behind the bar at the Delano Hotel in South Beach. There, Jaroschy worked his way up to earn the title of beverage director. Then, after meeting and helping Elad Zvi and Gabriel Orta with their Broken Shaker pop-up at the the Indian Creek Hotel, Jaroschy left his position at the Delano to helm the Broken Shaker's first brick and mortar location (they now have four locations). "I fell into an incredible situation at the Broken Shaker," says Jaroschy. "When I started, I would get up every morning and read from cocktail books. I read to know more about drinks, for inspiration, memorization—whatever. At the end of my cup of coffee I would write down three drinks I was going to make that day in a little notebook: one classic, one stirred, one shaken. Then I would find a way to make all three over the course of my shift and write notes about each drink. By doing that, I gained a broad range of style and the ability to come up with great drinks on the fly."

At Broken Shaker, Jaroschy's drinks are playful, imaginative and downright delicious. "For the first three years at Broken Shaker we changed the whole menu every month," says Jaroschy. And we're not just talking seasonal change-ups. One of the most memorable themes was "Western tiki," in which the Old West met Polynesia. There were drinks like the Wagons East, an apple and sarsaparilla Rum Swizzle with a plastic cowboy hiding in a bush of mint, and the Remember the Alamo made with gunpowder tea grenadine and a Mexican flag toothpick garnish. "I was really proud of that menu because it was creative, the drinks were really good, and it connected with guests as much as the staff," Jaroschy says. "That's a really good feeling: When a server comes up and garnishes their drink to take to a table, and they smile at it as much as the person that's about to drink it."
Using the Broken Shaker property's on-premise garden at the Freehand Hotel in Miami, Jaroschy tries to incorporate fresh ingredients into syrups or infusions whenever possible. He has also adopted the Trash Tiki movement's principles into his bar program, becoming one of the first bartenders to fully embrace recycling bar and kitchen waste into cocktail ingredients. His Garbage Pail Kids cocktail is made with a citrus cordial made from leftover lime hulls, while his Trash Tini is made with vermouth infused with charred onion scraps from the kitchen. "I have only one rule when it comes to making cocktails: They have to connect with people on a personal level. That connection can come in the form of a kitschy tiki cocktail or a really cleanly presented classic cocktail. The name, the flavor profile, the presentation—something has to resonate with the person drinking it or I wouldn't serve it to them."
Courtesy of Midnight Rambler
Christy Pope
Often overshadowed by her fellow Milk & Honey alumni, Christy Pope's career has been just as impactful on the bartending industry as her previous coworkers'. After helming the bar at Milk & Honey (and at Petraske's second bar, Little Branch), Pope went on to open Cuffs & Buttons consulting, the first beverage-only catering company in New York, with the help of Petraske and fellow Milk & Honey bartender Chad Solomon. "The beauty of the time and place I started in was that everyone was working together but doing a lot of self-exploration and self-teaching—even though there was not the abundance of resources that exist today," she says. Pope and Solomon eventually left New York for Dallas, where they opened Midnight Rambler, a craft cocktail bar with '70s vibes and rock 'n' roll energy.
At Midnight Rambler, Pope has taken everything great about Petraske's early bars and turned it into a more accessible, more fun experience. "Bartending as a whole is a very personal process and every bartender has their own story of how they cultivate their individual skill set," says Pope. "One aspect of my approach to new cocktails is that I work from a rooted foundation in classic cocktail structures and innovate by modernizing the ingredients and techniques. Naturally, personal preferences also play a roll, and I try and keep as few ingredients and steps as possible in my cocktails, as I prefer to apply the philosophy of essentialism to my cocktails." Take her Gold Dust Woman cocktail, for example. The Pisco Sour variation is made with tequila blanco, sotol, kummel liqueur, fresh lime juice, pineapple syrup, egg whites and a spritz of a lavender sage infusion. It's classic cocktailing meets Texas meets spring break.
One of Pope's greatest contributions to the bartending community, however, is much more intangible. After bartending while pregnant and giving birth while she and Solomon were still trying to open Midnight Rambler, she became a prominent voice in the ongoing conversation about motherhood in the bar industry. Since she and other working, bartending moms—like Natasha David from New York's Nitecap—have spoken up about the lack of support, paid time off and any health benefits, their employers and colleagues alike have started to have a much needed discussion on how the industry has to improve and change in the future. While the dialogue is nowhere near resolved, if it wasn't for bartenders like Pope, it might not have started at all.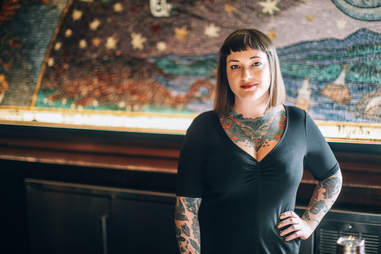 Courtesy of Farrah Skeiky
Suzy Critchlow
Head Bartender at the Columbia Room, Washington D.C.
Suzy Critchlow didn't plan on becoming a professional bartender. Before becoming the head bartender at the Columbia Room, Critchlow was a jack of all trades. She went to art school, almost became a nurse, and started her own bike shop—all while slinging beers to pay the bills. She only started seriously learning about making craft cocktails after she applied for a job at the Rogue Gentleman, a Richmond, Virginia, cocktail bar. "Up until that point I had only worked in craft beer bars. I had never used jiggers or a mixing glass, and had only shaken my Manhattans," says Critchlow. "The first time I ever stirred a drink was during my interview [at the Rogue Gentleman]. I learned to stir from a YouTube video. But I got the job. And I picked up my skill set quickly."
"Quickly" is an understatement. From the Rogue Gentleman, Critchlow went on to manage Top Chef alum Mike Isabella's Italian restaurant, Graffiato. "I studied all of the time," says Critchlow. "There are a myriad of ways that you can learn and better your technique." She went on to manage the restaurant's flagship location in Washington D.C. Just one year later, she was hired to be the lead bartender at the Columbia Room, one of D.C.'s most audiciously creative cocktail ventures.
At the Columbia Room, Critchlow's inherent talent has been allowed to fully blossom. Under the tutelage of beverage director JP Fetherston—who earned the Columbia Room the award of Best American Cocktail Bar at the 2017 Spirited Awards—she has developed her own singular style and expression of flavor. "As soon as I walk into work—before I can even set my things down—someone is greeting me with, 'Hey, Suzy. Try this.' We're constantly pushing ourselves to come up with new things. It really fuels my creativity being surrounded by such talented folks," says Critchlow.
As the head bartender, her unconventional palate (which leans heavily toward the savory side) and dedication to experimentation has become a centerpiece of the cocktail menu. Drinks like Franky Sees the World—an homage to New York bartender, Franky Marshall—perfectly embody her ethos. The cocktail features a housemade amaro made with a mezcal base, Armagnac, Pedro Ximénez sherry, cherries, walnut oil, salt and mole bitters. She garnishes the drink with a dark chocolate-covered walnut. It's a palate-engaging play in salty, bitter and sweet.
Since starting work at the Columbia Room, Critchlow has been awarded with the Joseph Magnus Distillery's Most Remarkable Bartender award and was a top 10 finalist in the 2017 National Sherry Cocktail Competition. But that's all just a bonus for Critchlow. "What set my decision to bartend as a career was the hospitality aspect of the job," she says. "Although we're just bartenders—just mixing drinks—what we really do is try to take care of people. And that's the most important part of the job."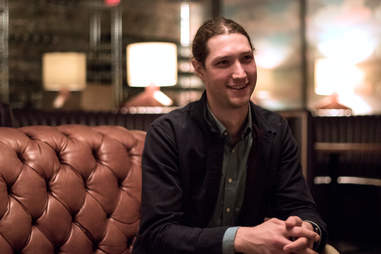 Courtesy of Marvel Bar
Matthew Voss
Head Bartender Marvel Bar, Minneapolis
Now one of the country's top "it" destinations for fine dining and cocktails, Minneapolis owes much of its craft cocktail rebirth to Marvel Bar. Opened in 2011, Marvel Bar is the basement speakeasy beneath The Bachelor Farmer. There, bartenders serve up one of the most cutting-edge bar programs in the world. Matthew Voss, who has been at Marvel Bar since its inception, is one of the main forces behind the bar's success and its singular style of cocktails.  
A native Minnesotan, Voss' first job in the service industry was working at a neighborhood restaurant called the Longfellow Grill while he was in highschool. "It was the first place that I saw you could change the world through service," says Voss. "That was the start of everything."
After highschool, Voss landed a bartending position at Cafe Maude where he worked under beverage director Pip Hanson, one of the few bartenders to have studied in Japan under master bartender Kazuo Uyeda, inventor of the hard shake one of the progenitors of the Japanese cocktail movement. "Pip was so gracious to take me under his wing and teach me everything he knew from his time spent at bars in Japan," says Voss. "He taught me that there is purpose in every movement behind the bar, that the drink is just the start, that the process is just as important. It's how you're spoken to, and it's how cold or warm your seat is. The second a guest orders a Martini, it becomes an important experience between just us."
Eventually, Hanson tapped Voss to work with him at Marvel Bar, where he became the head bartender after Hanson left to helm the Artesian Bar in London in 2015. At Marvel Bar, Voss uses his training to create incredible cocktails both classic and original. "My style, and the style of Marvel Bar, is minimalist and rigorous," says Voss. "We tend to stay true to the very classic format of three ingredients. But our goal is to let those ingredients shine on their own. It can be overwhelming to create a cocktail out of nothing, so the restraint of three ingredients can be liberating—but it takes discipline too. Less is actually more if done right."
The Smoke & Wine cocktail is a prime example. "It touches on Pip's influence on me and his connection with Japan," says Voss. "But the drink is also very me." Made with Suntory's Hakushu 12-Year Single Malt Whisky, two types of vermouth (Miro Rojo Vermut de Reus and Abbe Rous Matifoc Rancio Sec) and water, the cocktail is almost like a bigger, more brazenly flavorful take on a Rob Roy. "It's a classic build—but in more of a Marvel way," says Voss. "We're taking something compact and stretching it—taking really great, unique flavors, and building them in a way that plays off each other so that no flavor is more dominant than another. And the drink is balanced so that it creates something new and hard to place."