The Best Jello Shot for You, According to Your Zodiac Sign
There are lots of things the zodiac can tell you about your drinking habits, whether it's what kind of bar you'll enjoy most or the best drinking game to play. We love Jello shots at Supercall and often have a difficult time deciding what kind to whip up when entertaining friends. So we turned to the zodiac to figure out which wiggly, jiggly Jello Shot is best for each of the 12 signs.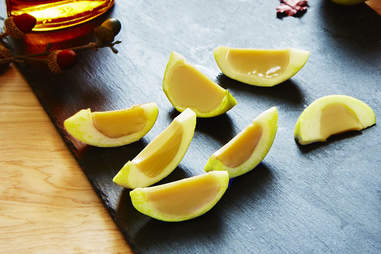 Matthew Kelly / Supercall
Air Signs
The adventurous Aquarius can't be bothered with just any boring old Jello Shot. But a decadent caramel apple Jello Shot that's built inside a Granny Smith apple—now we're talking. This creamy shot is just as tasty as the original dessert, without the gargantuan mess a real caramel apple often leaves behind.
Geminis are constantly seeking adventure because they can't stand stagnant energy. This tangy, spicy Bloody Mary Jello Shot will keep their palate occupied. Plus, the fact that they're served in celery sticks will grab their attention for more than a few minutes.
The Libra is a social butterfly who loves to entertain a crowd, so they need a boozed-up Jello treat that serves more than one. They should whip up this festive Jello ring the next time they're playing host for a fabulous party.
Matthew Kelly / Supercall
Fire Signs
These fire signs need a Jello Shot that's as bright and bubbly as their friendly personality, which makes this French 75 variation the perfect go-to for a Leo. They may look pretty, but these booze-forward jigglers are not for the faint of heart, meaning they can stand up to the Leo's sometimes overbearing personality.
Jello Shots aren't often known for their strength, but this Tequila Sunrise version packs more of a punch than most—which is something the stirred and strong drink-loving Aries will appreciate. Plus, the Aries is always up on what's most popular, and this jiggly shot's deliciously sweet flavor is a true crowd pleaser.
The flirtatious Sagittarius will love the flavor of this fruity jiggler almost as much as the suggestive name. While many might stray from the sweetness of the classic-cocktail-turned-Jello-Shot, this fire sign isn't afraid to try something that strays from the norm of what people think is cool.
Marisa Chafetz / Supercall
Water Signs
Cancer folks can be introverts at first, taking their time to open up to new people and experiences. This Irish Coffee Jello Shot will give them the jolt they need to come out of their shell and join in the conversation.
Scorpios love to party, and nothing says party quite like Fireball. Combine the spicy whiskey with Jell-O, and you have a celebratory shot that's as boisterous as Scorpios themselves.
This water sign loves everything cozy, whether they're curling up on the couch with a warm beverage or cracking a bottle of wine and getting into deep life chats. These Mulled Wine Jello Shots are fruity, comforting and bound to be a hit at the Pisces' next gathering.
Matthew Kelly / Supercall
Earth Signs
Capricorns love to party hard, whether they're dancing on tables in a club or drinking cheap whiskey in their neighborhood dive bar. But even these party animals don't have endless energy. Whip up a Red Bull Vodka Jello Shot to keep the party raging all night.
The reliable Taurus rarely strays from their go-to classic cocktails, and that's OK. People under the bull sign know what they like and believe you don't need to fix something that's not broken. The Negroni Jello Shot will give them something exciting and new to try without straying too far from the norm.
Virgos don't often deviate from the classics, which makes this Moscow Mule Jello Shot a perfect way to infuse a little fun into their drinking routine. Aside from the gelatin, this recipe stays true to the original, which the reliable Virgo will appreciate.