If you walk into a new bar these days and find yourself drooling over the sconces, bewitched by the wallpaper, in love with the stools, or otherwise enamored with the decor, you're likely standing in a venue designed by Ken Fulk. Even if you notice none of these things, you may feel as if you've stumbled onto the set of a Tom Ford movie, where Glossier models sidle up to the bar beside Supreme geeks. Even if, somehow, you fail to observe your uber cool fellow bargoers, you'll instantly feel at home with a drink in your hand—if your home was casually featured in the pages of Coveteur or Architectural Digest. Welcome to Fulk's world.
Over the past two decades, Fulk has designed spaces for several major hospitality groups, that immediately court a celebrity clientele and can make any schmo walking in off the street feel like a rockstar too. He's opened successful venues like Legacy Records, Carbone Las Vegas, Leo's Oyster Bar and a cascade of other vivid dreamscapes. This list would be impressive for anyone, let alone a liberal arts grad with no formal experience at a design firm. He made pajamas, published his own children's books, and nearly landed a TV deal before he found his way into design.
Fulk's informal training informs his broad, holistic approach to projects, and it's this comprehensive method that really distinguishes him and his team in the industry. "Not only do we do the decor, but we do the branding, the naming, really the whole concept," he says, "whether it's a house or a boat or a plane or a hotel" (or a Halloween party or a museum show opening or a bar). In the case of restaurants and bars, this expansive vision exceeds a physical space. Fulk adds, "With hospitality and bars and restaurants, they're places where we come to commune, to be with other people and to share this experience. … It's really experiences we create."
To tackle this wide far-reaching concept, the design team begins with the story of a hypothetical customer. "We write a narrative because we're storytellers," Fulk explains. "We think about [venues] from soup to nuts. From the moment you get that glimmer in your eye that you might go to [somewhere like] Legacy Records, what do you think about? Suddenly it sounds kind of cool but what is it? Then you get there and it looks great. And then you get to see and smell and hear that great music."
For example, when Fulk's team was tasked with designing Carbone Las Vegas—the Sin City outpost of the New York red-sauce power spot (and Drake fave) from Major Food Group—he knew he had to crank up the swank to fit Vegas' reputation for unrestrained opulence. "We designed a very big Carbone on steroids in Las Vegas," Fulk says. "We designed all of the booths as opera booths so they all look out, and in the middle is this giant croquembouche of booths back to back to back. The entire room, everyone is looking at one another. [Waiters] do everything tableside so it's a giant show, but also no one is supposed to have their back to the door in case the mob walks in. It's very theatrical." Using the Rat Pack era of Vegas glam as a references point, he says, "It's like if the Rat Pack went to the opera."
Fulk tailors every bar to its time and place, its customers, its purpose, but the hallmark of his style is a rich tapestry of sights and sounds. Walls explode with color, bars shine in brass and warm wood, and seating is just as often turquoise or pink as brown or black.
Another jewel in Fulk's crown is Leo's Oyster Bar in San Francisco, which is papered in enviable floral wallpaper, creating a space that feels like a mid-century tropical hideaway with a touch more elegance than your typical tiki haunt. "I always say, 'It's like if Don Draper and Betsy Bloomingdale had a baby, it either would have been conceived at Leo's or it would be Leo's,'" Fulk jokes. "It reminded me of those episodes of Mad Men when Don would go to LA, sort of wear his swim trunks and sunglasses—that's day drinking at Leo's." Leo's like all Fulk's projects, have the sort of lived-in appeal that is at once familiar and amazing. He wants drinkers to think, "I've never been any place like this yet there's something about it that makes me feel at home and comfortable and inviting."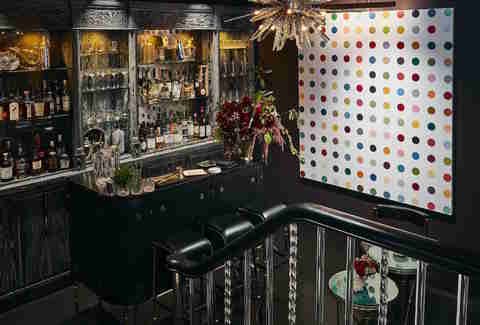 That sense of home is one of Fulk's strong suits, given that the designer puts bars in all of the private residences he outfits as well. "When we do build bar rooms for our clients in their houses, we do little uniforms for the bar men, we do cocktail napkins, we name them, all the little matchbooks—it's as if it's no different than Legacy Records, but it just happens to be in your house." The Hirst Bar in a Pacific Heights home, for example, takes cues from a Damien Hirst work hung in the bar, emulating the painting's bright spots on coasters and branded matchbooks, and emblazoning the name Hirst Bar on bar napkins.
As you might expect with an interior designer, Fulk is not afraid to take his work home with him. His San Francisco house, which he describes as a treehouse crossed with a Japanese hunting lodge, features a built-in bar. "[It's a] very sort of shagadelic, fabulous, redwood bar between the living room and dining room with sinks and refrigeration," Fulk humble brags. "Any time we have a dinner party, either I'm behind there or we bring in a bartender. We have our own little list of cocktails for the house."
Should you find yourself with an invitation to Fulk's place, ask for the designer's personal specialty, a reposado Margarita with a splash of mezcal and a sugar-and-cayenne-salt rim. In the more likely event you do not, stop by any of Fulk's bars across the country. You'll feel right at home.