Remember When Kim Kardashian Repped Midori?
It's hard to remember a time when Kim Kardashian wasn't constantly in the public eye. She's everywhere, constantly splashing across TV screens in news stories, reruns of her own show, Keeping Up with the Kardashians, or standing alongside Kanye West at awards shows and galas. She rules every social media outlet. Nowhere is safe from Kim's closed-mouth smile and dark, dramatic eye. Not even the spirits world.
When Kim's celebrity started to reach a fever pitch in 2009 and 2010, brands started to perk up, tapping Kim to be the perfectly contoured face of their products. And in 2011, Midori caught on. For two years, Kim repped the neon green melon liqueur, appearing in a number of (hashtag) Midori Is Easy commercials (like this one and this one), and even joining a real live bartender to try her hand at making a Midori Super Sour (it has fresh lemon juice, you guys). To this day, it's one of the few Kardashian endorsements that hasn't been fraught with legal troubles.
There is one thing that's a little fishy about the endorsement, though. According to her sister Khloe, Kim doesn't drink. She told Elle recently that, "Kimberly does not drink alcohol whatsoever. Pregnant or not, she's just never been into it."
But perhaps that's the greatest endorsement of all—Kim doesn't like alcohol, but she loves Midori. It's just that good. So in honor of one of one of the strangest celebrity booze endorsements, here's a look back on some of Kim's greatest, greenest moments as a mermaid-clad, Midori-drinking brand ambassador.
May 2011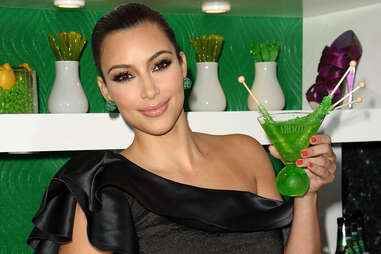 Kim kicked off her Midori career in early 2011. A few months later, she went all in, supposedly drinking Midori out of a green Martini glass garnished with four—FOUR—green rock candy sticks.
October 2011
That other time in 2011 when she dressed up as a green Poison Ivy and stood in front of a green bottle of Midori for Halloween.
248 weeks ago
It is easy being green.
September 2012
It wouldn't be Kim's life if Kris didn't get involved.
October 2012
In 2012, Kim went green for Halloween again and dressed as a Mermaid while she hung out with Lala Anthony who was dressed like...a cat?
2011 to 2013
The magazine ads were many. And endlessly green.