7 Beautiful Limited-Edition Holiday Bottles to Gift This Season
Anyone can pick up a standard bottle of booze from the liquor store on their way to a Christmas party for a last-minute present, but getting a special edition holiday bottle would really show your loved ones that you care. These new, beautiful bottles are only available during the holiday season and would make wonderful gifts for spirits enthusiasts who love limited releases. Here are the most eye-catching speciality holiday bottles you should gift this season.
Patrón releases a special holiday bottling of their silver tequila every year, and the 2017 edition is the most show-stopping one yet. Inspired by traditional Mexican art, the collectable bottle features emerald green accents, as well as an etched metallic stopper and label, which depict a gorgeous, illustrative rendition of the brand's iconic bumble bee.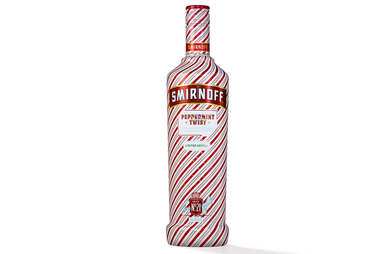 Far from just another seasonal flavored vodka, Smirnoff goes above and beyond with this shiny striped bottle, which looks like it was expertly wrapped in festive paper. The peppermint flavor is perfect for Christmas cocktails or chilled shots, and the scratch and sniff bottle smells exactly like a candy cane.
Embrace the frosty chill of the season with this winter white, limited-edition offering from Glenfiddich. The latest from the scotch brand's experimental series, this rare whiskey was aged in French oak ice wine casks and comes packaged in a stunning matte white and copper-accented bottle.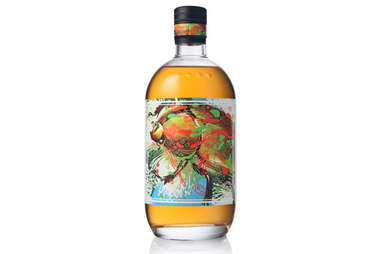 This seasonal gin from Aussie brand Four Pillars was inspired by Christmas pudding and is full of warming notes like cinnamon and star anise. The label was designed by a local Melbourne artist and features the "iconic" Australian Christmas beetle—because only Australia would have a creepy-crawly insect as their Christmas mascot.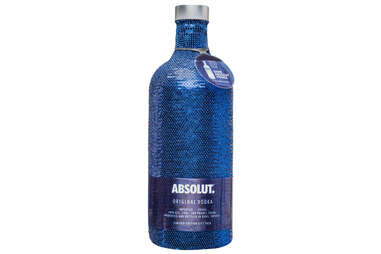 Perfect for ringing in the New Year, this holiday bottling of Absolut Original Vodka is covered in a bright blue sequined sleeve, like a sparkly New Year's Eve dress. But that's not all. The blue sequins flip over to bright silver with a single swipe of the finger.
If you want to keep your gift light-hearted and fun, reach for the holiday edition of TX Blended Whiskey from the Firestone & Robertson Distilling Company. The bottle comes tied with a red bow around the neck and topped with a miniature Santa hat, complete with a little gold bell.
Not much is known about Elit's holiday bottling, but early images have surfaced featuring the premium Stolichnaya offering encased in a real snow globe. The new bottle is available for purchase on some alcohol distributor websites, so expect this alluring, boozy snowscape to hit shelves just in time for the holiday season.