These 5 Ultra-Boozy, Ultra-Lit Cruises Are Straight up Insane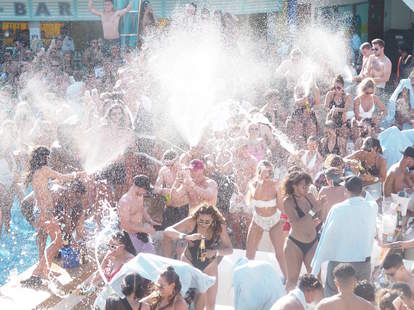 Boat parties are the best parties. At sea, there's no noise ordinances to obey or whiny neighbors banging on the wall after midnight. And while you can charter a ship or take a local booze cruise, these luxury booze cruises take the party to the next level, with nightly parties, the best DJs in the world, and enough alcohol to keep 4,000 passengers happy for days spent bobbing in the open water. Here, five insanely awesome booze cruises to book for your next seafaring journey.
This four-day, three-night cruise takes guests on a thumping EDM-fueled trip from either Los Angeles to Mexico or Miami to the Bahamas. Expect DJs galore, epic dance parties, lots of glow-sticks and very little clothing. The 2018 Miami cruise is even adding an open bar experience. For an additional $65 a day (plus 18 percent gratuity) you can live the open bar life for the entire length of your stay onboard, which includes unlimited cocktails, liquor, wine and beer. Onboard bungee trampolines and rock climbing will keep you busy when you're not dancing or drinking. While you won't need much in the way of clothing (just check out the cruise's website), you'll need to plan ahead for the costumed events. You wouldn't want to be the only one on the dancefloor without your fox ears and tailed bikini. Prices start at $799 for a cabin (taxes and fees—and booze—not included).
With six years of voyages under the company's belt, Holy Ship! is one of the craziest three day music festivals at sea. Produced by Bowery Presents, the Holy Ship! festival takes place aboard the Norwegian Epic, a cruise ship that has amenities such as day spas, a full casino, bowling alley, numerous restaurants and the only "floating" minus-17-degree ice bar in the Caribbean. While cocktails and other alcoholic beverages are not included in the price of your ticket cost, it's worth shelling out some extra dough to sip ice-cold vodka after a day of partying on your own private beach. Prices start at $775 for a cabin (all cabins are subject to a $150 port fee).
This floating festival of debauchery travels through some of the world's most gorgeous waters, sailing across the Mediterranean from Barcelona to Ibiza, then to the French island of Sète, and back to Barcelona. With DJs, live musicians, aerobatic performances, themed stages (like Mermaid Sanctuary and Kraken, complete with tentacles) and a total of 16 bars and clubs (like the pool bar, the sky bar and an Irish pub), Shipsomnia is guaranteed to be a wild time at sea. The sunset party on a private beach in Ibiza is just icing on the Kraken-shaped cake. While booze is extra, guests receive a complimentary $100 onboard credit when they pay for their trip in full. Prices start at $1045 for cabin. All guests have to pay a $212 port fee and gratuities.
 
Aboard the Unique Cruise, guests can drink a bottomless amount of Champagne (or wear it), eat fabulous meals, and dance their way across the sea. This year's cruise travels from Barcelona to Cannes, then to the Spanish islands of Ibiza and Mallorca (last year's started in Rome and went to Santorini, Mykonos, Cannes and Monte Carlo). Expect boozy pool-parties, classic house music and a glam mix of Italian models, influencers and Euro-EDM-ers. This cruise calls for your best brocade track suit, a selection of silk robes and every piece of gold jewelry you own. Unlike most of the party boats on this list, Unique Cruise includes all alcoholic drinks in their cabin price. Prices start at £899 ($1077) for a cabin.
This four day voyage on the prestigious Genting Dream travels from Singapore to Phuket, Thailand, and back. Expect DJs like Krewella and Singapore's Jade Rasif, 12 different bars (including a Johnnie Walker-themed lounge with every scotch under the label, as well as a premiere karaoke club) and, if that's not enough to keep you entertained, there's Cirque Le Soir, a "dark circus" troupe of burlesque dancers, sword swallowers, stilt walkers, contortionists and magicians performing nightly. There's also themed, costume-required parties (themes are announced via the cruise's social media channels before the voyage) and, best of all, a Zouk nightclub on board (Zouk is currently the it club destination in Singapore). With over 18 decks, this is one of the largest luxury cruise ships currently at sea—it even has an onboard waterslide park. This seafaring party is destined to be the most insane voyage you'll ever take. Prices start at $800 for a cabin. All guests have to pay a $178 port fee and gratuities.