Drinking With Magicians at L.A.'s Magic Castle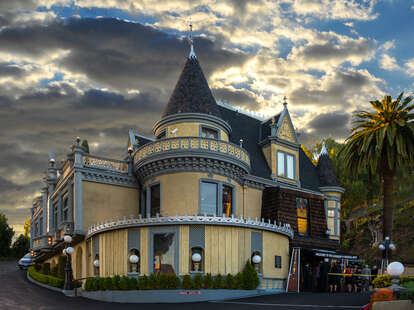 Courtesy of the Magic Castle
Before I even arrived at the Magic Castle, bar magician Mike Pisciotta not only knew which card trick he'd perform for me, but also that I'd pick the five of hearts. "I was sitting at home, minding my own business, reading a book. All of a sudden I had a vision of you choosing a card from a face-up deck and I knew I was going to do this trick for you today," he tells me. "The vision happened again and again and again. At first I ignored it because I thought it was just a memory. But it happened again and again and again. So I got up and took a card from a deck I've been carrying with me all day. Would you like to see the card from my vision?"
He pulls a five of hearts out of his vest pocket. As he does, another card peeks out. He laughs when he sees me notice it. "As I said this vision happened again"—he pulls out another five of hearts—"and again"—another five of hearts—"and again." He stops when there's a pile of fives of hearts spilling over the bar. I set down my barrel-aged Old Fashioned to clap like an idiot.
This is just one part of a series of card tricks Pisciotta calls "time travel," which he performs for Magic Castle guests between mixing rounds of magic-themed cocktails. The trick is especially appropriate for the setting, which harkens back to vintage Hollywood. But the Magic Castle isn't simply a themed, Disney-esque reproduction of old Hollywood with gimmicky magicians. Since the Larsen family of magicians opened the club in 1963, the magic institution and home of the Academy of Magical Arts has earned fame for its stage shows by world famous magicians, exclusive AMA members-(and their guests)-only policy, and walls overflowing with relics of bygone magicians. But lately, the Castle has attracted attention (and Supercall's interest) for a new reason: its drinks program.
For a mansion with five bars (the Salon Bar, the Owl Bar, the Hat and Hare Pub, the W.C. Fields Bar and the Palace Bar), it may come as a surprise that the club long suffered a reputation for bad food and drink. But that all changed about three years ago, when newly hired general manager Joe Furlow and new executive chef Jason Sperber helped transform the Castle's culinary program. To pair with the new menu of steakhouse-meets-modern-California cuisine, beverage manager Chris Taggart developed a menu of seasonal cocktails. Suddenly, people weren't just suffering through dinner in order to see a show, but coming specifically for it.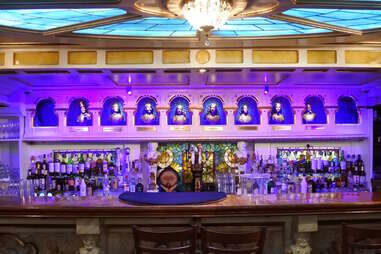 The metamorphosis was inspired by AMA member Neil Patrick Harris. Once a student of the AMA Junior Academy (until he had to drop out to accept the role of Doogie Howser), Harris has always enjoyed magic and served as president of the AMA board of directors for several years. After hearing one too many times about the poor fare at his beloved club, NPH demanded Furlow improve the food and drink game. Taggart took the actor's notes and ran with them, eventually working the bar up to annual sales of over 750,000 custom cocktails in 2017.
For his contribution, NPH is honored on the bar menu with the NPH Old Fashioned, based on the star's go-to classic cocktail. (Don't be surprised if you see the actor sipping one at the Grand Salon bar; he likes to stop by unannounced whenever he's in town.) To create the cocktail, bartenders age Wild Turkey Rye with fresh cherries and oranges, before straining the whiskey and aging it further in oak with Angostura bitters for about six weeks—the sweet spot, according to Taggart. When Pisciotta pours me a glass of the high-octane sipper, I immediately smell the orange zest. The first taste is of infused fruit, with supporting notes of vanilla and spice, and a subtle woody finish. It's extremely drinkable for four ounces of straight booze.
While cocktail names like the Magic Moment (pomegranate liqueur, Moscato liqueur, Magic Castle Champagne) play on obvious magic themes, other drinks on the seasonal menu are more subtle with their references. Taggart explains that the In & Of Itself was put on the menu for 2016 Magician of the Year Derek DelGaudio, who took a liking to the Japanese whisky-based drink somewhere between a Bobby Burns and a Presbyterian. The Three Rum Monte—a tiki concoction that includes allspice dram, falernum and agave in addition to two rums and a rum-based liqueur—references the classic card trick/scam, Three-Card Monte. The bar's Malbec and pomegranate liqueur-stained tequila Sangria, called Holly Chateau Fall Sangria, is a reference to the mansion's original nickname.
Pisciotta whips up the cocktails with ease, despite coming to the bartending trade late in life. Like many AMA members, Pisciotta made the pilgrimage to the "Mecca of magic," as the Castle is known, to perform. He only revived the dying art of bar magic on Taggart's suggestion, becoming the club's first resident bar magician in 40 years.
According to Pisciotta, bar magic has existed as long as close-up magic, a difficult genre in which a magician performs mere feet from an audience instead of from a stage. "Close-up magic really started in a bar in Chicago around the turn of the century," he explains, "and then in the 1930s it started to really become popular. Before that, close-up magic didn't really exist. There were stage magicians and something they called 'pocket tricks,' but the idea of doing a close-up show where everyone can see what's happening, that didn't exist." While the art of bar magic is certainly dwindling (except in Japan, where Pisciotta says there are at least 18 magic bars), the Castle's resident drink-making performer now does six to 10 shows a night at the mansion's Hat and Hare Pub.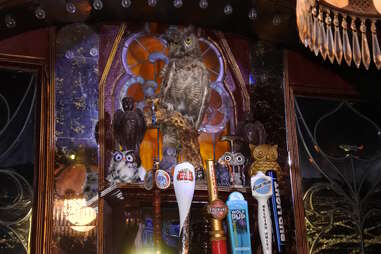 After a drink and a show, it's time to wander the mansion's winding corridors and side rooms, which are lined with posters and faded photos of magicians, famous props from magic history and "autonomous illusions." You may run into one famously talkative installation in the Owl Bar on the second floor: The cantankerous Archimedes rules over the upstairs bar, answering yes or no questions posed by drinkers. Once a real owl who was part of a real magic act, he was stuffed and installed above the bar to continue doing magic in the afterlife. But perhaps the most popular autonomous illusion is Irma, who sits behind the Grand Salon bar near the club entrance. The playerless piano takes requests and happily performs tens of thousands of songs from classics to contemporary tunes (when I was there, Irma was cranking out some Queen). The second most popular musical illusion is a urinal in the men's room that plays "It's a Small World" as you step up to it, appropriate given the song was composed by an AMA member.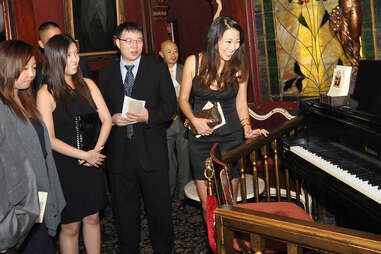 Not all of the artifacts are so vocal. Downstairs, near the Hat and Hare, there is a prototype Pepper's Ghost illusion, created by Disney imagineer and AMA member Yale Gracey, and later used in the Haunted Mansion where it projects ghosts into a reflection of riders' cars. (The Castle version consists of a small diorama of a living room containing a coffin, which every few seconds produces a ghost while the ghost's bride flies in circles around the room.) On the second floor, you'll find the Houdini Séance Room, which contains the famed magician's straightjacket, trunk and the only handcuffs he was unable to escape. (You can even attempt to contact Houdini yourself by booking a private séance.) In the Inner Circle by the W.C. Fields bar (where a rotating magician performer and non-magician bartender work double duty), you'll find Fields' own trick pool table.
Hollywood buffs less familiar with the magic scene will also find plenty of treasures, given club co-founder Milt Larsen's penchant for reusing Hollywood props. The cityscape backdrop from The Tonight Show With Johnny Carson now adorns the Owl Bar, while the W.C. Fields bar was first used in Hello, Dolly!. Several rooms, including the backbar of the Grand Salon bar, are decorated with old advertisement slides that were once displayed before movies at the Hippodrome Theater downtown. And for the true Hollywood geek, other relics are culled not from studio lots but from the Hollywood neighborhood itself, like the bar top of the Palace Bar upstairs, which was constructed from the wood floor of the old gymnasium at Hollywood High.
You could spend hours exploring the Castle, discovering new bits of lore and examining the club's neverending memorabilia. But after a few laps around the maze-like mansion, I needed to get back to the bar. After another NPH Old Fashioned, another tune from Irma, another card trick, it feels like I never left—my kind of time travel.