Why Brooklyn Is Better Than Manhattan (When It Comes to Drinking)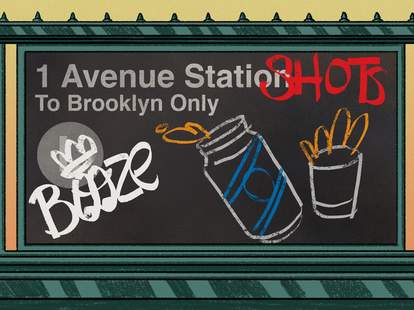 If you really love New York, you love it for all of its diverse neighborhoods and weird quirks, and in spite of its exorbitant cost of rent and subpar living standards. But even though New Yorkers agree that it is the best city in the world, Big Apple residents can get competitive, whether we're arguing about the top slice joint, the least efficient subway line (it's the C) or the most authentic dive bar. But the greatest rivalry is the one between Manhattan and Brooklyn. Manhattan dwellers see Brooklyn as a foreign land that will cost them $100 in taxi fare and hours of their life they can't get back. Brooklyn locals see Manhattan as an overpriced, overrun mess where they wouldn't be caught dead hanging out Friday or Saturday when every bar and restaurant is overflowing with bodies. But while Manhattan folk can argue all they want about their shiny buildings and Michelin-star restaurants (Brooklyn has them too, by the way), we can say with confidence that Brooklyn is way better when it comes to drinking. If you don't believe us, consider these seven reasons before trying to argue.
The Drinks Are Cheaper
Manhattan is home to some of the best cocktail bars in the world. There's no doubt about that. But it's damn expensive. Take one Union Square bar that serves excellent cocktails for $16. That's not an outrageous price these days, but you can get the exact same caliber of cocktail at a bar in Park Slope for $13. Those dollars add up—just think of all the extra drinks you can buy with that cash!
Brooklyn Doesn't Do Clubs (Except When It Does and They're Done Right)
Clubbing sucks. The people suck, the music sucks and the drinks definitely suck. After waiting in line and paying $10 for coat check, you're further punished by spending $18 on a weak Vodka Soda in a plastic cup. Brooklyn has two clubs of note: House of Yes and Output. House of Yes features roller skating parties, acrobats, burlesque dancers and Prince night. It's a magical place where people wear wigs and costumes and glitter, and everyone's nice to each other because no one is fist pumpin' in your face like an *sshole. Output features one of the greatest sound systems in the world, and won't book a DJ unless he or she is insanely good. Admittedly, the cocktails aren't noteworthy, and you'll still pay more for a drink than you would at the local dive bar, but everything else considered, the price doesn't seem too bad for a much better experience. Those two clubs are better than all of the Manhattan clubs combined.
There's Room to Sit
In some countries, you're not allowed in the bar if they don't have a seat for you (what's up, Japan), which is great for someone who actually wants to enjoy a drink instead of having it spilled everywhere. While bars can get very crowded in the more saturated Brooklyn party neighborhoods, more often than not, you'll be able to sit down if you so desire. It might not happen right away, but the flow of foot traffic is less intense in Brooklyn because it's not as dense as Manhattan. So chances are, you'll get a seat soon enough. And after the age of 22, being able to sit down at a bar matters.
The Music in Brooklyn Is Better
Unless you're hanging out in Williamsburg, which is practically an extension of Manhattan these days, you won't hear any top 40 pop bullsh*t playing in a Brooklyn bar. Unless it's ironic, of course. Instead, you'll experience things like jazz trios, killer classic rock jukeboxes and really excellent hip-hop. If you can't find a Brooklyn bar that's playing music you love, you're not looking hard enough.
The Views From Brooklyn Are Spectacular
Here's the thing about drinking in Manhattan—you can't see the Manhattan skyline if you're already in the city. Take a stroll down to the Brooklyn waterfront, and you'll experience the most beautiful city view in the world. That's a fact. Ascend to rooftop bars like Northern Territory, Westlight or The Ides, and wonder, as you're sipping a delicious drink, why you'd ever want to leave Brooklyn again.
Brooklynites Are Chiller
Manhattan has a buzzy vibe that some people love. But to Brooklynites, that ultra high energy gets them turnt in a bad way, when really they just want to relax. And while there's certainly nothing wrong with tourists (we've all been there), wouldn't you just rather hang out with friends and neighbors rather than strangers on a Saturday night? With no hot clubs or pretentious door policies to worry about, people in Brooklyn go out to have a good time—not to see and be seen.
Brooklyn Bars Do It All
We're all about the high-low drinking lifestyle at Supercall—we cherish a Boilermaker just as much as a cocktail topped with caviar. In Manhattan, you'll find fancy cocktail dens, rowdy sports bars and run-of-the-mill Irish pubs. In Brooklyn, you'll find bars that can do it all. Places will whip up an expertly-made Martini, then serve you a $5 beer/shot special with the same care and enthusiasm. Brooklynites still appreciate the finer things in life, but prefer them presented in a low-key way—not on a silver $16 waited-in-line-an-hour-to-get-to-it platter.