This Badass 92-Year-Old Bartender Made Throwing Bras in Bars a Feminist Act
Marcy Skowronski never set out to be a trailblazer, but after 65 years of tending bar, throwing bras and signing butt cheeks, she's inspired generations of mixologists, and her audacious wit and humor continue to draw in clientele from across the globe to her little bar on Milwaukee's South Side.
"Oh, God, I love people," says the 92-year-old bartender and owner of the Holler House. "You've got to have fun. You've got to laugh, that's the thing. There were times I went through hell, but I just take it day by day."
Skowronski began her bartending career not at her Holler House, but at Helen's Maplewood Tavern out on Okauchee Lake in Oconomowoc in 1954. Helen Zamsky, the owner, hired her to be a cocktail waitress, but Skowronski ended up bartending.
"It was illegal for women (who weren't owners) to bartend in Oconomowoc, but Helen liked to have a good time," Skowronski says. "She'd just leave, and if I didn't know a drink, the customers would help me out. I was young, and I had a blast working there."
Skowronski became so popular that the other bar owners in town took notice. "This worked until somebody blew the whistle on me," Skowronski says.
So, Skowronski ended up working for her father-in-law "Iron" Mike, and eventually, she and her husband Gene took over the bar which, at the time, was called Mike's before becoming Gene and Marcy's and, finally, Holler House in the '60s. Though Mike and Gene have long since passed, Skowronski, her daughter Cathy Haefke and her son-in-law Tom Haefke still run the bar. Whenever Haefke or her husband have to take care of something at the oldest certified bowling lanes in the country, which are in the bar's basement, Skowronski steps back behind the mahogany to tap a brew or pour a shot.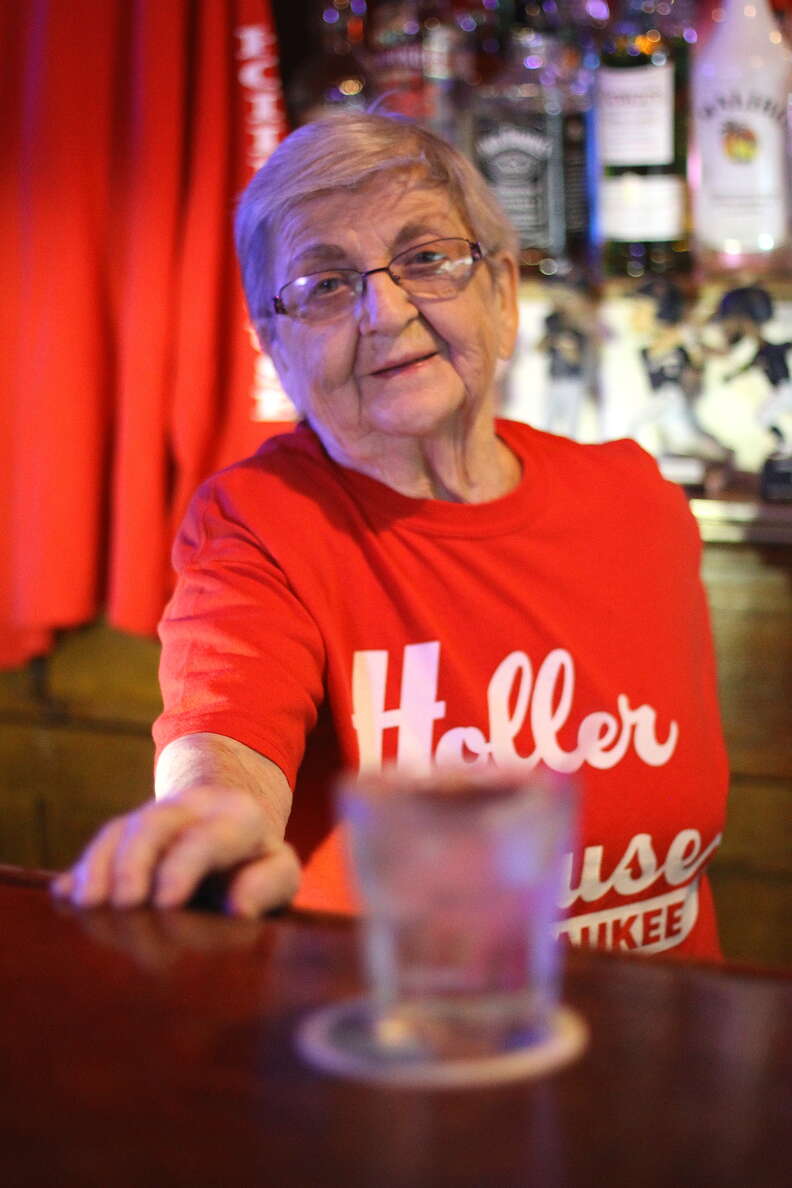 Like any good Milwaukee tavern worth its beer, the Holler House has all the historic ambiance one would expect. It has the old signs—including an advertisement of Gin Bucks and Red Robins. The dark wood of its bar is set off by red walls and a red floor, along with old photos and a pair of multi-person skis hanging from the ceiling (a group of guys walked in the skis from the Holler House to Milwaukee's lakefront to attend Polish Fest some years back). And then there are the bras, along with a few gentlemen's undergarments, tossed up on the ceiling. The bar's bra throwing heritage was, of course, started by Skowronski.
One night in the late 1960s—Skowronski doesn't remember the exact date nor year—she and her gal pals were sitting at bar drinking Gin Rickeys, and sometime during the night, the sipping turned into slamming. "We all got bombed, and we started taking off all our clothes," says Skowronski. "I think I threw my bra on a lamp. My husband wanted to kill me."
He often expressed that sentiment during their marriage, and Skowronski never let him reign in her humor, nor her sensibilities. After Skowronski's initiative, her friends tossed their bras up onto the bar fixtures, and then, the next day, other patrons began adding to the hanging assortment of undergarments. A half a century later, patrons are still leaving their bras—and sometimes their boxers—behind at the bar. Typically, patrons demurely slip out of them, sign them and then throw them up. Others remove them in the restroom.
But the bar's tradition almost ended in April 2013 when a city inspector declared the collection of dusty brassieres to be a fire hazard and demanded that unless they were taken down, Skowronski would be fined.
Skowronski immediately raised ruckus, contacting her alderman and the local media, demanding that the bras be put back in their rightful place at the bar. "Now, how can a bra be a fire hazard unless someone is wearing it?" quipped Skowronski to a local columnist when the bra ban began. "Honest to God."
The city order was rescinded within a month, and then Skowronski and her family staged a bra hanging celebration in which people could re-hang a bra for a buck or two. They raised about $1,500, divided between a local breast cancer non-profit and a homeless shelter. In the middle of being interviewed by a local television reporter, Skowronski's son-in-law was showing off a leopard print bra signed by someone named Fluffy when the bar's phone wouldn't stop ringing. "A woman called, and she said 'This is Fluffy. Don't let anyone else hang up my bra,'" Tom Haefke says. The woman arrived, pulled out a matching pair of underwear and proceeded to hang up her bra.
The fact that these bras were originally thrown up onto the ceiling in a fit of inebriation rather than our of protest doesn't make the act any less radical. Marcy and her friends were not feminists per say—as her son-in-law Tom says, "They didn't know what empowerment was"—but Marcy always believed in equality, and she never took anything from any man. In fact, once a very wealthy, powerful man made a pass at her while she was bartending, and she slapped him. After she did so, someone asked her, "Do you know he is?" She replied "I don't care who he is."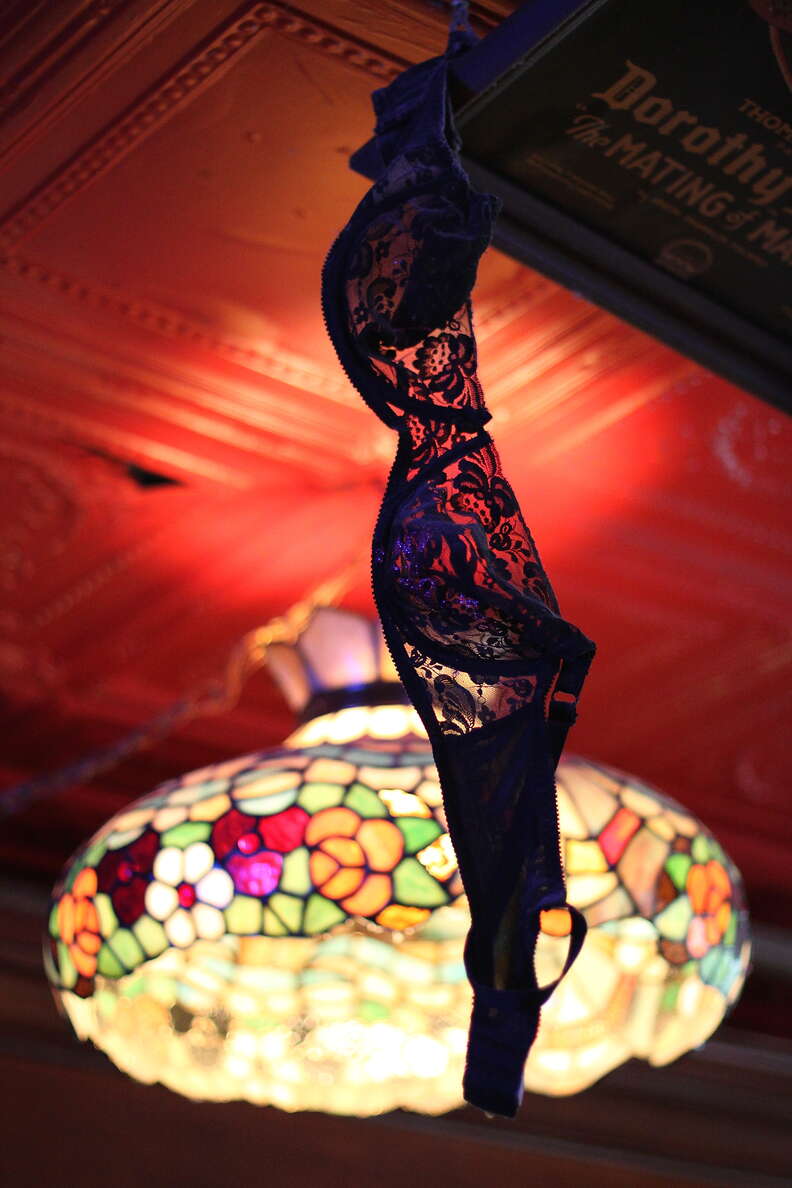 When Skowronski isn't staging a revolution over bras or slapping customers who get too fresh, she likes to take out her special sweater. It's a moth-eaten, purplish tatter of holes, barely held together by threads. "I found it in the attic," Skowronski says. "It's my good old sweater. I want to be buried in it."
"Not if I can help it," says her daughter, adding that Skowronski better get it written into her will if she really wants that to happen.
Over the years, Skowronski liked to take the sweater out for special occasions, and she had even planned to take it with her to Las Vegas before her husband removed it from their suitcase. But he wasn't quick enough to prevent her from wearing it to a fancy wedding in Milwaukee. She initially had planned to wear a mink stole her husband had gotten her, but at the last minute, she replaced it with her special cardigan. "He doesn't notice it until we were in the elevator, going up to the wedding," Skowronski says.
The sweater is stored in the back room of the bar, where the hundreds of bras are also stored. While the sweater doesn't get rotated out, the bras get switched up every so often. On weekends, tour groups often stop by the bar for the chance to meet Skowronski, and she often entertains bachelor parties with unprintable jokes.
She also—especially for bachelor parties, but really, for any group of young male visitors—will take out her permanent black marker to sign their bare butts.
"I've only been doing this for a couple of years," says Skowronski, adding that she's probably signed hundreds of them. "My daughter didn't like it when I started doing this."
"She was built for this job," her daughter says.