The DO's and DON'Ts of Celebrating Mardi Gras in New Orleans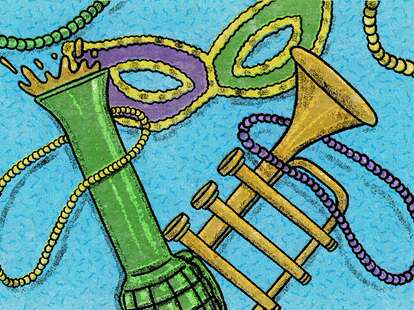 You're about to embark on a journey to New Orleans to celebrate Mardi Gras—good times ahead! But as with any large party, there are some unspoken rules to follow to ensure that you, your travel companions and everyone around you has an amazing time. Here, the do's and don'ts of celebrating Mardi Gras in NOLA. Follow these eight key rules, and you're bound to have an excellent time.
DON'T Flash for Beads
We can't stress this one enough. While it was okay to have some good ol' shirt-lifting fun back in the '90s, we now live in the internet age where everything can and will haunt you forever. Buy your own beads and save yourself the PR nightmare.
DO Start Your Day With a Frozen Irish Coffee
Erin Rose is an institution and always one of our first stops when visiting the Big Easy. Their famous Frozen Irish Coffee is the stuff of legend and the most delicious and effective hair-of-the-dog cure there is. Grab one at the bar, order a sandwich from Killer Poboys in the back, and you officially have a breakfast of champions on your hands.
DON'T Forget to Eat
We know you have a tight schedule with all the partying to be had, but your experience will be 100 times better if you actually eat three solid meals per day. While we're all for supplementing real nutrients with frozen alcoholic goodness, a super-sized Daiquiri does not a meal make. New Orleans has plenty of delicious spots to grab a quick bite—know where they are and map them out in advance if you think time will be a true issue.
DO Dine and Drink Off the Beaten Path
Sure, Bourbon Street is the center of all the party action in New Orleans, but that scene gets old—fast. You should definitely enjoy the bars and frozen libations of this tourist-trap area, but you'll find the best food and drinks on quieter blocks. Venture to the Warehouse District to check out spots like Maypop and Willa Jean, or visit a watering hole off the beaten path like Maple Leaf Bar or Snake & Jake's Christmas Club Lounge.
DON'T Stuff 12 People into One Hotel Room
You're not in college anymore, so the luster of booking a room with more people than beds has surely worn off by now. Oh, it hasn't? Well, one thing's for certain: NOLA during Mardi Gras is not the ideal time to sleep on the floor or fight for bathroom time. You're going to want a comfy bed and a hotel that isn't rife with drunken revelers when you're trying to get some shut eye. Book boutique accommodations outside the French Quarter (we're partial to The Old No. 77 Hotel & Chandlery) and get some adulting in while you rage.
DO Carry an Emergency Kit
Whether you strap a fanny pack around your waist, carry a large purse or simply line your pockets, you shouldn't embark on a day of Mardi Gras festivities without some essentials. You should always carry a water bottle, bandaids (no blisters here), an external phone charger, snacks (a bag of nuts is always helpful), sunglasses, sunscreen and OTC painkillers. That way, you're always prepared and don't have to deal with unsightly drugstore lines at peak times of day.
DON'T Be in the Wrong Place at the Wrong Time
It's okay to have a good time by dancing, drinking and partying until your heart's content. But if things start to get out of hand at a particular spot, bow out. It's pretty easy to see if a fight's a-brewin', so be on the lookout. And under no circumstances should you yourself start a fight or fuel one by throwing drinks or punches.
DO Stay Hydrated
Water is your best friend during Mardi Gras. Down a glass between every drink and make sure your water bottle is always full. Remembering to hydrate is 100 times better than waking up with a pounding headache that no Bloody Mary, no matter how spicy, can cure.