5 Out-of-the-Box Margaritas to Celebrate National Margarita Day
Courtesy of Laurel Tavern
It's no secret that Americans love a classic Margarita. The tangy, tequila-based tipple boasts multiple origin stories (most commonly involving a bartender's attempt to impress a lady), but the recipe gained notoriety after it was first published in a 1953 edition of Esquire magazine. Since then, its popularity has only continued to soar amongst legions of fervent fans across the globe. In fact, the cocktail is so admired, that February 22 has been officially declared National Margarita Day in the U.S.
While the relatively simple recipe calls for a mix of tequila, lime juice, agave nectar and salt, creative bartenders have long been putting their own spins on this traditional cocktail. Here are a few of the most inventive variations that you can order to celebrate Margarita Day (or, really, any day).
Spicy Pineapple Margarita
People love a hint of heat when it comes to their Margaritas. Created by Russ Neipp, the Spicy Pineapple Margarita (above) has quickly become the best-selling cocktail at both the Studio City and Hermosa Beach locations of Laurel Tavern. The zesty concoction is made with a jalapeno-infused tequila and mezcal mixture, which is sweetened with freshly squeezed lime, pineapple juice and just a touch of agave syrup. Chile peppers, lime and salt are also combined to create a spiced rim that helps gives this drink its signature kick.
Kelly Kapowski
The name of this imaginative Margarita should definitely ring a bell, especially for those who love a little '90s nostalgia. The eye-catching pink drink is just as colorful (and swoon worthy) as its Saved by the Bell namesake. Created by Morgan Zuch, this floral take on the classic Margarita is made with prickly pear syrup, orange blossom water and tequila. To garnish, it's topped with an edible orchid, reminiscent of Ms. Kapowski's often vibrantly floral attire. The refreshing cocktail is so tasty, it was even crowned the winner of Creative Loafing Tampa's Margarita Wars.
Riunite Rita
For an innovative take on the Margarita that's as effervescent as you are, check out the Riunite Rita, dreamt up by the mixology team at Party Fowl (a Nashville nightlife favorite). This recipe calls for three ounces of Olmeca Altos reposado tequila, lime juice, a splash of fresh orange juice and homemade sour mix, which is combined in a shaker and served over ice. For the finishing touch, the tipple is topped with Riunite Sweet Red Lambrusco, resulting in a bright and bubbly final product.
Avocado Cilantro Margarita
Cilantro is one of the most polarizing ingredients out there—people either love it or hate it. But those who welcome the zesty herb will undoubtedly be interested in sipping on this frozen Avocado Cilantro Margarita. The drink can be found at Javelina's Upper East Side location, which just opened its doors a few weeks ago. According to General Manager Christopher Skillern, the secret to this herbaceous beverage is the puree, which is prepared by blending peeled and pitted avocados along with freshly picked cilantro, lime juice, salt to taste and ice cubes for a frosty finish.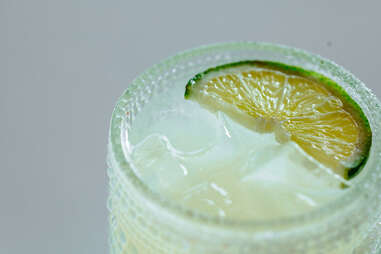 The Skinny
We're only in February, but there's a good chance you've already strayed from (or completely forgotten) your New Year's resolution. But if you're still counting calories or trying to cut back, consider sipping on The Skinny. This elevated approach to the Margarita features all the flavor of the classic version, but without the guilt and added sugar. Created by beverage director Trevor Landry, this cocktail fuses Maestro Dobel Diamante Private Barrel Tequila, Patron Citronge Orange, fresh citrus juices and a hint of monk fruit syrup, which adds sweetness but has a glycemic index of zero.